The Queensland government has approved the first stage of developer Dexus's proposal to transform the Brisbane waterfront precinct Eagle Street Pier.
This decision means the developer can move to a full feasibility study for the $1.4 billion project, put forward under the Market-Led Proposal scheme. Market-Led Proposals are private sector proposals, which seek exclusive commercial arrangements with the government to deliver infrastructure. Dexus has completed the first stage of a four-stage process. An architect has not yet been appointed for the project.
The proposal includes two new towers, a new traffic-free precinct, a widened river walkway, better access for cyclists and pedestrians and 1.5 hectares of public riverfront open space.
It also includes the renovation of the heritage-listed former shipping office Naldham House, built from 1864.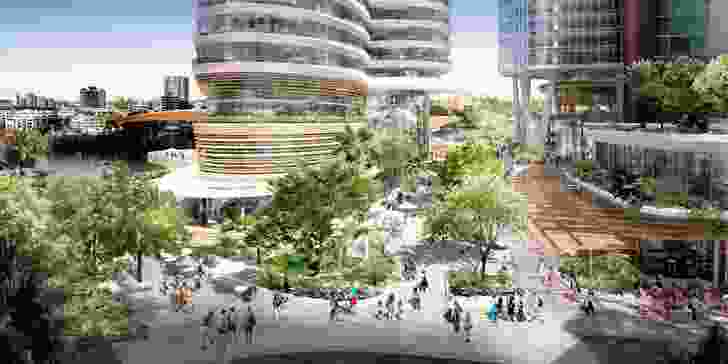 Dexus CEO Darren Steinberg said while plans were still being developed there was an opportunity for a "revitalized business and leisure destination" that would prioritize access to the river.
"The ambition of the proposal is to revitalize Brisbane's premier dining hub and give back the waterfront to the Brisbane community, creating a place that celebrates Brisbane's sub-tropical climate and delivers a global-standard business address and tourist destination in the heart of the CBD," he said.
Eagle Street Pier is home to some of Brisbane's most prestigious restaurants including Saké, Pony and Aria Restaurant. These restaurants' buildings would be demolished under the plans.
Planning minister Cameron Dick said, "Should this project reach final approval, this will be a city-shaping development – a world-class mixed-use riverside precinct with public space at its heart," he said.
"Eagle Street Pier is an important, much-utilized and much-loved location in our city, and our government supports this proposal moving forward because we want to see it continue to thrive."
In 2015, Dexus purchased a 50 percent stake in Eagle Street Pier and the Waterfront Place commercial tower. The developer said its ownership of the site puts it in "a unique position to deliver the proposed project."
In addition, the developer said the market-led proposal process would enable it to partner with the Queensland government to "efficiently conduct detailed investigations on the proposal."
In stage two of the Market-Led Proposals program, Dexus will work with Brisbane City Council and Translink to develop its feasibility study. While ultimate approval of the project rests with the state government, Brisbane City Council has also expressed its support for the project.
"Council will carefully consider and weigh up any potential impacts of the project against the proposed benefits to ensure the best possible outcome for Brisbane residents and businesses and our city's road, pedestrian, cycle and public transport network," said Lord Mayor Graham Quirk.