Across this country, waste management facilities (or "tips") are located out of sight, on the outskirts of our communities. Occasionally we might load up our cars or trailers and make the journey to the periphery, unload as quickly as possible and return to the comfort of home. The majority of us, however, remain blissfully ignorant to the actual scale and impact of our household waste, to how it is processed and to where it all ends up.
In 2010, facing growing amounts of waste, Albury City Council, the City of Wodonga, Federation Council and the shires of Indigo, Greater Hume and Towong (on the border between New South Wales and Victoria) launched the Halve Waste initiative with the aim to reduce landfill waste by 50 percent by 2020. The program has grown into a nationally recognized leader in regional waste management and at the end of 2017 had achieved an annual reduction of 50,000 tonnes, or 38 percent, through community awareness campaigns and significant investment in waste recycling facilities.
Only months later, in 2018, China introduced import restrictions that effectively excluded 99 percent of recyclables coming from Australia – significantly impacting recycling programs that were gathering momentum. In brief, China reduced the accepted level of contaminated waste down to 0.05 percent. With the majority of Australia's kerbside waste contamination sitting at 6–10 percent and a limited capacity to recycle waste locally, many councils and associated waste management companies had no option but to stockpile (sometimes at significant cost) with no foreseeable resolution to the growing problem. In some cases, such as in Ipswich, Queensland, the dumping of all recyclable "yellow bin" waste now goes directly into landfill, so as to avoid that cost.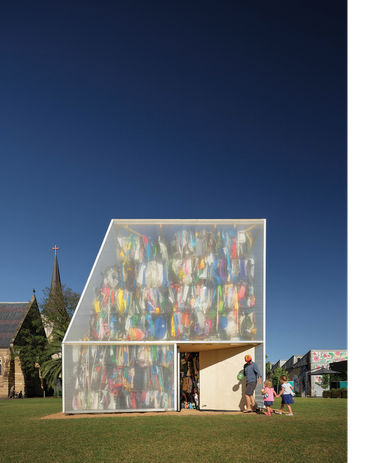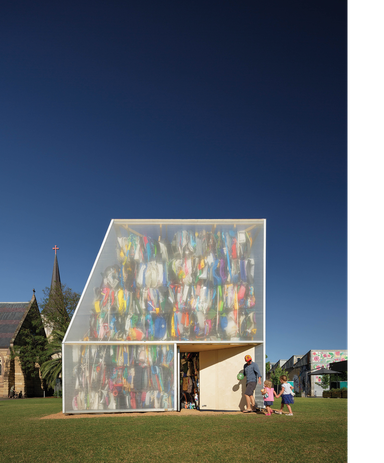 To make this issue visible, the Murray Art Museum Albury (MAMA) commissioned architect Raffaello Rosselli to design and construct an experimental pavilion of recycled materials, which was displayed in Albury's QEII Square from 15 December 2018 to 3 March 2019.
Rosselli's practice pursues a sustainable approach to architecture and investigates the potential revaluing of overlooked or discarded materials. On a visit to Albury in mid-2018, Rosselli travelled around the city to look for locally available materials and found multicoloured bales of compacted plastics set against a backdrop of attractive bushland at the Albury Waste Management Centre. Each bale was a confetti-like collage of domestic life, including children's toys, storage boxes, outdoor furniture and laundry baskets. Rosselli's project would incorporate the plastic bales and give form to approximately five weeks worth of the city's hard plastic waste.
Located in the centre of QEII Square, Plastic Palace is a perfectly formed geometric monolith sleeved in a translucent white geotextile skin, framing the irregular plastic bales within. During the day, the pavilion appears like a white opal with its outer skin becoming iridescent and obscuring the technicoloured plastics. As visitors move closer, the materials of the substructure come into focus and a small doorway is revealed. The small grotto-like interior features compressed domestic detritus, which looms over the pavilion's occupants. Here, the form tapers inward to a small aperture in the ceiling. As light streams through the opening and the clouds roll overhead, a bright yellow plastic smiley face looks down among the crushed objects. It's a smile that perhaps once brought joy to a child but now it looks down, as if to say, "You can't get rid of me that easily!" Despite the overbearing weight of the plastic debris, the interior's size provides an intimacy that encourages quiet reflection.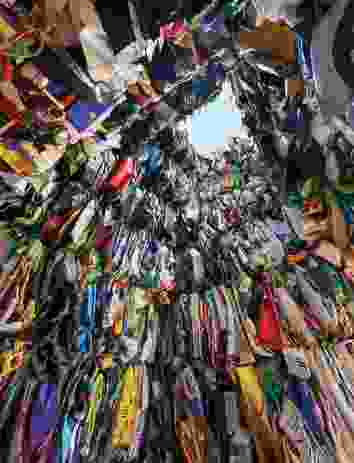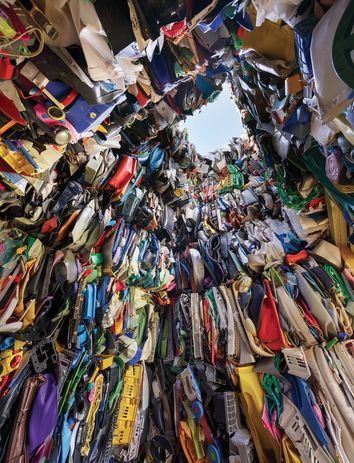 Albury City Council and MAMA's decision to locate the project in one of the city's most visible public spaces ensured that within a fortnight of the project's completion it had been viewed by more than 5,000 local residents – or 5 percent of Albury-Wodonga's total population. This exposure highlights the broad-reaching potential for other creative projects like Plastic Palace across regional Australia.
Plastic Palace represents a continuation of Rosselli's exploration into the ways waste can be used as an unconventional construction material. It also demonstrates how this material experimentation can highlight and start to mitigate Australia's waste problem. The project draws attention to the need for communities worldwide to make visible their growing waste problem – and find innovative ways to reduce, reuse and recycle locally.
Credits
Architect

Raffaello Rosselli, Callum Coombe
Architect

Raffaello Rosselli Architect
Sydney, NSW, Australia
Project Team

Miha Skok, Danielle McMaster, Michael Moran, Annie Falcke, Callum Coombe, Adriano Rosselli, Lockie Coombe, Elsa Dominish
Consultants

Geotechnical engineer Civiltest
Material assistance Albury Waste Management Centre

Site Details

Location Albury, NSW, Australia
Site type Urban

Project Details

Status Built
Category Landscape / urban, Public / cultural
Type Installations

Source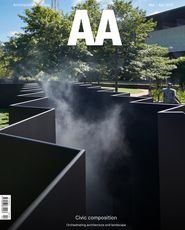 Project
Published online: 20 May 2019
Words: Phillip Nielsen
Images: Jeremy Weihrauch
Issue
Architecture Australia, March 2019