Exploring the glitches in cultural perceptions. Anna Johnson considers Pen Plan Paris, an art project by DireTribe Studio, ArtPlay and the children of Melbourne.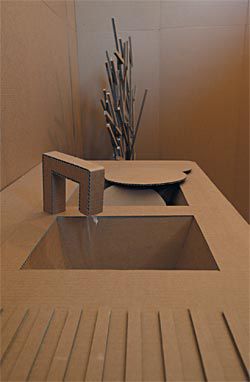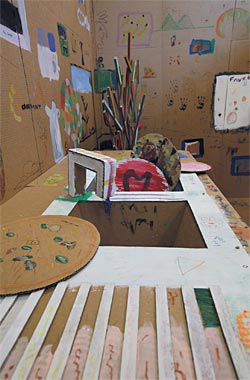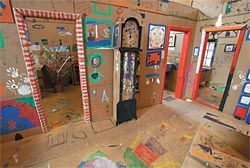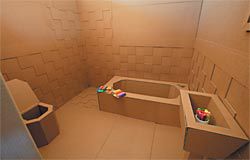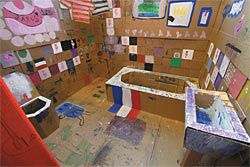 The Eiffel Tower, poodles, fashion, frogs' legs and croissants. Is this what comes to mind when you imagine Paris – particularly if you haven't been there and particularly if you are a child? "They eat horse! They eat snails and they smell!" These are just some of the comments recorded from DireTribe Studio's latest endeavour, Pen Plan Paris, a collaborative project in association with ArtPlay, 350 school children, lighting designer Christopher Adam and sound designer Maylis Collet. Within the ArtPlay building at Federation Square, Melbourne, DireTribe erected a 1:1 cardboard model of a typical Haussmann Parisian apartment.
Constructed from dunnage (a product used to pack freight) and then clad in "your standard two-flute", the apartment became a canvas upon which children scrawled, drew, wrote and painted their imaginings of Paris, its culture and typical home life.
Born and educated in France, and having spent several years flying between Melbourne and Paris, DireTribe member Anne-Laure Cavigneaux recalls frequently negotiating people's conceptions and misconceptions about her home city and, in turn, about Melbourne. "People in Paris had a very strong conception about what Melbourne was, and people in Melbourne had a very strong conception about Paris, and this was something that was both very wrong and something that was very true," she explains. "The stereotype of Paris is still inside the minds of everybody … I think I love it in some sort of way … like, we are eating escargot, we are eating frogs' legs and horse and croissants … and we smell! But I'm French, do I stink?!" ›› Pen Plan Paris is the third project in a series initiated by Cavigneaux's exchange, Heads Upside Down, Feet on the Ground, which focuses on these ideas of identity, cultural diversity and spatial memory.
While the first two projects explored ideas of the city and lifestyle in general, the third explores children's early conceptions of space and home through their imaginings of what it might be to grow up in Paris.
DireTribe's proposition was that asking children to imagine the other side of the world would somehow bring into focus their own environment. The process itself revealed some of the challenges of such abstractly contextualized, imaginative spatial conception. The project presented the widest possible canvas for children to cast their musings upon – the cardboard Haussmann apartment in its entirety. But DireTribe member Rodney Eggleston explains: "Initially, it was very difficult for the kids to respond." They were told to draw over everything – the walls, the floor and the furniture. But the first marks were violently made: "We had to paint over obscenities and graffiti." The group changed tack, masking out areas, "frames" within which the children could focus. It wasn't until this happened that they could engage with the Paris idea. And no one would draw on the cardboard furniture until it was removed from the apartment building, turned on its side and upside down, decontextualized and made unfamiliar. Cavigneaux observed that the parents also could not treat the furniture as a blank canvas, "They were really trapped in the functionality. The table was for supporting crayons and the paints; only the walls could be the canvas – but the furniture was furniture." ›› Lighting designer Adams spent a couple of weeks trying to replicate the Parisian afternoon light. "We were all focusing on the inside, and he comes up with this outside idea," Cavigneaux admits. "Paris is, as well, an outside, and all that outside information should be received inside the flat." The lighting and sound evoked Parisian ambience at 4 pm – the time children return home from school.
Animated by sounds of Châtelet, the Île de la Cité, the bells of Notre Dame and the gendarme from the Palais de Justice (court of law and centre of national police), the interior took on a life of its own. An ambulance races by, the wings of a pigeon flutter and a cat is silhouetted against soft afternoon light filtered through semi-transparent windows. Flickering bulbs suspended nakedly in each room finish off the scene to such an exact extent that one can't help but imagine, ironically, being cast as an observant extra in the cult French movie Delicatessen, a film which itself employs distortions and exaggerations, both sentimental and grotesque, of the Parisian milieu.
Pen Plan Paris continues DireTribe's modus operandi of provocation and critique of one kind or another. More interested in lo-fi than hi-fi, in ideology rather than details, DireTribe's work pursues what they call a rearguard defence on behalf of threatened and marginalized cultural memory. And like many emerging architectural firms today, they aim to critique, debate and interrogate the assumptions that underpin contemporary architecture and, in particular, its practice.
To look back, rework and reconsider is the aim, to borrow and distort for a moment, "to create a sort of glitch". Interestingly, the memories recalled in this project are of one of the cornerstones of Western civilization, art and literature – definitely the centre, not the periphery. But it is precisely the "glitch" that occurs when reviewing the received assumptions about such centres through the naturally distorted lens of the child's view that motivates DireTribe and gives the work rich, playful emphasis. And what do French children think of Australia? "Teachers are black and wear fig leaves over their private parts. Not so many kangaroos or crocodiles … but lots of lions. They imagine Melbourne as the wildest place!"
Images: Tanja Kimme
Source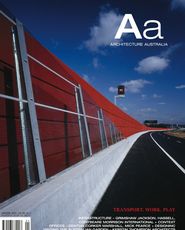 Issue
Architecture Australia, January 2007