'Playful' pop-up school accommodates Sydney students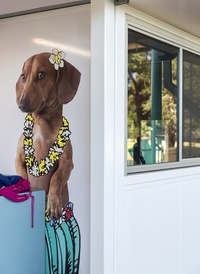 A pop-up school comprising demountable classrooms and shaded outdoor learning areas has opened in Sydney's Wentworth Park for the first school term of 2018.
Designed by a team led by Tanner Kibble Denton Architects, the temporary Ultimo Pubic School campus is catering to around 280 students while the existing campus – between Wattle, Quarry and Jones streets –is redeveloped and expanded.
The project has been funded by the NSW Department of Education and aims to provide an "engaging and nurturing educational environment" for the displaced students.
Along with staff and administrative spaces, the campus features 14 "home base" classrooms, a library, a school hall and a canteen.
A statement from the architects notes that the design seeks to support contemporary pedagogy within the constraints of the standard demountable units. Along with landscape architects Context Landscape Design, Tanner Kibble Denton Architects responded to this challenge by focusing on outdoor spaces and creating a central "heart" of the school.
"The design has responded to the physical constraints of the site in Wentworth Park and it also challenges preconceptions on how demountable classrooms can be used to create a truly stimulating learning environment," said Alex Kibble, managing director Tanner Kibble Denton Architects.
"Through use of outdoor learning zones, colour and playful graphic overlays, the pop-up school will be a place that leaves a lasting memory for the students and staff – a special, if fleeting moment, in the life of the school."
The graphic design overlay, by Leading Hand Design, is called Pets on Holiday and is based on artworks and descriptions provided by the students.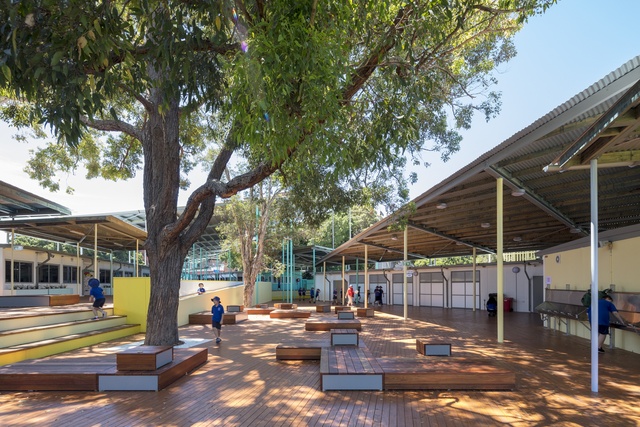 New South Wales minister for education Rob Stokes said the pop-up school was designed to provide a seamless education experience and a novelty for the students while the permeant school is redeveloped.
"This project is a fantastic educational village," he said. "It is my great hope that the students not only enjoy their time here, but excel."
The new permanent school, to be called Ultimo-Pyrmont Public School, will expand the student base from 285 students to 800. Designed by a consortium comprising DesignInc, Lacoste and Stevenson and Paris-based BMC2, it is slated for completion in early 2020.