While "fake news" and "halal snack pack" made headline news as Australia's Macquarie Dictionary's 2016 Word of the Year choices, among the lesser-known finalists was the word "plyscraper," which has been spawned from a building typology with growing popularity around the world.
Plyscraper is a portmanteau of plywood and skyscraper, "from the notion that the technology used in making plywood has been extended to create strong wood products, such as cross-laminated timber." Macquarie Dictionary defines plyscraper as "a skyscraper built using super-strong, engineered wood products which are as tough as steel or concrete."
Macquarie Dictionary's editor Susan Butler said the committee chose the word as one of the 15 finalists for Word of the Year "because it was a clever coinage."
"It is astonishing to think that a skyscraper could be made out of wood, albeit a very special kind of processed wood," she said.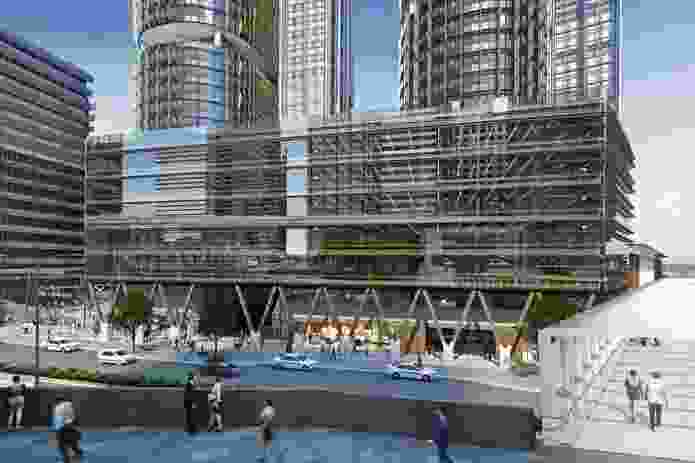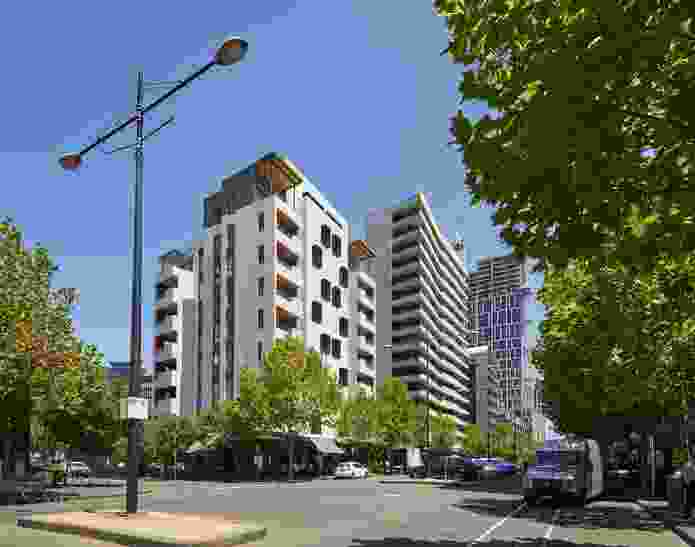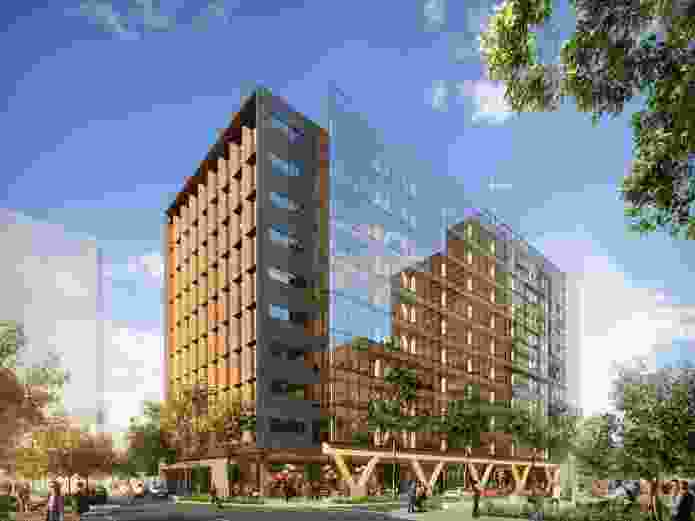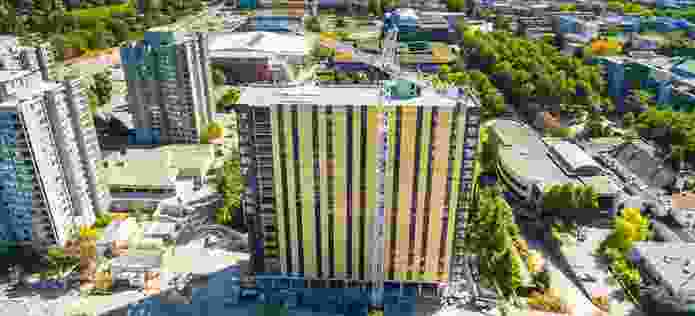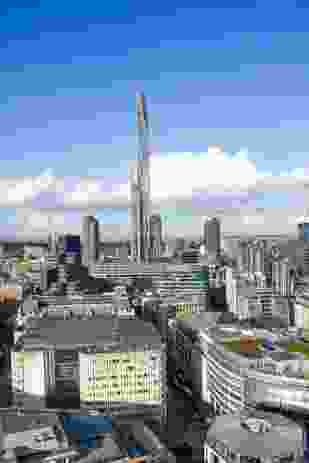 The word first appeared in media reports as early as 2011 when Canadian architect Michael Green addressed a Green Cities Conference in Australia by presenting his designs for the world's first timber skyscraper.
It has spread across the world as more and more tall timber building proposals emerged. ArchitectureAU rounded up five noteworthy plyscrapers from Australia and around the world in ascending height order, of course.
Designed by Tzannes, the seven-storey International House Sydney in Barangaroo, currently under construction, will be made from cross-laminated timber and glue-laminated timber. The design makes extensive use of structural engineered timber and recycled hardwood timber throughout the building, and includes a colonnade form that is representative of a forest of trees. International House Sydney will be Australia's first commercial timber office building.
2. Forte Apartments
Completed in 2012, Forte Apartments by Lendlease Design was Australia's first timber high-rise apartment building. Standing at 32 metres tall (10 storeys), it was also the tallest timber apartment building in the world until it was surpassed by Treet, a 14-storey, 52-metre-tall apartment building in Bergen, Norway, designed by Artec.
The recently unveiled 52-metre-tall timber office tower proposal for Brisbane designed by Bates Smart will be the Australia's tallest plyscraper. It will also have the largest gross floor area for an engineered timber building in the world.
4. Brock Commons
Designed by Acton Ostry Architects, Brock Commons is a student accommodation building for the University of British Columbia in Vancouver, Canada. Completed in September 2016, it currently holds the title of the world's tallest timber building, standing at 53-metres tall.
5. "The Toothpick"
In April 2016, PLP Architecture and University of Cambridge researchers unveiled concept designs for an 80-storey, 300-metre-tall timber tower to stand above the Barbican Estate in London. The local media have appropriately dubbed the proposal "the toothpick." The proposal was part of a research project titled Supertall Timber: Design Research for the Next Generation of Natural Structure, which won the Royal Institute for British Architects President's Award for Design and Technical Research.
For the record, plyscraper came in at 12th place out of 15 in the popular vote for Macquarie Dictionary's 2016 Word of the Year. See the other finalists here.
Related topics