Point Piper Boathouse by Andrew Burges Architects
Part of a larger multiresidential project, this boathouse provides a direct yet elegant connection to Seven Shillings Beach.
Like the dot at the bottom of an exclamation mark, this boathouse by Andrew Burges finishes off a two-apartment development on Seven Shillings Beach. But it also sits discretely as a building in its own right. The project is, figuratively at least, a boathouse, though it is very much a space for people rather than boats – a civil response that claims the waterfront back for people to use and enjoy. It isn't a pavilion like the neighbouring boathouses that dot the bay, it is more a part of the landscape – a sophisticated cave that hasn't been so much built as carved out of the sandstone.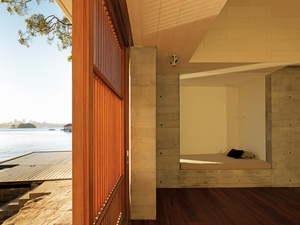 A triumvirate of concrete, timber and limestone lines the interior of the boatshed. The plan is a basic rectangle – close to square. A daybed sits off to the side with a calibrated slot window that sets the eye off down towards the Sydney Opera House and the Sydney Harbour Bridge. It would have been a temptation to focus the entire boathouse towards this direction, but Burges shows a deft hand in assembling the parts of this space: the boathouse itself is very much something you find, and the different views from it are treated in the same way. A case in point here is how the vertical elements of timber screens are organized at varied angles to open up different aspects across Double Bay, up to Clark Island and beyond to the CBD, depending on where you are located in the space.
Again, the cave metaphor springs to mind in the bathroom space as a sliver of light creeps down the face of a five-metre-high light shaft that could have been weathered out of the cliff itself. Returning back into the main space you notice the exposed concrete soffit, which folds up at the rear of the volume before it meets the wall to create an alcove for lighting. This also blurs the edge of the space in a way that defies the substance of the material palette that is on show.
Materially, there is no doubt the project collects and assembles its elements elegantly; however, the true beauty of the boathouse is in its section. As high as it is deep, it is this element of the design that, despite its diminutive size in plan, enables the boatshed to exude a feeling of relaxed generosity – a worthy outcome for a project of any size.