Turning a sow's ear into a silk purse is not an easy job. To be quite honest, trying to polish a late 1980s warren of small rooms with low ceilings into anything that remotely responds to either contemporary living standards or environmental context is a big ask. For the price, more often than not you're better off bowling it over and starting again. However, in an era where the real cost of building and its impact on the environment is beginning to be understood, renovation is not only desirable but economically and environmentally responsible. So, on a perfect late summer morning, I met architect Mark Pearse outside a house which is testament to the fact that you need not throw the baby out with the bathwater.
With a gentle breeze carrying a cool smell of the harbour, we stood in perhaps one of the most picture-perfect places that Sydney has to offer. With direct northern orientation and a geography rising gracefully enough to separate each successive neighbour ascending the hill, it was not the house with the water lapping at its foundations that we were here to visit, but one of those set up on the hill, raised above the street trees.
Mark's focused and gentle explanation of the project and the selective editing that architect and client undertook begins at the first step. Small changes to the entry path and selective planting at the edges created spaces and edited elements of the house which were unable to be modified architecturally. Arriving at a massive entry pivot we are greeted by clients and dog, in reverse order, and are welcomed into the house like old friends. The trust and respect displayed speaks volumes of a successful relationship.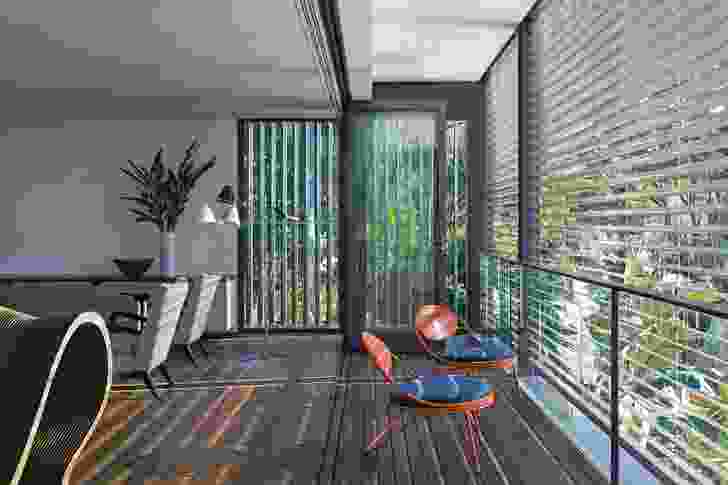 We enter the house and find ourselves, as the client races up the stairs to make the bed (we're a little early), at the bottom of a magnificent stairway. It is truly beautiful. Beautiful not because of its grandeur or extent, but because of its subtle form, its crafted feel and the vertical meander it makes as it nudges each level it is required to serve. Here is a form in which you can read the energy of the drawing and the hand that made it. The geometry is not perfect, but this lends it its beauty.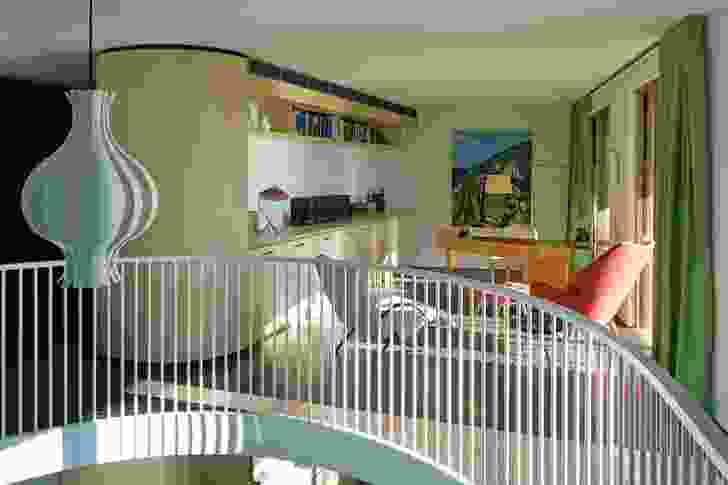 Climbing to the living level above, you are no longer engaged in looking at the stair, but rather are teased to look from it. Rising with each step is a Tracey Moffatt artwork series, animating the space and giving colour to the white shaft and sinuous timber. At the living room landing, the solidity of the enclosing masonry shaft is punctured and you are delivered across a threshold into a warm space lined in beautiful materials and oriented to look across the treetops to the harbour. You could stand here all day and watch the activity of the harbour go by. In this room you can see how much the architect understands the environment within which the house sits.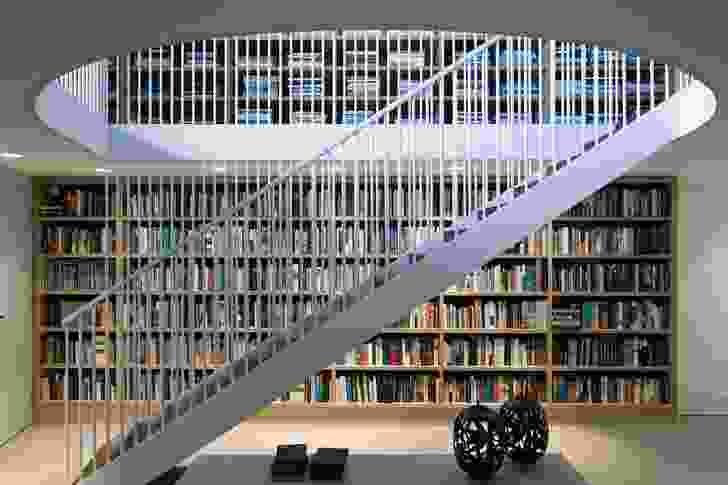 Instead of glossy polished timber, the floors are rough-hewn and oiled with a matt finish to ensure that the light reflection from the harbour doesn't force you to walk around squinting all day or close the blinds. This room is an excellent space to be in. It is not overly large, nor does it feel small. It is, in fact, perfectly suited to its activity. The dining room is nestled into the back of the plan and the odd original building geometry is negotiated by a domed ceiling feature, which grounds the dining table and shifts attention away from the clumsy sharp corners of the home's previous life.
My other favourite room of the house is actually two rooms, two studies which sit one above the other, connected by a void and library. A striking white dowel balustrade traces the edges of the void and the rise of the stair. Here, rather than losing the balustrade, it is celebrated, adding a sense of energy and dynamism to the space and a physical connection which engages both rooms.
Undoubtedly the original house was not a complete train wreck. Rather, a bit like a film script, it needed editing and partial rewriting to ensure that the real story could be understood. The quality of this renovation is that it does exactly that – it edits, rewrites and re-imagines the spaces of the house so that they are better than they were before. This project is delightful, light, warm and engaging, everything a home should be.
Products and materials
Roofing

Existing metal roofs.
External walls

Existing rendered brick.
Internal walls

Plaster, painted; veneered panelling.
Windows

Anodized aluminium frames, slate grey; operable louvres with white powdercoated ellipse blades.
Doors

Solid Tasmanian blackwood, natural oil finish; custom brass hardware; anodized aluminium bifolds.
Flooring

Smoked, brushed and oiled European oak floorboards; bluestone paving; Tretford goat hair carpet; Lama wool carpet.
Lighting

Produzione Privata Perseo lamp; Verpan Onion; Howe Floating World; Flos Parentesi light and Tilee wall lights; Reggiani Sombra downlights.
Kitchen

Gaggenau oven and cooktop; Miele fridge and dishwasher; 'River White' granite benchtops; Japanese Sen veneer; spray polyurethane paint.
Bathroom

Kaldewei Centro Duo bath; Villeroy & Boch toilets; Rogerseller and Ideal Standard basins; Brodware City Stik tapware; Hydrotherm towel rails; honed bluestone mosaic floors; honed bluestone wall tiles and rectified edge satin white tiles; beige vitrified mosaics.
Heating/cooling

Horiso perforated horizontal louvres and elliptical louvres vertically; reverse-cycle airconditioning.
Other

Custom-made brass details to joinery; woollen suiting fabric wall panels; custom-made elliptical plaster dome in dining.
Credits
Architect

Mark Pearse Architect
Surry Hills, Sydney, NSW, Australia
Project Team

Mark Pearse, Phillipa Maher
Consultants

Architectural plaster Bailey Interiors
Builder Tricon Developments
Engineer Partridge
Geotechnical consultants Jeffery and Katauskas
Interiors and lighting Mark Pearse Architect
Landscaping Greenfriends
Pool Wright Pools
Soft furnishings Coco's soft furnishings
Upholstery Intoo Pty Ltd

Site Details

Location Point Piper, Sydney, NSW, Australia
Building area 474 m2

Project Details

Status Built
Design, documentation 10 months
Construction 10 months
Category Residential

Source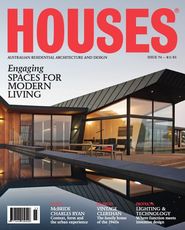 Related topics