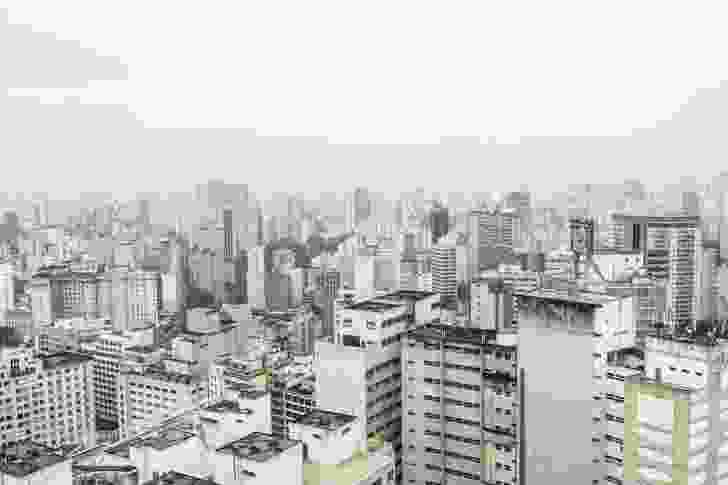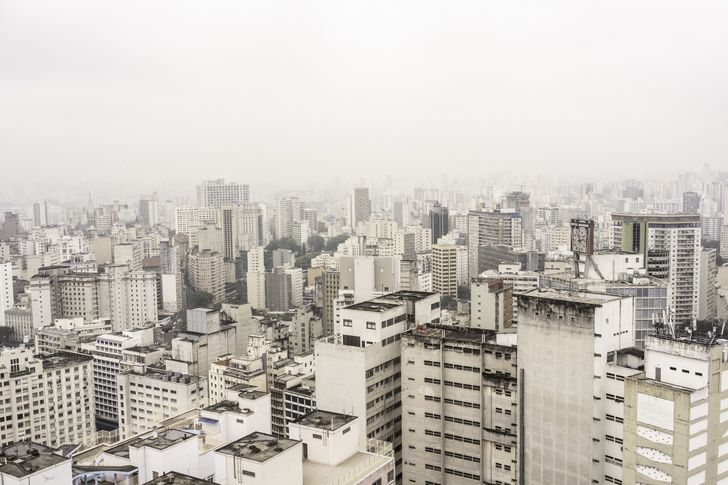 "Would you like me to take your blood pressure?" A young Brazilian woman in a white lab coat ventures in the shade of the São Paulo Museum of Art's concrete belly. "Medical school is expensive, so we are offering blood pressure tests in exchange for a donation toward my tuition" she continues, wrapping the pressure monitor around my upper arm without waiting for a reply. In the background, beyond the buskers, souvenir-sellers and skaters occupying the museum undercroft, a cluster of people move into in sunlight along Avenida Paulista, illuminating a yellow #EleNão (not him) banner.
Brazil was approaching the 2018 election later in the month, following three years of economic decline widely regarded as the country's worst recession on record, and the Avenida Paulista, São Paulo's primary cultural and commercial artery, was replete with political messaging. Banners were waived, badges and stickers were worn, cars were emblazoned with stickers. With more than 13 million unemployed, an alarming murder rate, an incumbent government mired in a series of corruption scandals and a presidential candidate recently stabbed at a campaign rally, the election was shaping up to be the most unpredictable and divisive since democracy was reinstated in 1985. Much of the campaign material on display referred to Jair Bolsonaro, extreme-right pro-military provocateur, known for his hate speech against the black and indigenous communities, women and LGBTI people. The blood pressure of São Paulo, Brazil's biggest and most economically unequal city, was raised, with much at stake for those on both sides of the political spectrum.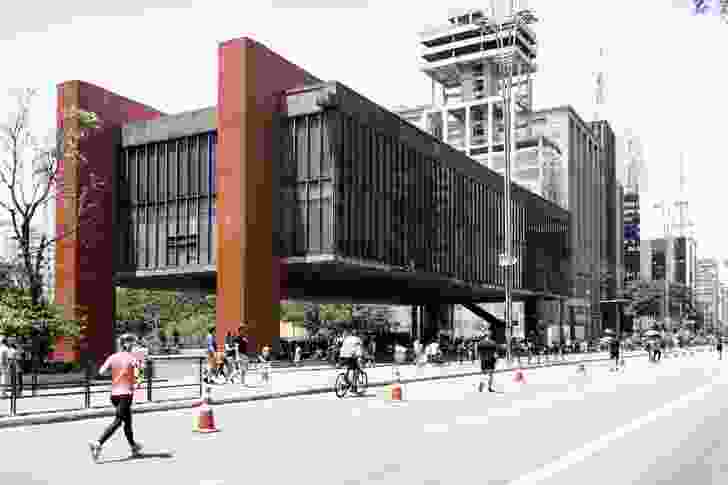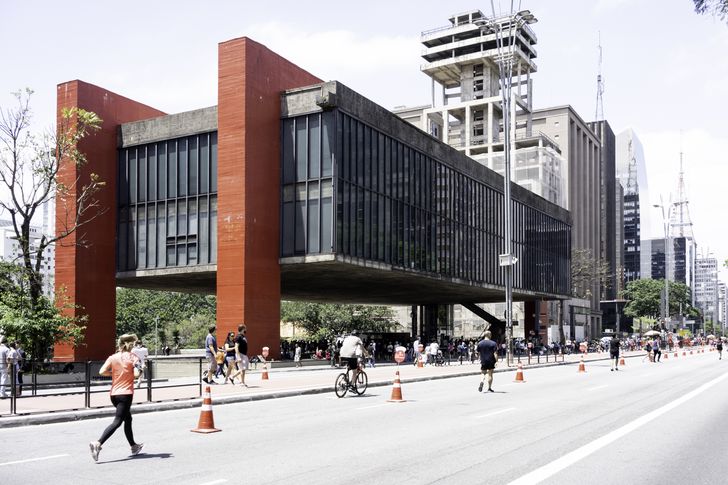 São Paulo is no stranger to political and economic turmoil. Brazil's oscillation from "flawed" democracy to military dictatorship and back again affected the creative output of a generation of architects. The São Paulo Museum of Art (MASP) was itself midway through construction during the military coup of 1964. Architect Lina Bo Bardi, having grown up in Italy under Mussolini's fascist rule before immigrating to Brazil in 1946, grew increasingly radical post coup – aligning herself with Marxism and positioning her work as a representation of popular and traditional Brazilian culture. João Vilanova Artigas, leader of the São Paulo brutalist movement, of which Lina Bo Bardi was associated, was dismissed from the architecture faculty that he had founded and blacklisted from teaching and practicing for the two decades of military regime that followed. "It was a dreadful time," friend and fellow Marxist Paulo Mendes da Rocha said of the period in a 2017 interview. "I couldn't leave, I had five children and I didn't want to abandon the country…. I had friends who were arrested and murdered. Brazil is still living with the consequences of that period today – our current state of crisis is a hangover from those days".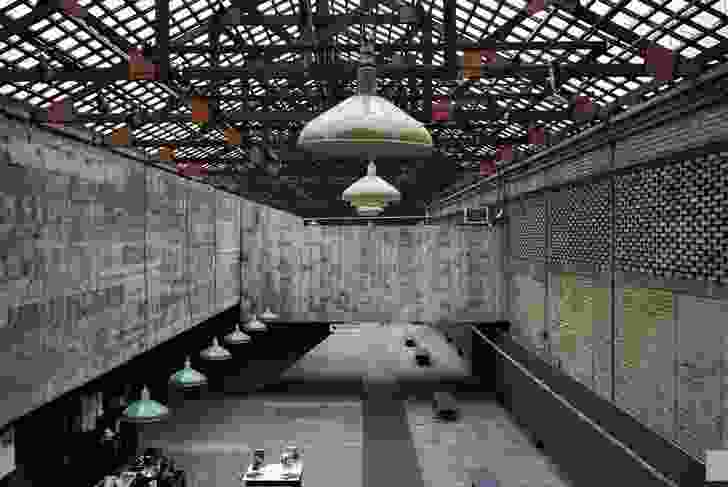 São Paulo brutalism, or the Paulista School, as it is otherwise known, is indivisible from its political motivations. Its leader, João Vilanova Artigas, was a prominent member of the Brazilian Communist Party whose interpretation of the tropes of international modernism sought to facilitate intellectual, creative and political community. These ideas are evident nowhere more than in his masterwork, the Faculty of Architecture and Urbanism, University of São Paulo (designed with Carlos Cascaldi): a vast concrete shell of fluid space, porous to light and air, designed to foster a new collaborative and interdisciplinary school. But similar inclinations are apparent in the work of other prominent Paulista architects – in the prioritizing of the public square and collective human experience at Lina Bo Bardi's MASP and her SESC Pompeia Factory leisure centre as well as at Paulo Mendes da Rocha's own house in Butantã.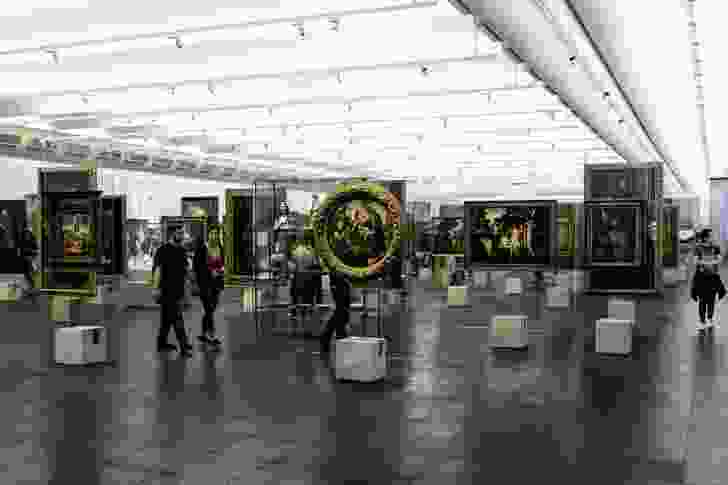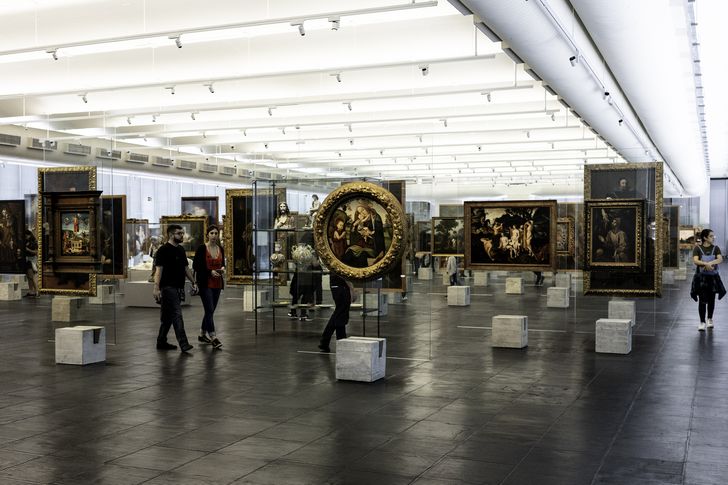 At MASP, Lina Bo Bardi's earliest major public building (1968), a two-level volume of glazed gallery space is "hung" off two huge off-form concrete portals, with administrative offices terraced into the north side beneath the plaza and invisible from Avenida Paulista. Here, Bardi created a new, un-programmed public square that retained upper level views over the native Atlantic forest of Trianon Park to the south, and plaza-level views over downtown São Paulo to the north. "I tried to create an atmosphere," Bo Bardi wrote in 1968. "I'd like for the common people to go there and see outdoor exhibitions and chat, listen to music, watch films." Inside, Bardi eschewed a traditional wall-hung curatorial method in favour of hundreds of custom glass easels that suspended the artworks throughout the centre of the glazed hall. The effect was a kind of artistic disembodiment that anticipated the non-linear, non-chronological, self-directed exhibition design of our current era. The design is intentionally anti-institutional and anti-elitist, its object to "to destroy the aura that surrounds museums…to present the artwork as work and as a prophecy within everyone's reach"[1].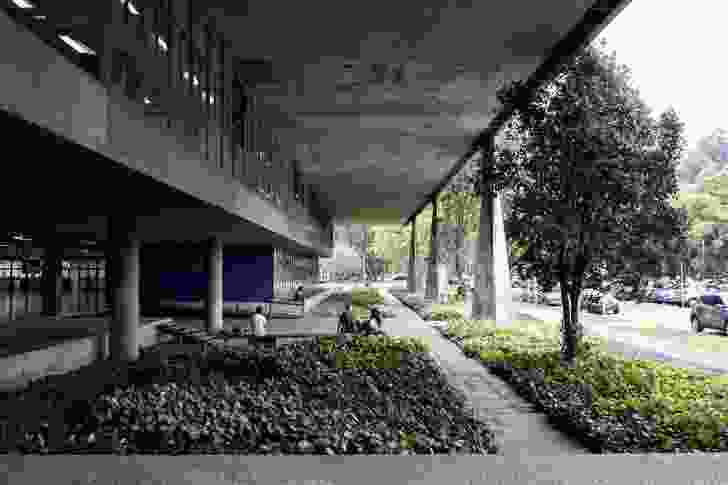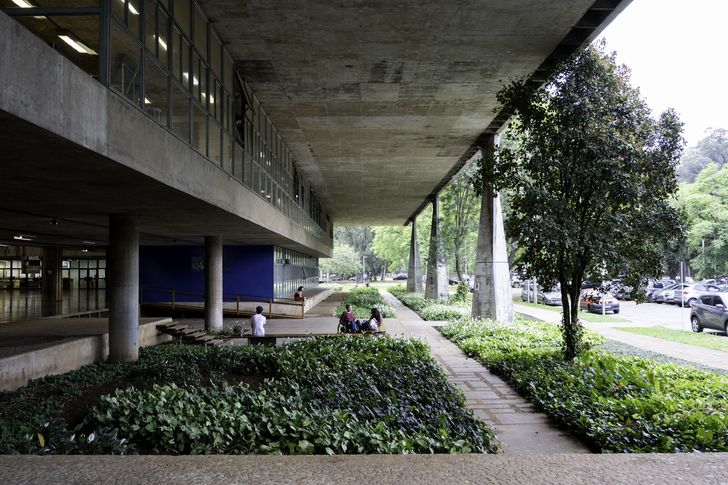 To the west of the city, in the lush green campus of the University of São Paulo, lies Artigas' Faculty of Architecture and Urbanism (FAU-USP), designed in 1961. It is a hulking off-form concrete volume, at once open and closed, heavy and light: a communal, civic container of ideas. In FAU-USP, the aesthetic of international brutalism has been recast with the Brazilian economy and student community in mind – employing construction technology designed to stimulate industry and create a communal space that promoted inter-disciplinary exchange. Artigas described the architecture as a test laboratory for his ideal community. "I saw it as the spatialization of democracy, in dignified spaces, without front doors – a temple where all activities are valid," he wrote.[2] Indeed, there are no front doors to the architecture faculty, with the ground floor open to the south-west. Walking inside under a suspended concrete slab, one enters a vast atrium illuminated from above through a sublime textile of interlocking concrete elements, with a continuous ramp leading to the north-western end. Un-airconditioned and largely un-divided, the studio spaces are filled with students and their work, the walls and partitions permanently covered in student graffiti. It's hard to imagine a building less undermined by this kind of messy occupation, partly because of its huge, legible scale and consistent concrete palette, and partly because the "mess" is aligned with its ideology and program.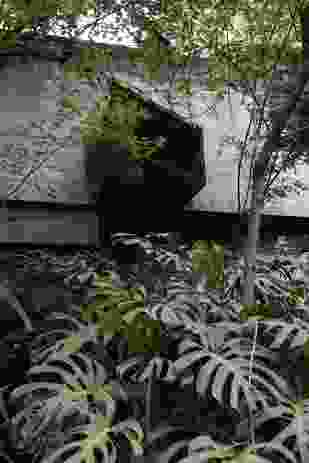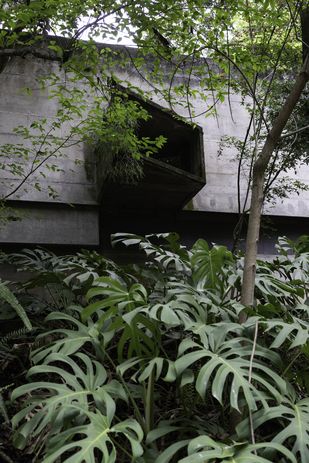 A few kilometres to the east of Artigas' architecture school in the leafy suburb of Butantã, is a residential manifestation of many of the ideas underpinning FAU-USP. Paulo Mendes da Rocha's own home (1964-66) is a concrete shell consisting of apparently blind elevations that appears to float over a grassy, tree lined embankment. Like FAU-USP, much of the internal space relies on light from above – in this case via fourteen differently shaped skylights. These provide the only natural light to the bedrooms, which are centrally located and conceived of as puritan sleeping dorms only, with the vast majority of internal space privileging the communal hall – a generous, 80-square-metre living space with long strip windows along its north-west perimeter. Similar too is the deliberately rough precast concrete aesthetic, its elements designed to be produced en masse in a factory, and so bereft of elitist, "refined" bourgeois associations. That Mendes da Rocha designed an identical home next door for his sister only reinforces the anti-bourgeois sentiment, as does the lack of high perimeter walls – a genuinely shocking anomaly in São Paulo's wealthier suburbs.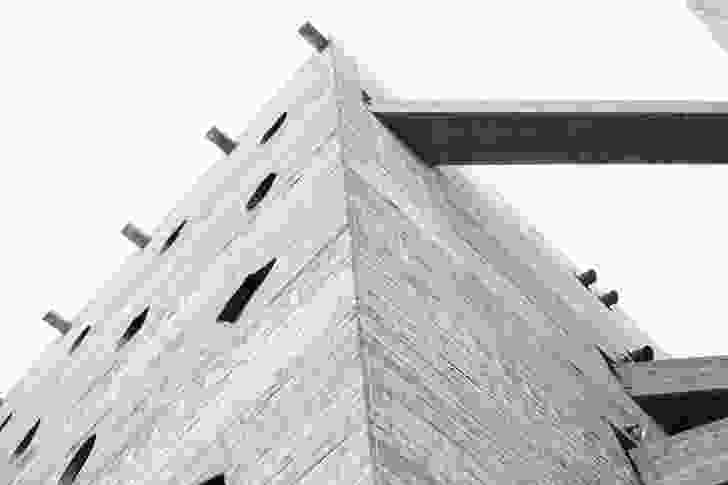 Further north, in the working class suburb of Pompeia, is a cultural complex that appears as a village onto itself – Lina Bo Bardi's SESC Pompeia Factory leisure centre (1977-86). Here, the ethic and aesthetic of the Paulista School is present again in the huge concrete towers that house a sport for every taste: a swimming pool on the ground floor, with levels of basketball, soccer, volleyball, dance and yoga above. The communal is again king, yet in a different, more complex manner than at FAU-USP, with the emphasis on accommodating all people of all ages and inclinations. The puritanism of both Artigas's and Mendes da Rocha's masterpieces is mediated at SESC by a celebration of craft and a tendency toward the popular, the graphic and the surreal. At SESC, the concrete is not precast but poured on site, the windows are irregular, primitive "holes" in the concrete facade and the forms of the sports towers take on an anthropomorphic quality, like a mismatched couple dancing on an industrial site. Bo Bardi was at pains to preserve the existing community that had appropriated the sheds at the old steel barrel factory, retaining the existing structures and re-fitting them with upgraded artists' studios, galleries, theatres, a library, a restaurant and music rooms.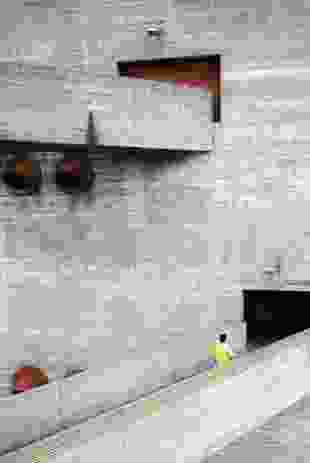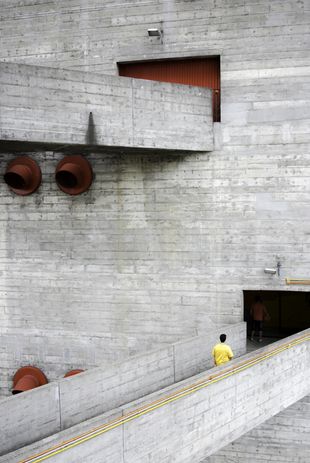 Between the nineteen industrial sheds on the site to be retained and refit, the ambitious sports program and some challenging site conditions, a number of separate solutions were required at SESC. The strength of the built outcome is the sense of a unified whole comprising diverse but complementary parts. Instead of a single masterstroke that might have resulted from razing the site and combining the various functions under one roof, Bo Bardi's community-driven solutions are more genuinely democratic, paying tribute to the diversity and "surrealism of the Brazilian people, their inventions, their pleasure in getting together"[3].
The heyday of Brazilian architecture is generally conceived of as being between the 1940s and 1960, the year of Brasilia's inauguration as capital. It was a period of economic boom and ambitious architectural output by Oscar Niemeyer, Affonso Reidy, Lúcio Costa and Vilanova Artigas, among others. Yet many significant works were still being produced, unbeknown to the international architectural media of the day, after Brazil was plunged into the cultural darkness of the military regime. The examples discussed here represent creative and political opposition to the regime that positions architecture as a vehicle for civic communion. In the school, in the home, in the gallery and in the leisure centre, the communal is prioritized. All these projects provide non-commercial space that facilitates cultural and intellectual exchange and promotes shared values. They demonstrate that "culture is in fact an everyday reality"[4] to be shared by all, not divided along class, race, sexual orientation or gender lines.
As 2019 dawns, Brazil is not living under the shroud of a military dictatorship, though its newly elected president, Bolsonaro, has repeatedly expressed nostalgia for those years. In Brazil and globally, however, resentment wrought by the inadequacy of our economic and political systems to address growing economic inequality and political corruption has been co-opted by so-called populists and transformed into the language of identity politics, pitting one sector of society against another. In this environment of cultural reductionism– of gender, queer and race-baiting and "redneck" shaming – the importance of communal space is vital. If the precondition for a functional democracy is the free exchange of ideas, then we need civic, residential and institutional spaces in which to hear and see each other, spaces in which "all activities are valid."
[1]Lina Bo Bardi "Explanations about the Museum of Art" O Estado de São Paulo, April 5 1970
[2]Puntoni, Alvaro (ed). et al, Vilanova Artigas, Instituto Lina Bo e P M Bardi, Fundacao Vilanova Artigas, São Paulo 1997, p 101
[3]Lina Bo Bardi, Notes for interview with Casa Vogue
[4]Fausto, Historia do Brasil, 509; Lina Bo Bardi, interview with Fabio Malavoglia
Related topics