A heady home: Polperro Winery
Nestled in a forested gully on Victoria's Mornington Peninsula, this restaurant and winery designed by Hecker Guthrie employs a domestic sensitivity.
Carefully arranged in this restrained dining room is a series of beguiling artworks by photographic artist Rebekah Stuart. They reveal otherworldly landscapes, at once familiar and abstracted, rich in atmosphere and ambiguity, and shaped by Romance and Renaissance traditions. It isn't surprising to hear that these lovely pieces were a starting point for the design of this fitout.
"We originally proposed a lighter palette for the space," says Hamish Guthrie, director of Hecker Guthrie. "There were some beautiful eucalypts running on a strong axis through the site and we started drawing on that colouring – the silvery blues and light greys. But our client was hoping for something darker and moodier, something that would translate easily into a night-time space and match the wine-tasting experience. The hues in the artworks perfectly reflected those ideas."
The clients in question are Sam Coverdale, winemaker at Even Keel Wines, and his partner, Emma Phillips. Since 2006, Even Keel has been producing flinty chardonnays, ripe pinots and an assortment of other well-respected wines. More recently, it took possession of an existing restaurant, winery and accommodation in Red Hill, on Victoria's Mornington Peninsula.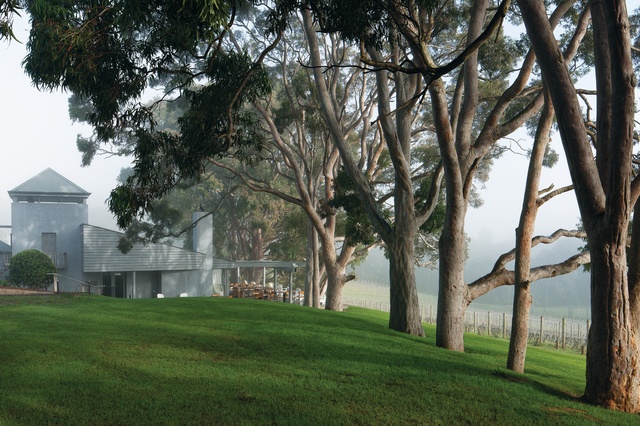 Nestled in a forested gully, the original structure was left intact, but a sleek new interior was inserted within it. It is a peaceful and comfortable space, cleverly balancing the informality of its rural setting with an understated sense of quality, of "craftedness." "We wanted it to have a handmade quality, an earthiness," says Guthrie.
One challenge of the brief was to create a space that could also accommodate functions and events. With three glazed walls and the need to retain the flexibility of the dining room by eschewing fixed furniture, the rear wall of the dining room became an important structural component. It is a deceptively simple element – a dark-stained panelled wall, sectioned into a kind of Arts and Crafts era wall unit, with the lower section finished in warm tobacco-coloured brick tiles. Delicate ceramic items, trailing greenery and those elegant photographic artworks are carefully arranged across the surface. Articulated black reading lamps extend from the wall, illuminating each piece.
"Normally in our work, we like to insert a large pendant light as a key lighting element. But that approach just doesn't work for every project," Guthrie explains. "Here, we tried to create the same feeling, that sense of theatre through the use of different lighting fixtures."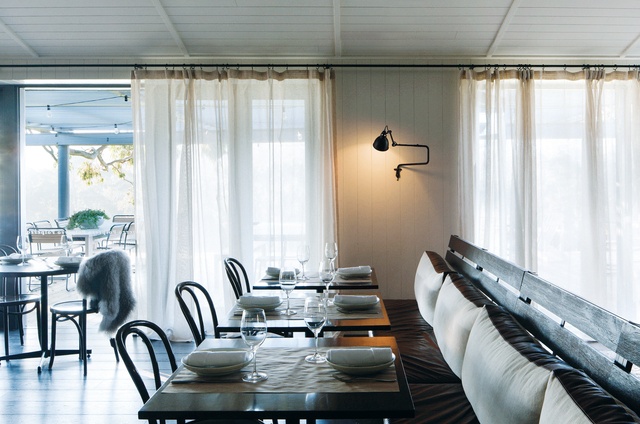 While the site certainly offers a spectacular vista, the team worked hard to ensure every seat in the room enjoys an exceptional outlook. "People tend to get a little bit fixated on the idea of the view – to the vineyards, to the hills, to the ocean, to whatever it might be," Guthrie says. "It's easy to lose sight of the fact that, at night, a window overlooking the landscape turns into a black plane. We always ask ourselves, 'How does the experience work without that view?' We strive to make the worst seat in the house into the best seat in the house – we give it a little more attention."
Alongside the entry sits an elegant lounge zone. "We see that kind of space as a crucial part of the welcome experience, your first impression as you walk through the door." A central fireplace, textured rug and two large leather-clad chairs complete the space. It is singular and cohesive, a neat aside from the dining room proper but finished with the same focus on tactility and materiality.
The highest point of the raked ceiling lies above the rectilinear bar at the entry to the dining room. Here, a dynamic cascade of tubular pendants attached to a pulley system adds drama. The bar unit itself is compact but effective, its solidity offset by an expressed frame that wraps around it.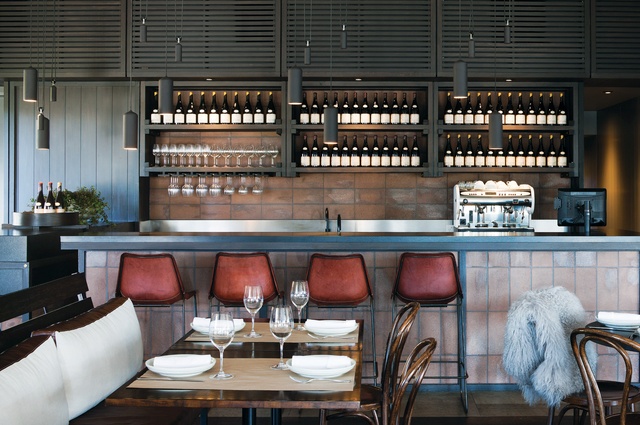 To allow the bar to operate more easily, a new tasting room was created in a previously underused storeroom behind the bar and kitchen. It is dark and cosy, an altogether different scheme to the light and airy dining room. "In a way, it is an inverted cellar door experience – there's not that typical serve-over counter. We wanted to break that down and make it more open, so you don't have that barrier between the winemaker and the customer." A central table takes the place of the usual counter, allowing the space to double as an intimate private dining room during the evening and creating an almost domestic character.
"As a studio, there is a lot of cross-over from the residential work we do to our commercial projects. We don't necessarily see them as being very different types of projects – it's all intertwined in the way that we work. In the end, they're all based on quite a residential sensitivity, an understanding of what makes people feel comfortable in a space," Guthrie says.