A new dining precinct is emerging in Sydney's Neutral Bay underneath the Louvre apartment complex, in a street just off Military Road. Pony was one of the first to open its doors and offers a warm and inviting dining experience for patrons. Realizing they needed a unique aesthetic to differentiate them from their neighbours, but unwilling to repeat the distinctive interiors (including cowhide) of sister restaurant Pony in The Rocks, the owners appointed Matthew Darwon for a completely new design. Darwon is well known in Sydney circles for his interiors for Toko and Tokonoma, and for his love of timber. "Timber is natural, warm, inviting, easy to work with, comfortable, good for acoustics and it's a sustainable product," he says. "There's a textural element to timber and, when chosen properly, the right timber has a beautiful colour."
Timber is one of a number of elements used in Pony's interior to create a subdued, rich aesthetic. Upon arrival, a wall of stained glass panels creates an interesting relationship between the restaurant interior and the street outside. The brief was to create a striking shopfront for those walking past, to make this restaurant stand out from the crowd. "We didn't want to just do a plain shopfront," explains co-owner George Kyprianou. "We wanted people to say, 'What's going on in there?'" The resulting wall is in panes of orange, red and clear glass, with some windows opening inwards to allow fresh air to circulate. The result is warm and eye-catching.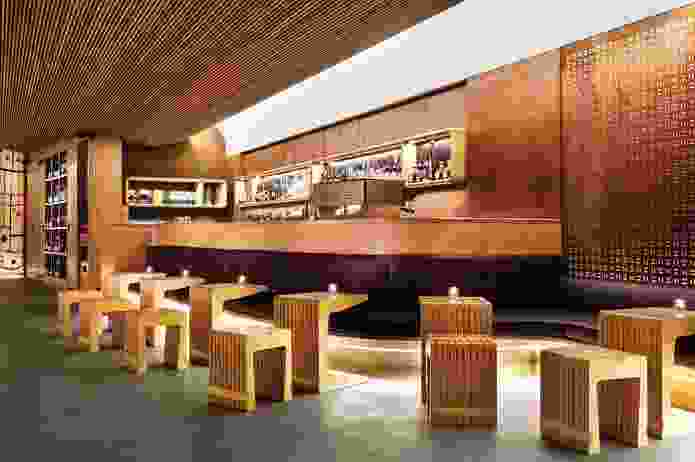 Inside, a corridor on the left hand side of the dining room forms a spine for the space, with patrons sitting at tables on a long bench, while towards the back a horizontal peephole allows you to see the chefs working in the kitchen. Continuing further, the space tapers inwards to a smaller dining space for larger groups. On the other side of the space, a sinuous bar curves, with one end becoming seating for more dining tables. And at the front, there is a bar area for informal drinks and a rusted screen on the wall, which gives a raw edge. Illuminating the space is LED lighting hidden behind joinery and underneath the seating elements.
Perhaps unusually for a restaurant, the floor is burnished concrete, creating a soft and muted effect (unlike the reflective surface of polished concrete). But the real feature here is the timber ceiling, made of five kilometres of timber slats laid horizontally by hand – each one is shaped almost like a long broom handle. The ceiling itself curves in an undulating wave, the final shape of which was created by Darwon himself, who took a jigsaw to a piece of MDF during the build. Darwon says, "The floor is very monotone and flat without texture and variation in colour, while the ceiling represents the exact opposite – it is fluid and organic, with depth in colour and a 3D formation." And thanks to a special Brazilian wood-fired grill, fired with ironbark from the Blue Mountains, the food is as warm, comforting and memorable as the interior.
Products and materials
Furniture

Monza dining chair by Plank, from Insitu. Plywood stool and table in bar designed by Matthew Darwon.
Finishes

American oak.
Credits
Design practice

Matthew Darwon

Consultants

Builder Finn Projects
Joinery Taskar Joinery

Site details

Location 2/19–25 Grosvenor Street, Neutral Bay, Sydney, NSW, Australia
Site type Urban
Category Interiors
Type Hospitality, Restaurants

Project Details

Status Built

Client

Client Pony Neutral Bay
Website ponyneutralbay.com.au

Source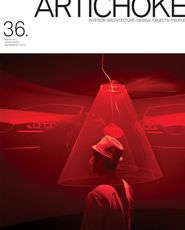 Issue
Artichoke, September 2011
Related topics