Pop-up park to brighten Melbourne's CBD, with permanent park delayed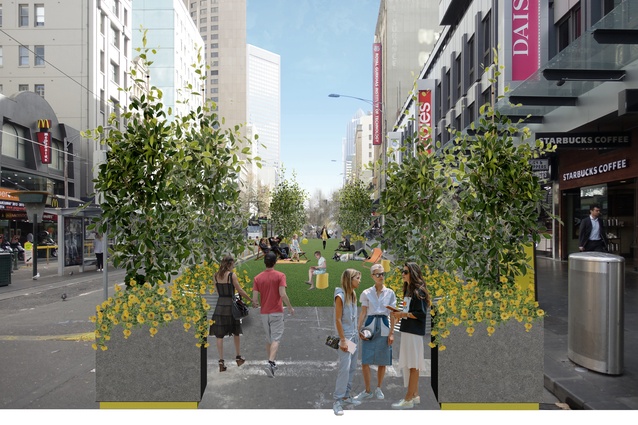 A pop-up park comprising trees, planter boxes and moveable furniture will be erected on the eastern side of Melbourne's Elizabeth Street this summer, while the road's permanent redevelopment has been postponed by twelve months.
Designed by the City of Melbourne's in-house design studio, the 375-square-metre park will aim to transform Elizabeth Street south between Flinders Lane and Flinders Street into a "dynamic space for pedestrians."
Plans for the the creation of a permanent park have been delayed to accommodate the construction of a $40 million office building at 276 Flinders Street, designed by Baldasso Cortese for Fivex Property.
Lord Mayor Robert Doyle said the transformation of this former bank site would provide an additional 4,000 square metres of "in-demand" office space but would limit the council's ability to build the public space immediately.
"The decision to postpone construction of the permanent public space is based on maintaining pedestrian safety around construction activities and allowing this important development for our city to get underway," Doyle said.
"We also need to prevent damage to new public space infrastructure that would likely result from construction vehicles in this space."
Pedestrian numbers at the southern end of Elizabeth Street have soared, according to the council, with the stretch between Flinders Lane and Flinders Street accessed by an average of more than 9,300 people in the morning peak, while just 73 cars use the street in that time. Between 2004 and 2015 there was a 65 percent decline in the number of vehicles using Elizabeth Street.
The City of Melbourne had been considering the partial closure of Elizabeth Street South for some time. In July 2016, it release the Draft Elizabeth Street Strategic Opportunities Plan, which flagged "an opportunity to reallocate space currently used for the southbound vehicle carriageway and parking to provide a more generous space for pedestrians on the east side."
"We expect the pop-up park to be well used by the pedestrians who access the corner of Elizabeth Street and Flinders Street during the peak periods," Doyle said.
The pop-up park will be open for just three months, from December 2017 to February 2018, while the permanent redevelopment is now slated for 2019.
The $2.2 million permanent public space will include new street furniture, better lighting, new bluestone paving, drainage improvements and trees.