10 percent of the global population lived in cities in 1900. 50 percent of the global population lived in cities in 2011. 75 percent will be living in cities in 2050. 75 percent of global natural resources are consumed by cities. 80 percent of global greenhouse emissions are produced by cities. Australia's population today is 25 million. Australia's predicted population in 2056 is 42M.
The nineteenth century was a century of empires, the twentieth century was a century of nation states. The twenty-first century will be a century of cities.

— Wellington Webb, former mayor of Denver
We are living in a period of rapid urbanization, the likes of which has never been experienced in the history
of humanity. In 1900, 10 percent of the global population lived in cities.1 In 2011, for the first time, this number increased to more than 50 percent2 and it is predicted to exceed 75 percent by 2050.3 As a result of this increasing population and its centralization in cities caused by the agglomeration benefits of the knowledge economy, cities are experiencing growth at unprecedented rates.
Simultaneously, the greatest challenge of the twenty-first century is climate change. Cities consume 75 percent of global natural resources and account for 80 percent of global greenhouse gas emissions while occupying only 3 percent of the earth's land surface.4,5 So, when it comes to ameliorating climate change, cities are critical. According to Tony Hsieh, entrepreneur and CEO of Zappos, "If you fix cities, you kind of fix the world."6
The Australian Bureau of Statistics predicts that Australia's population will increase from 25 million in 2019 to 42 million by 2056.7 The majority of this growth will be in urban centres. The puzzle is how to accommodate the additional population while reducing harmful greenhouse gas emissions and improving the social and economic equality of our cities.
Read the complete Population, cities and urban infrastructure dossier in the September issue of Architecture Australia, available here.
During the twentieth century, our cities experienced the majority of their expansion according to the urban model of a car-based monocentric metropolis surrounded by low-density suburban sprawl. Now, congestion, long commutes, pollution, inaccessibility to public transport and decreasing housing affordability are clear indications that Australian cities have surpassed the limits of this model.
For the first time in Australia's history, we have a Minister for Population, Cities and Urban Infrastructure – an acknowledgement of the vital role played by cities and infrastructure in managing the obstacles brought about by rapid population growth. In this issue of Architecture Australia , we examine the major challenges facing Australian cities in the future and the role architecture and planning can play in solving them.
At the macro scale, Richard Weller considers the scenarios for urban growth and population while Phillip Thalis and Benjamin Driver review the Greater Sydney Commission's vision for a metropolis of three cities.
Essential to achieving planning and policy decisions in cities is the provision of urban infrastructure. Kim Crestani discusses the role of architects in urban infrastructure, Ian Woodcock considers Melbourne's Level Crossing Removal Project and Mattheos Santamouris writes about his experiments in urban heat mapping.
Finally, we examine urban density, looking at the role of tall buildings in increasing urban density and improving amenity and Clare Newton discusses the new typology of vertical schools. You'll also find reviews of a number of projects with significant impacts on urban amenity.
As architects and others interested in the future shape of our urban environments, it is imperative that we engage with the issues of increasing population and climate change.
— Philip Vivian is a Sydney-based design director of Bates Smart, a contributing editor to Architecture Australia and president of the Council on Tall Buildings and Urban Habitat (Australia).
— Philip Oldfield is director of the architecture program at UNSW Sydney and author of The Sustainable Tall Building: A Design Primer , published by Routledge.
Footnotes
1. United Nations, Department of Economic and Social Affairs Population Division 2014, "World Urbanization Prospects: The 2014 Revision [Highlights]," United Nations website, 2014, esa.un.org/unpd/wup/publications/files/wup2014-highlights.pdf (accessed 27 June 2019).
2. United Nations, 2014.
3. United Nations, 2014.
4. United Nations, "Sustainable Development Goals; Goal 11: Make Cities Inclusive, Safe, Resilient and Sustainable," United Nations website, un.org/sustainabledevelopment/cities (accessed 27 June 2019).
5. PwC, "A New Urban Agenda: Accommodating 2 Billion New Urban Citizens," PwC website, 2019, pwc.co.uk/issues/megatrends/rapid-urbanisation.html (accessed 27 June 2019).
6. Timothy Pratt, "What Happens in Brooklyn Moves to Vegas," The New York Times Magazine website, 19 October 2012, nytimes.com/2012/10/21/magazine/what-happens-in-brooklyn-moves-to-vegas.html (accessed 23 July 2019).
7. Luke Buckmaster and Joanne Simon-Davies, "Australia's Future Population," Parliament of Australia website, 12 October 2010, aph.gov.au/About_Parliament/Parliamentary_Departments/Parliamentary_Library/ pubs/BriefingBook43p/futurepopulation (accessed 27 June 2019).
Source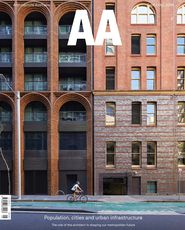 Issue
Architecture Australia, September 2019
Related topics