Designs for the adaptive re-use of the Royal Hall of Industries building as a sporting centre in Sydney's Centennial Parklands have been released as part of a planning application. A new multi-storey building that adjoins the hall also forms part of the application. Both elements have been designed by Populous.
The hall was built in 1913 and has been used in recent times as an exhibition hall and events space. In the past it has been the home of the Royal Easter Show, an ice rink and a make-shift hospital and morgue. The building has had a number of refurbishments, including a number of modernization works in the 1980s designed by Peddle Thorp and Walker.
In a conservation management plan prepared in 2007 by the NSW Government Architect's Office, the hall was described as "a Federation Free Classical style structure of grand proportions, it was designed with the dual purpose of exhibition hall and public entertainment centre.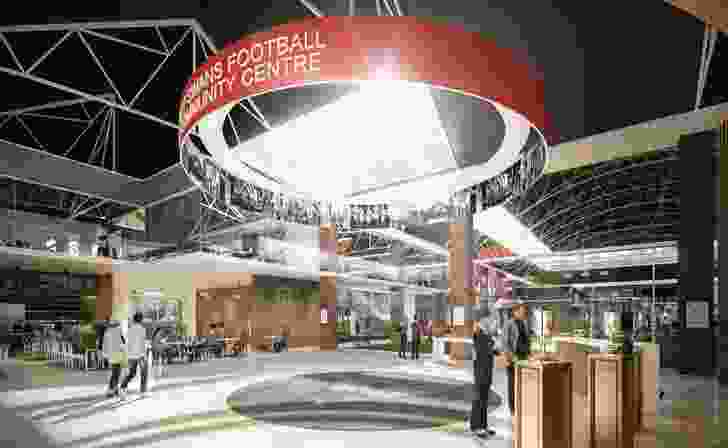 "Architecturally it is a well-conceived and functional building with impressive façades to all four elevations that make it a defining element in the streetscape of Driver Avenue and a picturesque element in the landscape of Moore Park."
The state government announced in 2018 that the building would become a hub for the Sydney Swans AFL club and the Swifts netball club, with $20 million in funding set aside for the redevelopment of the hall and the renovation of the neighbouring Hordern pavilion, which is used to host cultural events.
The Royal Hall of Industries' central hall will be retained and used as a multi-purpose space capable of hosting a variety of different sporting events. The roof will be largely retained, with skylights inserted to draw natural light into the cavernous interior. The façade would be mostly unaltered.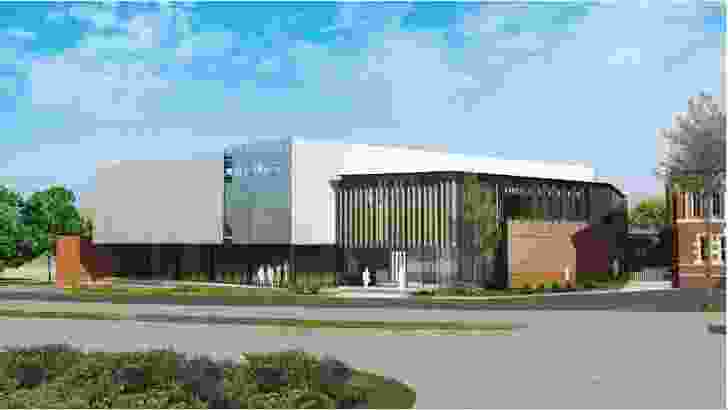 The main structural intervention proposed will be a mezzanine around the central span of the building, holding two new internal floors. Administration facilities and high-performance sports facilities for the Sydney Swans would be located in the building, dedicated spaces for the Clontarf and GO Foundations,as well as homes for a number of public institutions including a Red Cross blood donor centre, and a new, 80-seat public auditorium.
The proposal also includes the construction of a new building on the south-eastern corner of Errol Flynn Boulevarde and Lang Road, containing a netball court and administration bases. Dubbed the Swifts Building, the design calls for a material palette that references the Federation style of the Royal Hall of Industries building.
Between the two buidlings will be a breakout, activated laneway, which will form part of the landscape design for the site by Arcadia. This also includes two terraces for use by the Swans and the Swifts.
The proposal has been posted online for public feedback as part of the application process.
Related topics