The architects and the client set out to achieve a contemporary wine chateau in the heart of Port Phillip. This is a response to site topography, to much needed site remediation, and represents architecture integral to the business proposition. The curved and barrel building forms derive from the rolling hills of the site and, in the tradition of the European wine chateau, serve to integrate all functions. From restaurant to wine tasting rooms, accommodation, laboratory, wine bottling and cellaring – all are wrapped in the rammed limestone walls of the building.
Arrival is protected; the experience beyond is a secret to be revealed. The building is contemporary but rustic. Heavy timber portal frames radiate off the rammed limestone walls to form the main upper-level spaces for the public. Indeed, this limestone is the primary organizing element for the building; it screens the car park, denotes arrival, aids cellar conditions and is the material with which all other materials are either combined or contrasted throughout.
But it is the building's relationship to the vineyard which is paramount, with rooms and functions organized around panoramic views of the estate hills and valleys. Materials are soft and warm and include exposed aggregate concrete floors and heavy timber structure, all contributing to the chateau ambience.
This is a fine example of high quality architecture adding to the tourism vitality of a region. Here architectural quality, the quality of the wine and food, estate reputation and estate hospitality merge to form one immensely satisfying experience.
– Jury citation
Source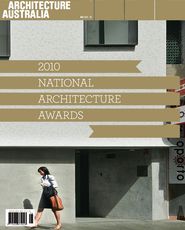 Issue
Architecture Australia, November 2010
Related topics