Warrandyte, in Melbourne's outer north-east, holds a lofty reputation as a seedbed for progressive twentieth-century creativity. Parted by the Yarra River, the undulating and verdant region caught the eye of Heidelberg School painters at the turn of the century, and later enticed a gamut of resident artists, craftspeople and design professionals, such as sculptors Danila Vassilieff and Inge King, potters Reg Preston and Gus McLaren, furniture designer Fred Lowen, and architects Fritz Janeba and John Hipwell. The post-war bush landscape gradually became punctuated by smart, architect-designed dwellings: many by Hipwell and Janeba and others by such contemporary stalwarts as Marcus Barlow, Robin Boyd and John and Phyllis Murphy. While a 1962 bushfire took its sad toll, it also ushered in a new wave of considered homebuilding. Among those to emerge in this phoenix phase was the Porter House (1964–65).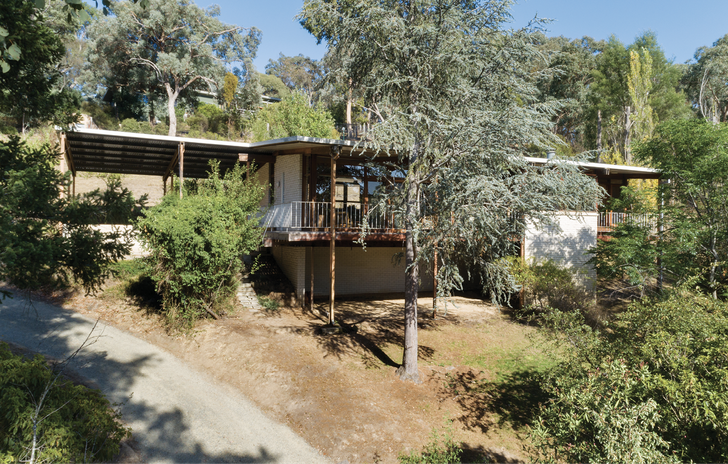 Secluded even for Warrandyte, the Porter House occupies a remote riverside enclave at the cul of a cul-de-sac. Ripe with modernist connotations, the private estate sprang from the site of the Koornong School, an alternative-education facility opened in 1939 with buildings by Fritz Janeba and Acheson Best Overend that were lauded in Robin Boyd's first book, Victorian Modern (1947). After the school closed in 1950, its grounds were carved into generous blocks, many with river frontage and some with remnant school buildings. Near the end of the decade, the area captured the attention of the then-unmarried Kate Porter, who, pursuing a weekend bolthole, bought a block with a mudbrick cottage erected by the Koornong students. "My father thought I was crazy," she says, laughing. In 1963, after Kate's engagement to engineer John Porter, the couple planned a new dwelling at the site next door: a sloping one-acre riverfront block with "sweeping views over tree-covered ranges from south-east to west."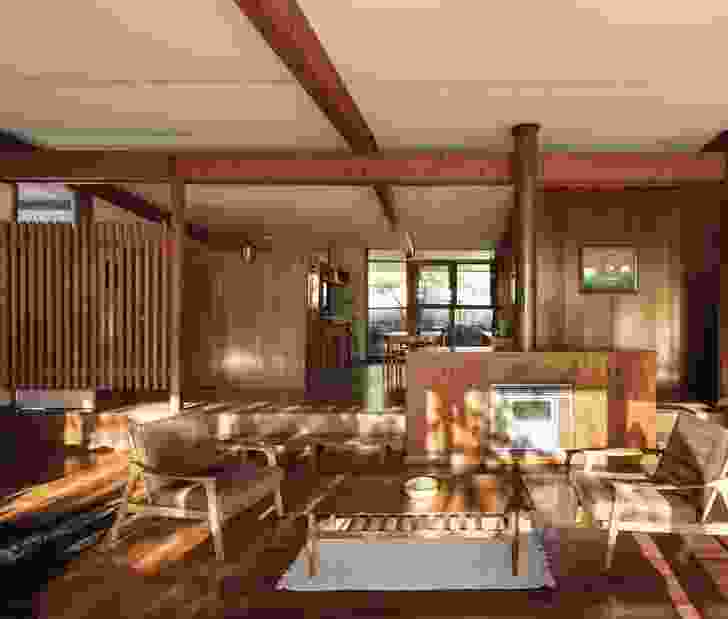 Initially, if not inevitably, the Porters turned to John Hipwell, rightly assuming that his familiarity with the area would make him "quite a good person" for the job. Hipwell, who was then in the throes of winding up the practice styled Hipwell, Weight and Ross, passed the job to his talented young former partner, Albert Ross. Ross, who commenced his own career as one of the original staff of Grounds, Romberg and Boyd, had travelled and worked extensively overseas before joining Hipwell in 1961; the Porter commission coincided with the launch of Ross's sole practice.
As recorded in the architect's notes, the Porters sought a modest two-bedroom dwelling with open-planned living areas and a main bedroom oriented to the views. Kate's more specific directives included a laundry big enough to include a sewing room and, inspired by something seen in a popular housing magazine, placing the kitchen beside the front door to minimize grocery transit. An initial scheme for an elevated dwelling – "one of those beach houses like a mushroom," Kate recalls – was not to the couple's liking and the design evolved from there. Exploiting the steep site, Ross's final design adopted a longitudinal split-level plan, with service areas and the second bedroom along the street side and remaining spaces (including a self-contained "den" for informal living) opening to the river through a window wall and across a full-width balcony. The whole house was enveloped by a broad-eaved low gable, clad inside and out by Stramit board and metal deck, and projecting at one end to enclose a split-level double carport.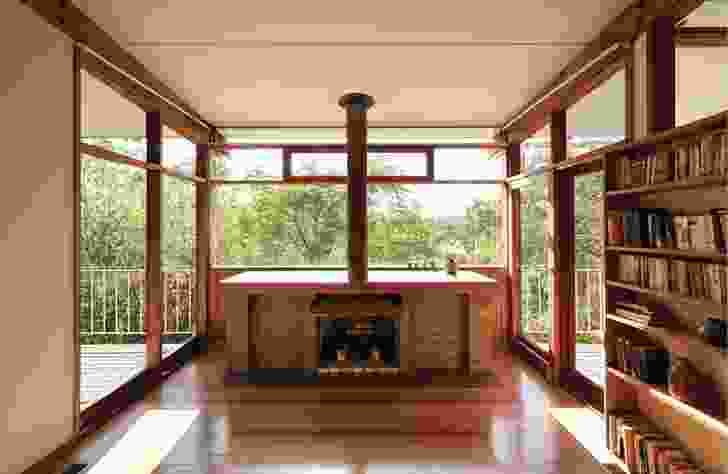 Albert Ross, whose breadth of experience included working in Canada and a visit to Japan (on a Haddon scholarship, no less), channelled both spheres of influence with a minimalist palette of naturally finished timber: Oregon framing and joinery, rebated hardwood weatherboards, stained floorboards and teak-veneered plywood linings with a Danish oil finish. All timberwork was expertly assembled by Hendrik "Hank" Merbis, a Dutch-born carpenter/joiner and local resident who, Kate notes, was employed on the strength of his fine work in the area. Merbis, she wryly adds, remained ambivalent about the feature walls of white textured Colortone brickwork, which the Porters had integrated into the design to evoke the pale-coloured Mount Gambier limestone of their mutual Adelaide heritage.
With Kate herself staying in Adelaide during construction, it fell to her husband to oversee the house to completion. Ross remembers John Porter as "a typical Australian engineer" – pragmatic but easygoing, open to new ideas and keen to remain involved in every aspect of the job. "He was a bloke who sanded every nail hole," Ross says. Porter's concern for technical matters saw him specify high-end appliances seldom seen in Melbourne houses of the day: a Wonderheat Turbo-Matic oil-fired space heater (which had been endorsed by Bob and Dolly Dyer in Australian Home Beautiful ), a Frigidaire Dishmobile dishwasher, and, most strikingly, an American-style Simpson Tappan Fabulous 400 cooker with eye-level oven and retractable cooktop. "He bought the best of everything," Kate recalls, "he had such exquisite taste, you know." Ross concurs: "He devoted a great deal of time to it. It was his nirvana."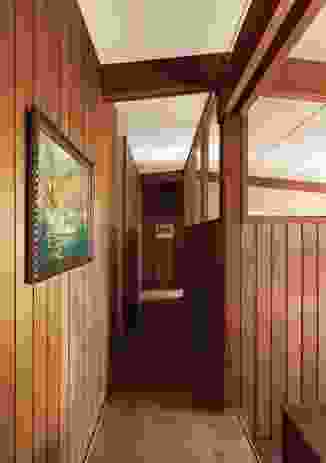 The Porters' nirvana proved a great success; Kate ruefully admits that its only shortcoming was that the laundry area set aside for sewing was never used because she preferred to sew in the sunlit den, overlooking the river. She adds that the den itself proved so comfortable, even on winter days, that its massive copper-flued open fireplace was never actually used. While Ross's original design allowed for future expansion, with space for a games room and "flat-ette" downstairs, this never came to fruition. Frequently travelling, the Porters made no major changes to their home over decades, while Ross's commitment to minimal maintenance proved uncannily apropos. Indeed, when the widowed Kate finally offered the property for sale in early 2019, the dwelling remained in an immaculate state, retaining virtually all original finishes, fixtures and fittings, including those high-end appliances and even the stylish mid-sixties furniture, all generously thrown in as a freebie to one uncommonly fortunate subsequent custodian.
Frequently travelling, the Porters made no major changes to their home over decades, while Ross's commitment to minimal maintenance proved uncannily apropos.
Credits
Architect

Albert Ross

Project Team

Albert Ross
Consultants

Joiner Hendrik Merbis

Site Details

Site type Rural

Project Details

Status Built
Category Residential
Type Revisited / first house

Source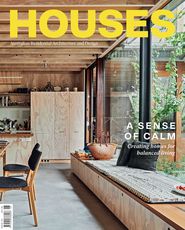 Issue
Houses, December 2019
Related topics