Buildings – whether they be the iconic skyscrapers of the world's megacities or the smallest of sustainable villages – shape our lives, but their construction and operation accounts for almost half of the world's greenhouse gas emission.1
That green buildings must provide a comfortable, healthy and productive environment, with efficient energy and resource use and a contextual approach, is acknowledged. Less understood and quantified is how occupant comfort and behaviour can significantly affect these outcomes. While green buildings have become more mainstream in recent years, Post Occupancy Evaluation (POE) appears to have been in decline since the 1990s. Does this represent an opportunity missed?
This article discusses, in brief, the rise of POEs, and offers some reasons for their decline in popularity while considering the emergence and relevance of Building Performance Evaluation (BPE) models. (The latter evaluates both user satisfaction and technical performance.) With a greater emphasis on retrofitting existing buildings and the built environment over the coming decades, expect to see more performance evaluation and refinement of our environments at a precinct, building and elemental scale. To support this piece, I offer some examples across these scales.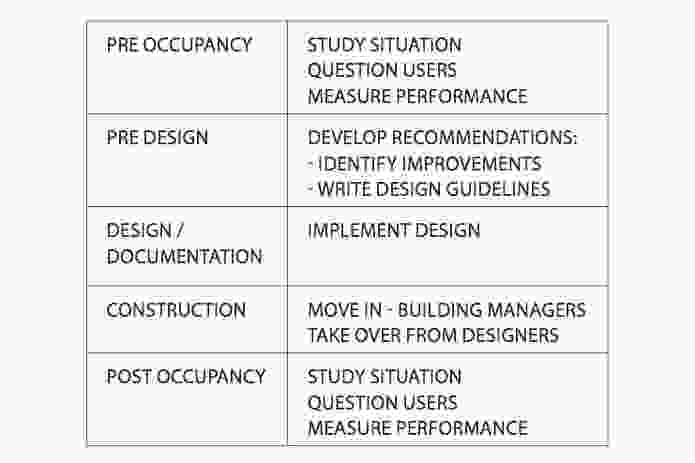 Background
Professor Jacqueline Vischer of the University of Montreal describes POE as the " … study or analysis of how occupants perceive, use and judge their built environment, using social science research to gather systematic feedback from users, and, in some cases, instruments to measure building performance."2
POE has its origins in the USA in the late 1960s with the pioneering Dorms at Berkeley study and Easter Hill Village social housing study.3 Through the 1970s and 1980s, POEs progressed to encompass system-wide and cross-sectional evaluations4 of public works projects, government buildings and airports in the UK, Canada, New Zealand, Australia and the United States.
During a recent conversation I had with social planner Dr Wendy Sarkissian, Sarkissian recalled a POE example offered by Wolfgang F.E. Preiser some years earlier. In 1980, in response to severe prison overcrowding, the California Department of Corrections initiated a comprehensive prison expansion project involving design prototypes to be refined and repeated up to one hundred times around the state, with POE feeding into that process. In this example, the "direct supervision model" of continuous and informal "interaction between inmates and officers"5 was unwittingly subverted through the delivery process. The POE revealed that facilities programmers had raised the control-room floor level to aid surveillance and glazed the space for staff comfort. Officers then felt "on display" and dimmed the brightly lit control room. The result bore a closer resemblance to Jeremy Bentham's 1794 panopticon prison design, described by Foucault as an example of the "spatialization" of power, with inmates and officers assuming "roles."6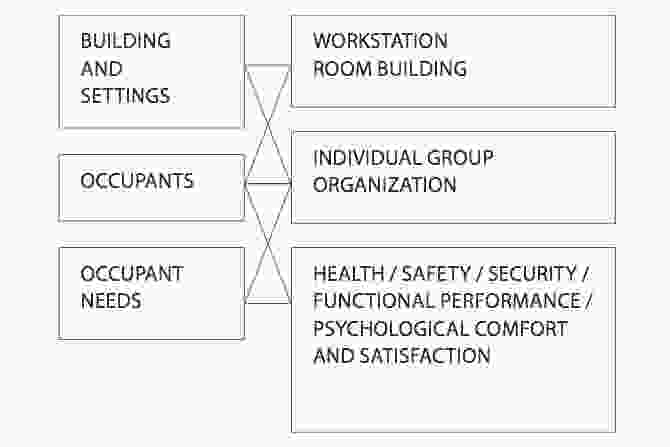 POEs: some advantages and disadvantages
The advantages of POE include its emphasis on the user perspective, which in a pre-occupancy setting can inform a project design brief and design decisions; in a post-occupancy scenario it facilitates improvement or correction of an environment.
Disadvantages can include the generation of large volumes of data and the challenges of disseminating key findings, along with the problem, at times, of dealing with "unwanted news" or the "so what" factor. Take, for example, my own experience with a pre-occupancy study for a government agency, which revealed the statistic of 20 percent empty desks. This could be explained by annual and other leave, business out of the office and meetings elsewhere in the office, and the practice of "desk-hoarding," even.7 Opportunities, this finding appeared to reveal, such as building a smaller building or employing a component of "hot-desking"8 proved to be at odds culturally. This organization's clarity about its cultural needs can be explained partly by Vischer, where she describes the importance of territoriality in workplace environments. Vischer offers examples of attempts to subvert "hot-desking" policies, ranging from "wall of books" partitioning, the 7 am claiming of a space or the perpetual online booking of a space, and so on.9 Along with territoriality, as you will see from the recent POE for SA Water House, temperature control, noise and staff interruptions remain the common challenges for these more collaborative and "democratic" open-plan office environments, but there are other benefits to be derived from such situations.
Emergence of BPE
Over time, the POE methodology has typically been subsumed into BPE. BPE offers a feedback loop with the potential for corresponding adjustments to existing built form, and can feed forward into design standards and guidelines with the aim of improving the design of buildings while minimizing their environmental impacts.10
This may reflect the trend towards targeted, scientific studies with practical implications, and away from broad, descriptive, "let's find out … " studies of user satisfaction.11
BPE studies might include a building's resource consumption, occupant comfort and productivity, building operation experiences, and to what extent the building meets the design intent.12 The design team, building facilities managers and the design community can then variously use the data in design practice, in building operations and to influence decision makers, and those familiar with Green Star, NABERS and other rating tools would recognize some of these characteristics in their As Built tools.13 It falls into a "you measure it, you manage" building management philosophy which extends to building operations and occupant behaviour.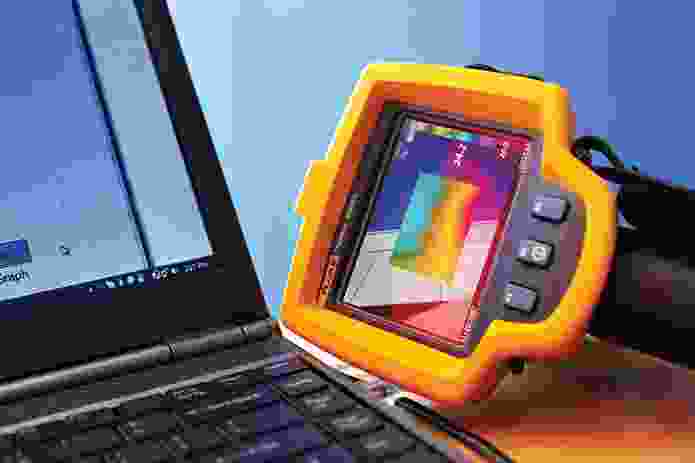 And so, on a cold winter weeknight recently, I participated in the depressurization of a room to fifty pascals using a "blower door" so that we could evaluate the airtightness of a 1970s Canberra building. The field test, and simulation modelling along with the use of a thermal gun, told us the air-change rate per hour (ac/h) of this space – a staggering 20ac/h.14
Airtightness, along with thermal insulation, thermal mass and orientation, is fundamental to the performance of buildings and strongly influences occupant comfort and the perception of comfort due to the absence of unwanted drafts. Construction codes and standards in Australia have frequently leaned towards design criteria, prescriptive requirements, performance modelling and simulation (think BCA Section J). Very powerful, however, are As Built evaluation tools, and we expect to see BPE expressed increasingly in Australian construction codes and standards. Take the "blower door" example, otherwise known as the Fan Depressurisation Field Test, which is already required as part of building certification under the Canadian building code. It recognizes the importance of both design and construction quality to building performance outcomes. POEs and BPEs go a step further by considering the building's operational performance, including occupant behaviour and its impact on building performance, and vice versa.
Conclusion
In making the case for BPEs as a method for informing and delivering climate-responsive, low-carbon buildings, enjoyed and supported by their occupants, I offer two closing examples.
In her doctoral thesis, Zofia Birgit Brown examined "the role of behavioural, socio-psychological, and contextual factors in shaping the comfort and engagement of occupants in green buildings." Her considerations included "why occupants engage or choose not to engage with building controls available to them;" how occupants learn about building performance; how comfort is achieved; "which systems and controls are more intuitively comprehensible and usable; the role of feedback and information in shaping occupant perception of energy efficiency; and the influence of culture, workplace design and green aspects on the user experience."15 This is all valuable data to designers and building managers alike.
Perhaps the most potent example of BPE is the work of Professor Jan Gehl, which spans many cities over many years. Through field-testing, observational studies, data-gathering and interviews, his architectural practice has been evaluating and shaping the built environment and public spaces; its focus is on restoring "cities for people" and reacting to the fifty-year-long car invasion of cities.16
So, with Gehl's help I return to my opening point. His assertion is that "cities for people are sustainable cities"17 and from half a century of evaluation studies he has derived a kit of urban elements supporting this thesis. It is a testimony to the power of integrating evaluation studies into the design process; a testimony to the value of evidence-based design.
We now have the tools to monitor actual building performance and feed this back into the design loop. With electrical infrastructure capacity (as one example) becoming scarce and expensive … industry must take advantage of improvements in building performance. Who will have the courage to let the old benchmarks go and design leaner infrastructure in the next generation of energy efficient buildings?18
Case study 1: Gehl Architects, Sydney / Public Spaces / Public Life / Data, Public Domain Plan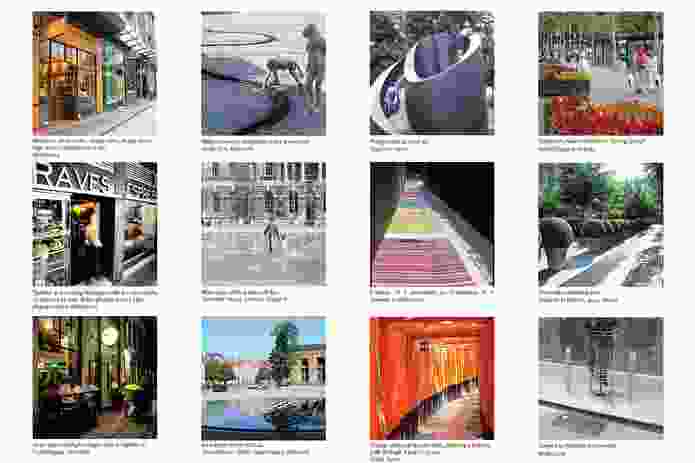 Influenced by the central Melbourne move from "industrial city to eco-urbanity"19 over recent decades, in 2007 the City of Sydney commissioned Gehl Architects to study Sydney's public domain and to inform the development of a Public Domain Plan as an essential component of Sustainable Sydney 2030.20
With this study, Gehl begins by reminding us that most cities have excellent statistics on vehicle traffic flows and parking patterns but very little data "on how people use the city as pedestrians!"21 The Sydney survey focused on the activities and conditions offered for pedestrians within the CBD, along with important feeder connections between the city and the surrounding areas.
The method developed by Gehl Architects over numerous cities included pedestrian counts every ten minutes and stationary activities mapped every second hour, with surveys undertaken seasonally, day and night, and on weekdays and weekends. Praise must go to UNSW students assisting with the twenty-four streets and twenty-three urban squares/parks surveyed. The data is comparative both with other cities and, potentially, over time – take the Gehl study of Melbourne that took place in 1994 and then again in 2004, following the implementation of key measures.
The data gathered is substantial, as are the recommendations, so I offer but a few examples. Weekday daytime pedestrian traffic is focused in shopping streets with limited spread to the rest of the city centre. Evening traffic is 34 percent of daytime traffic. These patterns remain on a Saturday and across the seasons.
The stationary surveys, recorded across twenty-three locations in the city, found daytime activity profile of:
people sitting on public benches 22 percent
people sitting at outdoor cafes 30 percent
people standing 26 percent
children playing 0.05 percent
Of these surveys, children and the elderly proved underrepresented city users.
Recommendations focus on promoting "social and optional time in the city rather than just the necessary."22 Traffic calming, walkability, amenity for cyclists, improved public transport linkages, green connections, connections to the waterfront and an inviting streetscape all figure in the recommendations. The 2007 report findings have provided a comprehensive framework and philosophy for activation of the public realm in Sydney. Fine-grain implementation studies are now occurring progressively with examples such as the:
evaluation of a light rail network for George Street
laneway activation projects, including Angel Place and Albion Street
review of the quality of existing spaces such as Chinatown, Barrack Street and Regimental Square
extension of the cycle network.
As with Melbourne, follow-up evaluation studies will measure the impact of implementation.
Case study 2: Hassell, Adelaide, SA Water House
SA Water House, designed by Hassell, was completed in 2008 and represents the co-location of SA Water into a 40,000-square-metre building, with open-plan office space, laboratories and a learning centre occupying around 20,000 square metres.
In 2009 DEGW undertook a BPE study gathering both POE data and utilities data undertaken in compliance with NABERS. The BPE of SA Water House was designed to provide a comprehensive understanding of the benefits that this new building has delivered to SA Water, including contribution to high-level corporate objectives, triple-bottom-line sustainability and improved staff productivity.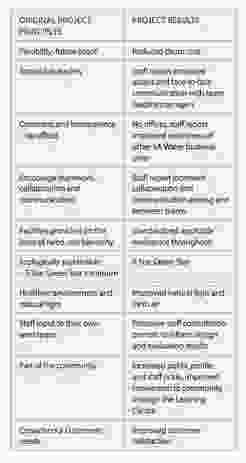 Significantly, the building outcome is the result of an extensive culture-change program initiated within SA Water after an internal review identified some significant challenges to the organization. These included changing business requirements, a disconnected metropolitan presence across three sites, substandard accommodation, and a pressing need to attract (and retain) a new generation of employees.
There are a range of 6 Star Green Star objectives with commensurate energy, water, waste and resource consumption reductions, while public transport use now represents a healthy proportion of travel to work (approximately 47 percent public transport, 10 percent cycling).
The study found fitout churn reduction due to standardized workstations and upgraded technology represents a $150,000 to $200,000 per annum saving. Reduced travel time between sites has saved an estimated $300,000 p.a., while reduced infrastructure and operational duplication between three sites represents a $1.25 million p.a. saving.
A 5 to 10 percent productivity gain is anticipated once the building is "fully tuned" (especially HVAC). The open-plan workplace is seen to be fostering informal meetings and collaborations along with improved "access to team members, management, and other SA Water groups." Staff consistently report, however, that increased accessibility and neighbouring staff behaviours have increased the amount of interruptions and distractions at the desk.23
Read more on post-occupancy here.
1. See "Call to Action Copenhagen" by international organizations of architects at www.architecture.com.au.
2. Professor Jacqueline Vischer, lecture, Facultéde l'aménagement Université de Montréal, June 2007.
3. Sim Van der Ryn and Murray Silverstein, Dorms at Berkeley: an environmental analysis (Berkeley: University of California, 1967); Clare Cooper Marcus, Easter Hill Village: some social implications of design (New York: Free Press, 1975).
4. Dr Wendy Sarkissian, "Understanding Vancouver's housing: an adventure in multidisciplinary post-occupancy evaluation" (lecture), 2005.
5. Wolfgang F. E. Preiser (ed.), Building Evaluation (New York: Plenum Press, 1989), p. 119.
6. Michel Foucault, Discipline & Punish: The Birth of the Prison (New York: Vintage Books, 1995).
7. Desk-hoarding occurs when a division over-claims its personnel numbers, thereby building flexibility for expansion into their work area.
8. Hot-desking describes transitory and frequently bookable workspaces; a hot desk is a workspace with no single owner.
9. Jacqueline C. Vischer, Space Meets Status: Designing Workplace Performance, (London; New York: Routledge, 2005).
10. Ecosmart Foundation website, www.sbtc.ca/index.cfm?bbd==kbdet.cfm&id=59.
11. Vischer, lecture, op. cit.
12. Ecosmart Foundation website, op. cit.
13. NABERS is the National Australian Built Environment Rating System, which rates a building on its measured operational impacts on the environment.
14. Fan Depressurisation Test by Jenny Edwards of Scinergy. 15–20ac/h is average for existing houses in Canberra; 10 is good, 5 is excellent, under 3 is rare in Canberra houses and creates fresh air intake issues.
15. Zofia Birgit Brown, "Occupant comfort and engagement in green buildings: Examining the effects of knowledge, feedback and workplace culture", thesis, (British Columbia: University of Canada, 2009), www.pics.uvic.ca/assets/pdf/publications/Brown_Thesis.pdf.
16. Professor Jan Gehl, Walter Burley Griffin Lecture, "Cities for People (especially pedestrians and cyclists)", Canberra, 2009.
17. ibid.
18. Alex McBurney, Green Star: What's in it for Us? (Lend Lease Design, 2009).
19. City of Sydney website, http://www.cityofsydney.nsw.gov.au/development/cityimprovements/roadsandstreetscapes/PublicSpacesSurvey.asp.
20. Professor Rob Adams, Director, Design & Urban Environment, City of Melbourne.
21. Gehl Architects, Sydney / Public Spaces / Public Life /Data.
22. Laurie Johnson, City of Sydney.
23. SA Water Staff Perception Survey 2009 DEGW Post Occupancy Evaluation – Staff Workshop Findings & Workplace Performance Survey Findings, January 2010, CETEC Post Occupancy Evaluation, December 2009, SA Water Travel Survey.
Source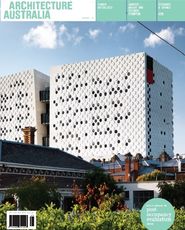 Review
Published online: 30 Aug 2011
Words: Melinda Dodson
Images: DEGW, SA Water Report 2010, Jenny Edwards, Scinergy, Trevor Mein
Issue
Architecture Australia, September 2011
Related topics