"Exhibitionism was a defining characteristic of postmodernism," wrote co-curators Glenn Adamson and Jane Pavitt to introduce their touring exhibition, shown in London before being transferred to Italy. "In placing postmodernist objects on exhibition plinths under hot lights for the viewing pleasure of thousands, we feel we are making them right at home." At the Victoria and Albert Museum they were aided by the striking exhibition design of Carmody Groarke, the architectural partnership between Australian architect Kevin Carmody and UK architect Andy Groarke.
The eclectic nature of postmodernism, in reaction to the stylistic clarity and coherence of modernism, makes it difficult to see the wood for the trees. The curators tackled this perceptual challenge by arranging the two hundred and fifty exhibits they had selected into three sections, highlighting key aspects of the style.
The first section focused on architecture, representing the conceptual and physical laboratory in which postmodernism was forged. Little credit is given to the theoretical contributions of the French philosophers and writers Jacques Derrida, Roland Barthes and Michel Foucault. Instead, we are shown how postmodernist architects and designers juxtaposed historic, mainly classical motifs with contemporary elements. A full-scale reconstruction of the facade of Austrian architect Hans Hollein's Strada Novissima: The Presence of the Past (Venice Architecture Biennale, 1980) comprises six huge columns that reprise architectural history. They include a primitive, ivy-clad column, a broken classical column and a modernist skyscraper, on which Adolf Loos's proposed design for the Chicago Tribune tower (1927) is quoted. It provided theatrical drama to serried architectural drawings, photographs and models.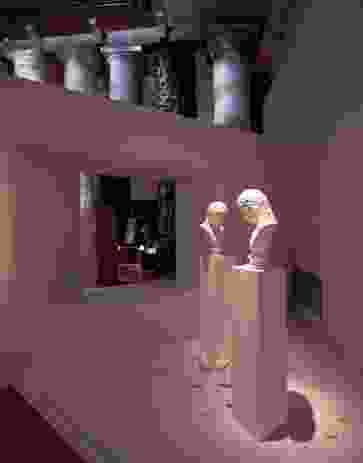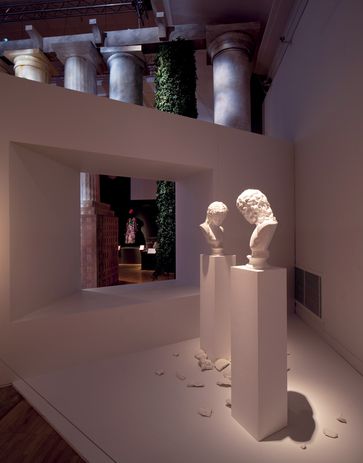 The second section demonstrated how postmodernism proliferated in the 1980s, resembling a stylistic virus infecting the overlapping disciplines of design, art, cinema, music, fashion, performance and club culture. Music and performance dominate the club-like space engineered by Carmody Groarke using double-height scaffolding to accommodate huge screens with projections of musical performances by Grace Jones, David Lynch and Klaus Nomi. In Demolition Man, Jones goosesteps up a giant staircase flanked by masked clones, while counter tenor Nomi's eerie rendition of Lightning Strikes features faux baroque theatrical effects. Costumes displayed included those worn by Australian performance artist Leigh Bowery in London and Japanese performer Ohno Kazuo. A chase sequence from Ridley Scott's film Blade Runner dominated the ramp ascending to the club, and the descending ramp led to a projection of a performance by Laurie Anderson, hypnotically intoning "your chemical mind," and mesmerizing viewers with her eyes and voice.
The final section examined the commodity culture of the booming 1980s, when money dominated the imagination of designers, manufacturers and consumers. A full-scale replica of conceptual artist Jenny Holzer's Protect Me From What I Want billboard at the entry heralded the curatorial agenda, as did its staging within an opulent sales boutique with seductively glossy black walls. Despite the beguiling Carmody Groarke design, the curators struggled to cut through the eclecticism of postmodernism and provide a coherent view.
Postmodern household objects remain familiar. Assiduously collected by contemporary design curators at the time, few museums are without Michael Graves's ubiquitous Alessi stainless steel kettle, with its pert red plastic bird whistle and blue plastic handle. It is emblematic of the shiny bubble that designers in the developed world inhabited before the banks went bust. Although much publicized and highly covetable then, they now seem too excessive or jokey for our financially constrained decade, when Arts and Crafts simplicity or modernist sobriety seems more appropriate.
In hindsight, postmodernist music and performance were more democratic. Although the curators signal that postmodernism is over, it will be decades before we can assess its true stature in the history of twentieth-century design and culture.
Postmodernism: Style and Subversion, 1970–1990 was held in the UK at the Victoria and Albert Museum from September 2011 to January 2012, and in Trento and Rovereto, Italy from February to June 2012 at Contemporary and Modern Art Museum (MART).
Source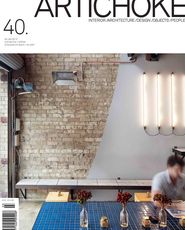 Issue
Artichoke, September 2012
Related topics