Powerhouse Parramatta confirmed, gov't to purchase riverfront site
The NSW government has reached a $140 million in-principle agreement with the City of Parramatta that would secure the first step towards relocating the Powerhouse Museum from its current site in Ultimo in central Sydney to Parramatta in the city's west. 
Under the agreement, the state government would purchase the site it chose in April 2016 for the relocation, currently home to an old David Jones carpark, situated on the south bank of the Parramatta River and bound by Wilde Avenue to the east.
However, the government has indicated the collection of the Powerhouse Museum may not be relocated in its entirety.
"The Powerhouse at Parramatta will include the best exhibits currently at Ultimo and will build on them," said NSW premier Gladys Berejiklian.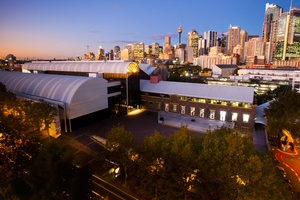 In a statement the government said it "will retain an arts and cultural presence at the current Ultimo site following the relocation of the Powerhouse Museum to Parramatta."
Andrew Nimmo, the Australian Institute of Architects NSW chapter president, described the move by the government as "a sting in the tail" in an opinion piece for the Sydney Morning Herald.
"This suggests the downgrading of the Powerhouse facility at Ultimo, with no assurance as to how the site will be used," he said, going on to argue for the retention of the Powerhouse Museum in Ultimo.
The transformation of the former Powerhouse building into a cultural facility, designed by NSW Government Architect Ian Thompson, received the state's highest honour for public architecture, the Sulman Medal, in 1988.
"What should be non-negotiable in this discussion is that the Ultimo Powerhouse site remains in public hands and retained for cultural uses. The Ultimo Powerhouse Museum has served the public well for nearly 30 years," Nimmo said.
The government is "undertaking a business case to determine the future of the current Ultimo site." In February 2015, the NSW government announced plans to sell the Powerhouse Museum Ultimo site for an estimated $200 million, which would be used to fund the construction of a new museum in western Sydney. In February, a NSW parliamentary inquiry heard that the cost of constructing the new museum could be between $600 million and $800 million.
The agreement with the City of Parramatta also includes a $100 million redevelopment of the Riverside Theatre in Parramatta and $40 million for the arts and culture community over 20 years, funded by the City of Parramatta.