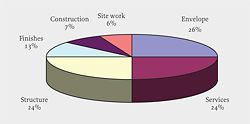 Mandatory energy-efficiency requirements for non-residential buildings, recently introduced to the Building Code of Australia, will have a significant impact on the way buildings are designed and constructed. Mark Tatam, technical manager at Kingspan Insu
In 2005–2006, the Building Code of Australia (BCA) introduced mandatory measures for energy conservation in new non-residential building construction. This was a successor to the thermal efficiency measures previously introduced for residential construction back in 2003.
The Section J regulations impose minimum energy-efficient design requirements on construction. This either directly or indirectly affects everyone involved in building processes, including the owner, architect, building specifier, builder, surveyor, certifier and product suppliers. Application of the regulations represents a fundamental change in the approach to the way buildings are constructed, and for all those involved it requires a learning and education process. Initiatives from trade associations and other bodies to communicate essential knowledge to the relevant parts of the building sector are required. The Australian Building Codes Board is also providing training assistance and support and is engaging industry trade associations in the education process.
As a result of the increased complexity in the building design process, a number of computer modelling programs are emerging as useful tools to assist in the design of "compliant" buildings. Increasingly these are being used to provide BCA proof of compliance as "alternate solutions", as opposed to "deemed-to-satisfy" solutions. There is now an increased emphasis in the design phase of the building process to ensure that potentially expensive mistakes don't need to be corrected later, should a building design fail to meet BCA requirements in construction.
So where is this all going? Mandatory BCA energy-efficiency regulations are only the tip of the iceberg. Today, associations such as the Green Building Council of Australia actively promote the construction of building designs that meet the needs of building users and owners through a better working environment, higher productivity, higher tenant occupancy levels and energy-efficient design. All up, this translates to a higher-value building. One key to this value is construction that will last longer, have greater design flexibility and meet occupancy needs well into the future.
The BCA recognizes the opportunities for energy saving in terms of building components and services. The pie chart above depicts the embodied energy breakdown for a typical office building. Embodied energy is that which is consumed by all processes associated with the production of a building, including procurement and refining of natural resources, manufacturing, transport and even administrative functions. However, embodied energy is only one contributor to a building's lifetime energy consumption. Other key issues for a product manufacturer relate to the life span of a building, the ability of materials to be recycled or reused and in-use performance efficiency. These areas have a big effect on life cycle energy usage in buildings.
Meeting the BCA provisions requires education and training throughout the whole building and construction industry and ensuring that all aspects of building compliance are achieved. Compliance is necessary as part of the government strategy to meet Kyoto greenhouse gas reduction targets (or revised targets), and this has been the initial driver for changes to the BCA. The challenge today for a manufacturer is to educate the market in the design and application of long-life, high-performance building elements, and in how they can be integrated into new building design.
As a product manufacturer, we are repeatedly asked by customers about issues related to traditional insulation products, such as compression of insulation blankets (in particular around purlins), ingress of moisture, performance at elevated roof temperatures, deterioration of foil reflective surfaces with dust, debris or corrosion, and effective sealing around joins and edges to prevent air leakage. Other parts of Section J, in particular glazing, have their own unique resources. The task for the insulation industry is to develop better products, more suited to today's and tomorrow's buildings, and to develop new installation methods that will guarantee that the building will meet its design energy conservation objectives over the life of the building.
So how do we prove that buildings are actually compliant? Future initiatives are likely to require the measurement and monitoring of energy consumption and the use of thermal imaging to identify hot (or cold) spots in building thermal envelopes, caused by "air leakage" problems or substandard detailing.
In today's buildings, total energy insulation performance is attributed to the sum of the performances of a number of building elements – roofing material, battens, purlins, maintained air spacing, ventilation, fibreglass blankets, foils, suspended ceilings, ceiling blankets, et cetera – all of which, if correctly put together, will achieve the stated design performance. But who signs off on this, and will the system maintain its performance over the life of the building? Some traditional building products have a high level of performance uncertainty, and we find that existing building processes and resources are already stretched to the limit. There are no simple answers.
There is, however, a tremendous opportunity for simplified construction using composite products. The benefits are faster construction of buildings, because you require fewer trades on-site at once (which translates to lower occupational health and safety risks), and a better chance that your energy design performance requirements will be met, because of fewer building components and reduced installation error. Big winners here are builders and installers, who can put buildings together faster and more reliably – and move on to their next project.
Today, we find that, by and large, the building industry has struggled to come to grips with the new regulations. There is confusion about performance, especially with multi-component roof systems and additive performance, and a heavy reliance on manufacturers to provide accurate information about their specific products and installed performance. A lot of these systems are impractical – often we find existing products have been "elbowed in" to a project as a system in order to meet the new BCA requirements. If not installed precisely some of these systems can fall dramatically short in performance. In some cases the proposed methods of installation pose serious occupational health and safety issues that need to be addressed.
Building approvals processes and building inspections focus on key issues such as fire and structural performance. Energy performance is often not easily captured in these existing processes, and this, combined with a relatively limited number of qualified thermal engineers in Australia, places great pressure on the building certification process and policing of installed systems. The responsibility for a noncompliant system is unclear, and the building industry is currently not geared up for the policing of these regulations. The real loser in all of this is the building owner.
In conclusion, it is clear that the whole building industry needs to become involved in education and training as to how Section J affects them. This will require a higher level of interaction between product suppliers, architects, owners and builders than presently occurs. New building techniques and building product solutions need to be embraced in order to meet more stringent building standards and to ensure that energy performance and building compliance is achieved.
The new Part J mandatory requirements have forced a fundamental change in the way we build. We are now entering an era of performance-based building, with new and exciting products and innovative building methods. The challenge will be for the building and construction industry to look not only at the performance of individual building components, but also at long-term energy performance and the impact on the environment.

Dr Mark G. Tatam is technical manager at Kingspan Insulated Panels.
Kingspan's Initiatives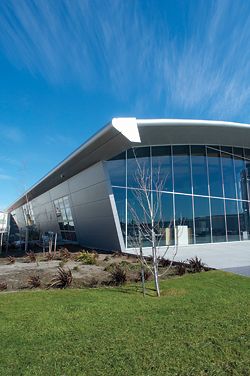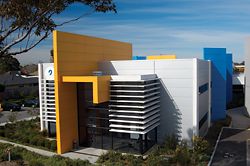 None of this is new to Kingspan Insulated Panels. In Europe, Kingspan has been making high-performance insulated panels for over thirty years and is an industry-recognized leader in utilizing products to improve energy building envelopes in green, sustainable buildings. Kingspan panels offer versatility in form, shape and colour to meet architectural needs in building design. Today we manufacture in Australia, to meet the needs of the local industry, where we focus on speed of construction, fire-safety performance and guaranteeing energy-efficiency in simplified building design.
As part of our campaign to address education issues, we see the aforementioned problems as those of education for the industry, and therefore we provide technical assistance and advice to anyone. This has included national seminars on the BCA Section J requirements, and will include information sessions in key locations to parties involved in the building construction supply chain process. Safety of installers and builders is also a very high priority for Kingspan, and we work proactively with WorkCover and professional height safety engineers to ensure that safe working practices are always adopted in the use of our products.
Kingspan will continue to emphasize to all parties the need for more policing of the implementation of the BCA objectives in construction.

FURTHER INFORMATION

Australian Building Codes Board
The ABCB's mission is "to oversee issues relating to health, safety, amenity and sustainability in buildings through the creation of nationally consistent building codes, standards, regulatory requirements and regulatory systems". The website contains the latest information on Section J, along with training presentation material.
T 1300 134 631
W www.abcb.gov.au