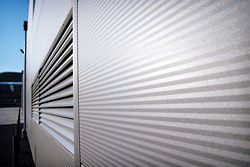 The use of insulated panels in building construction has risen significantly in recent years, and further material developments are yet to be embraced in Australia. Mark Tatam, technical manager at Kingspan Insulated Panels, discusses the possibilities of
Building designs are now more complex than they were ten or twenty years ago, and the regulatory requirements have become more demanding. As raw materials have become scarcer, product manufacturers have looked to newer, higher performing and cost-effective building solutions to meet building and construction needs. The need for increasing performance requirements has challenged most traditional building materials, and high-technology composite materials are being increasingly used in many applications to provide building solutions. Insulated panels are one such material. They have traditionally been limited in their design to coolroom applications and thus the industry has seen insulated panels as "coolroom panels." However, newer high-technology insulated panels are now available that have been specifically designed to meet the requirements of external roof and wall facade applications. These newer insulated panels offer an all-in-one-package alternative method of construction for any building envelope or fabric.
There are other reasons for the market uptake of insulated panels for building envelopes. Shortages of skilled labour and rising labour costs emphasize the need to utilize labour resources more effectively. Here the key advantages of insulated panel construction are the speed of build it allows and the simplicity of installation, which combine to offer a faster building time to completion. Rising awareness of occupational health and safety issues in building and construction mean that there are real advantages associated with simpler modular installation, where most of the work can be done off-site. This reduces the number of trades on building sites, as well as the complexity and number of safety hazard components in the tasks that are performed.
These product advantages have direct benefits for building owners. Direct up-front cost benefits include reduced steelwork costs in construction, with larger purlin spacings. Some of these panels offer higher performance in fire and thermal areas. This should translate to savings in fire proofing and insurance, and superior thermal performance will translate to heating, ventilation and airconditioning (HVAC) plant cost savings. Shorter project completion times are possible due to the speed-of-build attribute of insulated panels, and to the fact that they can be installed in harsher weather conditions. Thus a faster return on investment is possible for building owners.
There are longer term benefits as well. Some insulated panels are capable of delivering a long life, consistent performance and lower ongoing maintenance. HVAC energy costs will not "creep" as is the case with some traditional building materials, as the products deteriorate in performance with age. This is often an unseen cost that will eat into "as designed" energy-efficiency savings over the years. A less visible advantage is the ability of a building to maintain its asset value over time, and the ability to attract tenants and productive workers for the life of the building. Buildings become more tenantable, and are future-proofed for change in use or occupancy, and changes in regulatory requirements.
Some insulated panel systems can deliver all of these advantages to a building design, whereas traditional building products and building systems in general cannot. It is therefore not surprising that the building and construction industry has recognized the advantages that insulated wall and roof panel systems can offer. A schematic drawing of an architectural wall facade insulated panel is shown in Figure 1. It consists of an infill material bonded in a sandwich between two outer skins, which are usually steel. Interlocking of panels is usually designed to offer concealed fixings, yet still maintain weather, fire and thermal performance.
The outer skin is designed to provide a robust exterior, which can be expressed as part of the building's design and is also functional in resisting impact damage and weather. The outer skin and inner skins offer no thermal insulating performance, since this is done by the infill material. The types of infills most sought after today are high-performance insulants. These in general offer excellent thermal resistance in heating and cooling applications.
The Building Code of Australia's Section J energy-efficiency requirements for non-residential construction are ideally met as an all-in-one package with the use of some insulated panels. For traditional built-up roof construction using an outer skin material, the typical insulated blankets, meshes, spacer strips and suspended ceilings with yet more bulk insulation have long since been replaced with insulated panels in many countries. Traditional wall systems fare not much better. Insulated panels can therefore offer an attractive option for architects and specifiers, as compliance is guaranteed with some products, and not dependent on the correct installation of a raft of products to achieve the same outcome. Today, specification of products at the design stage has improved dramatically, and insulated panels are being increasingly specified. To date, this uptake trend has been faster in cold climate countries where major market drivers are energy cost and its availability, but as we have seen, there are many drivers that are pushing the market in the direction of insulated panels. All are relevant in the Australian landscape.
As a result of this, a wide range of insulated panel systems are now entering the Australian market, all claiming to offer thermal, fire and structural solutions, perhaps all in one package. However, different insulated panel systems offer different advantages and disadvantages, and there is no single product which has a superior advantage in all applications. Therefore panel choice for architects and designers is not clear, and is a function of many factors. These factors include:

mandatory regulations (structure, thermal and fire)
cost and ease of construction
environmental footprint, life cycle and end-of-life considerations
product life span
building flexibility to meet changing future needs and building requirements
building maintenance
The balance between individual factors in the product selection process is normally what governs the final choice. Insulated panel systems present new opportunities for building designers. Form and function can be freely expressed with the use of some of the more versatile insulated panels. Horizontal or vertical aspects, changes in colour and surface profiles are all now achievable with some of the specialized roof and facade systems.
Building construction can be simplified in many applications to eliminate internal linings for external walls, and also the need for internal suspended ceilings – and still meet building regulatory requirements. This is another potential up-front construction cost saving. Previously, traditional building systems required a wall cavity or ceiling space as "a place to put the insulation." Insulation at ceiling level over suspended ceilings creates issues with service access, as well as undesirable loose dust and insulation fibres entering the space below. Thermal compliance is built into the panel design with some insulated panel systems. There are major difficulties with traditional building systems, such as concrete block or tilt-up concrete panel systems, for example, in achieving thermal performance to meet the BCA Section J mandatory energy provisions.
In the cold store industry, insulated panels have been used for many years to provide thermal resistance in building fabrics to achieve low, subzero or even elevated temperatures for food, pharmaceutical and other temperature-sensitive applications. However, the materials traditionally used in the construction of cold stores are now outdated, and their performance is not in line with today's requirements. Some of these products are now masquerading as architectural facade systems. Bad fire performance, polystyrene cores, leaky joint details and bulky flashings have unfortunately seen many unhappy building owners.
Today, new technologies and advanced weather-tight panel designs are increasingly sought after. The inherent performance problems and general unsuitability of dark exterior colours have restricted the uptake of these older coolroom-type products into most architectural applications. This type of product is now being replaced by polyisocyanurate – often called PIR or polyiso. It has been successfully used globally for many decades in roofing and walling applications, and now is being used in Australia. As an insulation material it offers nearly double the thermal performance of most other insulations commonly in use, provides improved fire resistance, and is not dependent on manufacturing processes with additives needing to be correctly applied.
As a result of strings of fires in recent times associated with polystyrene insulated panels, building insurance and culpability are now becoming issues of concern. Culpability has yet to be tested in Australia, especially in the construction of public-private-partnership enterprises and infrastructure buildings, and educational establishments where arson risk is historically higher. The building and construction industry is today moving towards more formalized construction sign-offs for all safety and performance aspects, with clear accountability as a method for enforcing building compliance.
Insulated panels that are designed correctly can now be used for external walls and facades, interior partitions and insulated roofs. Insulated roofs are a high energy-saving area, as traditionally most heat is lost or gained through the roof of a building. Insulated panels with a guaranteed thermal performance over the life of the building offer an attractive option at the building design stage.
It is clear that insulated panels are here to stay. The variety of products available is growing at an almost daily rate, and the quality and performance differences vary considerably. The challenges today for building designers will be in understanding what products are available and their respective performances, and being able to select the correct system for their individual application.

Dr Mark G. Tatam is technical manager at Kingspan Insulated Panels.
Kingspan products
Kingspan Insulated Panels offer a range of Firesafe PIR insulated panel systems for the Australian market. They have over thirty years of manufacturing experience with insulated panels, and manufacture in global locations where quality uniformity is controlled within strict manufacturing and Factory Mutual guidelines. Kingspan Insulated Panels is situated in New South Wales, and locally manufactures architectural walling and roofing, and also cold storage solutions. They distribute nationally, and offer full technical support and advice, comprehensive literature, samples and model specifications for all product applications. Products are ideally suited to meet most building class applications. Internationally, Kingspan has already developed the next generation of insulated wall and roof systems, with functional building fabric component panels that can generate energy (to be reused on site or returned to a power grid), low-energy sustainable building designs, the integration of high performance photovoltaic systems into roof panel systems, and even the use of roof panel designs that function as green roofs and will support vegetation and gardens. All of these products are not yet available in Australia, but as demand for panels increases and new technologies become more readily accepted, then these will become available to meet local demand.

FURTHER INFORMATION
Kingspan Insulated Panels
38–52 Dunheved Circuit
St Marys
NSW 2760
T 02 9673 5069
F 02 9673 5068
E info@kingspanpanels.com.au
W www.kingspan.com.au

Australian Building Codes Board
The ABCB includes information on regulatory requirements for roof and wall facades.
T 1300 134 631
W www.abcb.gov.au

Factory Mutual Global
FM Global is a global commercial/industrial property insurance group, specializing in engineering underwriting, and risk managed building solutions.
W www.fmglobal.com