Over the last decade fire safety engineering has emerged as a distinct discipline. Fire engineers Tony O'Meagher and Leong Poon, of Meinhardt Fire Performance Group, outline the principles and potential.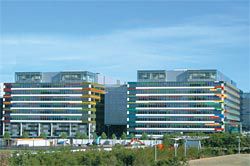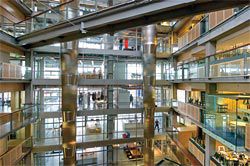 Fire safety engineering is a relatively recent discipline. It enables design innovations not normally permitted by building codes, thereby offering the opportunity to enhance the functionality of buildings. Fire safety engineering emerged as a design discipline following the introduction of a performance-based format of the 1996 edition of the Building Code of Australia (BCA). Prior to this, buildings were typically designed in accordance with the Deemed-to-Satisfy (DtS) Provisions of the BCA, limiting building functionality and resulting in less innovative and less economical designs.
Fire safety engineering takes a fundamental approach in its derivation of design solutions – that is, building designs are directly assessed according to their performance in relation to the effects of fire. This means that the limits on form and function imposed by building code requirements may be exceeded where it can be demonstrated that the level of fire safety achieved meets the performance requirements of the code. As a result, current fire safety engineering practice relies heavily on engineering judgment and the application of relatively recent research information. Therefore fire safety engineers often require specialist knowledge in particular areas of fire safety to achieve a satisfactorily robust building design.
Two fundamental variables that most influence the determination of fire and life safety requirements are fire behaviour and occupant characteristics. Full-scale fire tests, such as those conducted by BHP Research, and actual fires in buildings have both contributed to an understanding of the performance of buildings in fire and enabled effective and practical design methods to be developed. A good understanding of the behavioural characteristics of occupants in a fire emergency enables more effective design of the egress requirements.
GENERAL BENEFITS
The benefits for building layout and design associated with fire safety engineering are significant, particularly on larger, more complex projects. The primary advantages are more flexibility in building functionality and often more economical building design outcomes. Fire safety engineering can also address property protection, providing a higher level of protection than is offered by the DtS Provisions of the BCA. In complex or iconic projects – where there is a need to achieve an enhanced level of fire safety – fire engineering allows a comprehensive risk-based approach to be used to determine a cost-effective means of achieving the required level of fire safety. The key benefits of fulfilling building fire safety requirements using fire engineering are summarized in the table to the right.
PROJECT-SPECIFIC BENEFITS
The benefits of fire safety engineering have been demonstrated in a number of major projects, both in Australia and overseas, which the authors have assessed using fire engineering methods.
The benefits achieved on these projects include: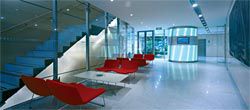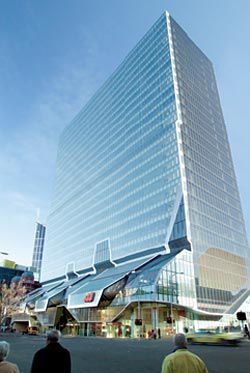 BHP Billiton, Melbourne
28-storey office building, Lyons Architects.
• Unprotected steel floor beams were adopted on all above-ground floors, enabling faster construction times and significant cost reductions.
• A tenancy stair, without fire separation, directly connects three levels of the offices. This enhances the interaction between levels and the business operations of the tenants.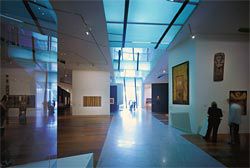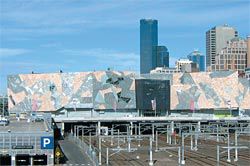 Ian Potter Gallery, Federation Square, Melbourne
Lab Architecture + Bates Smart.
• Unprotected steel trusses adopted on all levels above ground, which resulted in cost reductions and facilitated the construction process.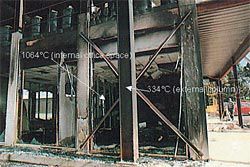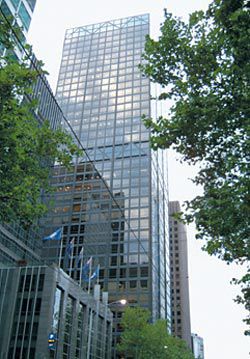 140 William Street, Melbourne
40-storey office building, Yuncken Freeman Associates.
• BHP Research conducted a comprehensive fire risk assessment, complemented by a series of full-scale fi re tests, to support the use of unprotected steel floor beams in this refurbished building.
This project set a precedent for the use of unprotected steel through the application of performance-based fi re engineering techniques.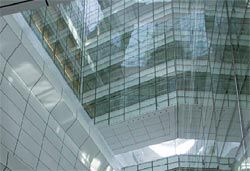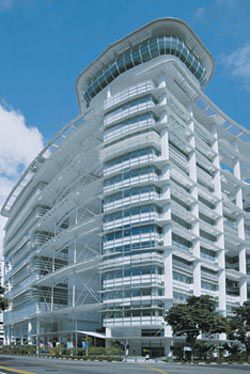 Singapore National Library Building
Two 16-storey towers, Llewelyn Davies Yeang.
• Unprotected steel was used for more than 80% of the floor beams.
This facilitated construction and enabled construction costs to be reduced.
• The assessment also allowed unprotected steel members in the external high-level bridges that link the two towers.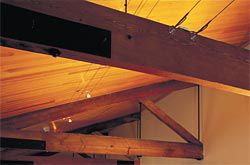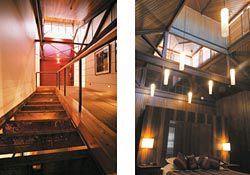 Henry Jones Art Hotel, Hobart
Former factory converted to a hotel, Morris Nunn + Associates.
• Historic timber trusses were analysed for fire. This allowed the original timber members to be retained, thereby providing a unique character for the hotel.
Swiss Re Insurance Offices, London
Foster and Associates.
• The fire-resistance level was reduced from 120 minutes to 90 minutes for the floor beams (60 minutes for minor beams) and 60 minutes for the external exposed steel frame. This allowed the fire protection to be applied off-site, with significant reductions in cost and construction time.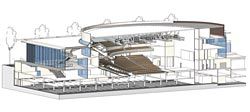 Hillsong Religious Facility
Architectus (Sydney).
• The required level of fire safety for the proposed facility was achieved through specific analysis and design of the egress provisions to cater for the large number of occupants and the rationalization of the smoke management system.
SUMMARY
Fire safety engineering uses a performance-based approach to achieve building solutions which comply with the BCA requirements, enabling fi re engineering assessments to be undertaken at a more fundamental level. Fire behaviour and occupant characteristics are two key fundamental variables affecting the determination of a robust design for fire and life safety. Property protection can also be addressed and for complex or iconic projects, a risk-based approach can be used to determine a cost-effective outcome.
The key benefits of undertaking fire engineering on building projects include:
• Economy – cost savings from rationalization of the fire safety provisions. For example, reductions in structural fi re protection and smoke exhaust.
• Time – reductions in construction time when some fire safety measures, such as applied fi re protection for steel members, are reduced or removed.
• Functionality – designs that are not permitted or are impractical under the DtS Provisions of the BCA can be realized. For example, the connection of more than two levels with a non-fire-separated stair in a multistorey building.
• Maintenance – may be reduced. For example, where the requirement for smoke exhaust systems is removed or reduced. Alternatively, specific maintenance measures can be implemented for fi re safety measures that are critical to the design.
Dr Tony O'Meagher is a senior fire engineer and Dr Leong Poon is National Manager, Fire Performance Engineering, with Meinhardt Consulting Engineers.
FURTHER INFORMATION 
Meinhardt Fire Performance Group
Leong Poon, National Manager,
Fire Performance Engineering
T 03 8676 1260
E leong@vic.meinhardt.com.au
W www.meinhardt.com.au
Society of Fire Safety – Engineers Australia
Established to foster excellence in fi re safety in Australia, the society aims to draw together individuals who are actively engaged in fi re safety, to provide a national focus and leadership for the development, understanding, practice and application of fi re safety engineering to achieve reductions of risk for life, property and environmental damage and the implementation of cost-effective fi re safety codes and regulations.
E info@sfs.au.com | W www.sfs.au.com
Fire Protection Association Australia
Australia's major technical and educational fi re safety organization aims to achieve continual improvement in fire safety through active membership and a range of activities.
T 1300 731 922 | F 03 9890 1577
E fpaa@fpaa.com.au | W www.fpaa.com.au
 
The Alliance for Fire and Smoke Containment
Formed in 2002 to promote the value of balanced fi re protection design in the built environment. The alliance encourages the development and free dissemination of codes of practices, industry best practice guidelines, technical guidance notes and technical papers relating to the balanced approach to fi re protection design in the built environment.
T 02 9416 0451 | F 02 9416 0452
E info@pfpa.com.au | W www.pfpa.com.au
National Institute of Standards and Technology
The Fire Research Division of this American non-regulatory federal agency develops, verifies and utilizes measurements and predictive methods to quantify the behaviour of fire and the means to reduce the impact of fire on people, property and the environment.
E william.grosshandler@nist.gov
W www.nist.gov