Jules Moloney and Patrick Janssen from the University of Melbourne discuss current and next-generation technology for visual and environmental simulation, with an emphasis on tools suitable for the early stages of design.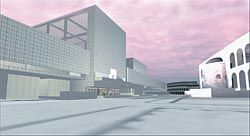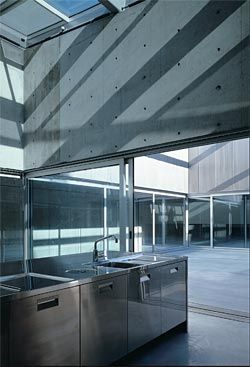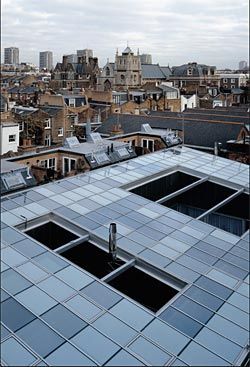 DESIGN IN REAL TIME
While the Virtual Reality (VR) centres of the 1990s had minimal impact on practice, the availability of technology from the computer game industry has allowed the democratization of so-called "real time computing".
In relation to three-dimensional design media, "real time" refers to the capacity to manipulate geometry within a site context, complete with simulated materials and approximate lighting. This differs from the animation software typically used in architecture, where it may take minutes or hours to render a single camera view. By contrast, game technologies are a mode of representation that is inherently interactive, with free camera movement allowing the designer to discover unanticipated issues in relation to a simulated site.
The demands on computer processing power are such that there are limits to the amount of detail that can be updated in real time, hence game technologies are best used at the early design stages.
The design process is similar to trying out physical models in a scaled site model. The immediate site is approximately modelled in three dimensions, then photographs of the actual buildings are applied to the building elevations. Only the immediate urban blocks need to be modelled – the background areas are represented by a 360-degree panoramic photograph applied to the inside surface of a semi-sphere. Typically the design options are modelled in standard CAD and three-dimensional modelling software, exported to the required game engine format and imported into the game environment. Navigation within the simulation occurs in first- or third-person perspective via a human-scale figure known as an avatar. The design teams can either walk around the design or evaluate the project in "fly" mode. The imported design components can be moved, scaled or rotated and a range of different options can be swapped in and out to allow quick comparisons from multiple viewpoints.
The essential difference between this mode of simulation and manipulating geometry in a CAD environment is that there is a greater sense of context. Rather than evaluating an abstract object, users can make design decisions from a position of quasi-occupation. The design focus shifts from architecture as sterile geometry to the design of architectural experience in relation to a wider context, experienced within a real-time walking mode.
Complementing this visual experience of three-dimensional worlds, design studios undertaken at the Spatial Information Architecture Laboratory (SIAL) at RMIT University have demonstrated the value of spatialized sound for engendering a sense of activity within the simulation. Typical sound samples from the site or samples representing intended use can be located spatially within the virtual environment.
The samples are not acoustically correct but act more as memory triggers, adding a cultural and functional context to the visuals. This approach has been adopted by the City of Melbourne, who commissioned SIAL to produce the City Sounds project, an online simulation that allows users to experience types of sounds and rate the annoyance factor as a step towards a qualitative understanding of noise.
For practitioners wishing to experiment with game technology, most PC games have an editing environment available, although these are usually for non-commercial use. The most popular low-cost commercial software is the Torque Game Engine and there are professional simulation authoring applications such as Virtools or Deep Creator that have a wide range of features including extensive file support for typical CAD software.
NEXT-GEN VISUALIZATION – DIGITAL/REAL HYBRIDS.
Imagine going to the physical site and seeing a superimposed digital model that can be evaluated from any angle. This mixing of digital models with real contexts is known as mobile Augmented Reality (AR). The basic technology has been around for some years but the problem of camera tracking has restricted development until the recent availability of sub-metre GPS technology. Research undertaken at the University of South Australia and at the Human Interface Technology Laboratory in New Zealand suggests commercial systems will not be too far away. However, the current emphasis on head-mounted display (HMD) is likely to run into the same problems encountered by VR systems – there is a growing consensus that HMDs are not conducive to design as a social process, nor do they facilitate valuable integration of traditional media with computer visualization. Design reviews are often a dialogue between several participants, so a screen system rather than an HMD allows more natural conversation and also enables the simultaneous evaluation of reports, drawings and physical models.
As part of a research initiative at the University of Melbourne we are undertaking pilot studies of two applications of screen-based AR tailored to architecture and urban design. In the first mobile system, a wide-screen LCD display will allow the viewing of designs on site by multiple participants.
This mobile facility also acts as a video capture device for the second system, a three-screen stereo projection system for use in a design review setting.
This involves a video database approach, which will allow users to access a range of prerecorded video and design models with lighting matching the changing site. As well as viewing the design in relation to the original camera paths, the user will be able to pause and evaluate the design in a free camera/edit mode, choosing individual viewing angles and motion. In addition, we extend the idea of context using time-lapse techniques which will enable the evaluation of designs over day and night and seasonal cycles.
ENVIRONMENTAL SIMULATION IN THE EARLY STAGES OF DESIGN.
The design decisions with the greatest impact on a building's energy consumption are made early in the design process, when the overall configuration and massing of the building are defined. For energy efficiency, it is essential to evaluate design variants at these early stages of design exploration, using methods that do not oversimplify the complexity of the scenario. Computational building simulation tools offer a dependable and precise way of carrying out such evaluations. The Light House, a new 800-square-metre house within an enclosed back-land site in London, which Patrick Janssen helped develop, illustrates this approach in practice.
The rectangular site had a narrow entrance through an alleyway, was encircled by a high perimeter wall and was overlooked by the surrounding buildings.
The key challenge of the project was to negotiate the conflicts between energy efficiency, privacy, daylight and sunlight.
As a result of the complexity of the simulation tools, it was decided that all simulations should be performed by the environmental engineers Arup, using digital models of the variants provided by the architects. In order to standardize the data generated for each variant, the volume of the site was modelled as a three-dimensional grid of data points, each with a range of attributes. The simulations resulted in a detailed environmental analysis for each individual point, producing a database of solar and daylight conditions throughout the year. The inward-looking nature of the site in conjunction with the inverted section led to the development of a completely glazed roof that functions as an environmental moderator, filtering sunlight and daylight through layers of transparency and opacity.
The design of the Light House project started in 1997, when most of the building simulation tools available were highly technical and difficult to use.
Today this situation has changed – user-friendly building simulation tools now exist, which have been developed for designers rather than environmental engineers. Such tools mean that it is now feasible to integrate building simulation tools into the design process in a highly interactive and dynamic way. Two tools of particular interest are Ecotect and Green Building Studio. Ecotect is a complete building design and environmental analysis tool that covers a broad range of simulation and analysis functions. What sets Ecotect apart from its competitors is its user-friendly interface and data output. Green Building Studio performs similar functions, but it is a web-based service rather than a software application. The designer uses a web browser to upload a model of the design to the server, a series of simulations are run and the results are displayed back to the designer.
Due to their ease of use, both Ecotect and Green Building Studio can become an integral part of the early explorative design phase. Although such simulation-based tools can highlight areas where a design is performing badly, they cannot suggest improvements. For this, altogether different types of tools are required that perform design synthesis as well as design evaluation. As part of the University of Melbourne's Critical Research in Digital Architecture group, Patrick is currently developing such a synthesis tool based on the evolutionary model in nature – design variants are encoded in the form of genetic scripts, which are then subjected to Darwinian evolution by natural selection. Each design variant is simulated, and those that perform better have a greater chance of surviving. This ensures that the population of design variants will gradually evolve and adapt to become more energy-efficient. The designer may then select the most appropriate variant for further design development.
POSTSCRIPT
Since their inception, digital design tools have offered the capacity to simulate rather than act as surrogate drawing boards and it is now common to use three-dimensional computer models to evaluate appearance prior to construction. In an ideal world, feedback on building performance and suggestions for improvements would coexist with more experiential visual simulation at the early design stages. Next-generation technology suggests this may eventually be the norm rather than the exception.
Jules Moloney and Patrick Janssen have recently joined associate professor Bharat Dave at the University of Melbourne to establish a specialist teaching and research group, CRIDA – critical research in digital architecture.
FURTHER INFORMATION
CRIDA – Critical Research in Digital Architecture
A research group at the University of Melbourne specializing in digital projects in architecture, urban design, landscape and environmental design.
W www.crida.net
Spatial Information Architecture Laboratory (SIAL)
A centre for design research and education using computing and modelling tools at RMIT University.
W www.sial.rmit.edu.au
Garage Games
The Torque Game Engine is popular commercial software for simulation and game authoring.
W www.garagegames.com
Virtools
Professional simulation authoring software.
W www.virtools.com
Right Hemisphere
Product graphics management software.
W www.righthemisphere.com
HITLabNZ
The Human Interface Technology Laboratory New Zealand is a research centre for human-computer interface.
W www.hitlabnz.org
Ecotect
Ecotect building analysis software offers tools for designers to consider energy-efficient design using three-dimensional simulations.
W www.ecotect.com
Green Building Studio
An online energy engineering analysis tool.
W www.greenbuildingstudio.com