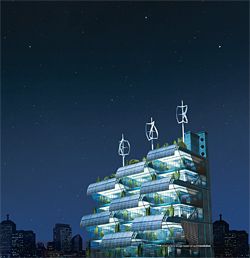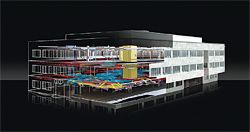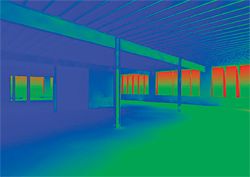 Rob Malkin of Autodesk Australia New Zealand outlines the benefits of Building Information Modelling.
Clients are now putting a much greater emphasis on sustainable design.
In the long term, it makes their properties much more valuable. They are demanding energy savings, cost predictability and reduced carbon emissions and the projects are facing increasing regulatory mandates – especially if they are to secure tightly controlled financial incentives.
As building growth intersects with environmental concerns and the rising cost of energy, Building Information Modelling (BIM) has become a major tool in contributing to sustainable design. Architects and building engineers are moving away from using conventional CAD software and applying the BIM approach to building design.
BIM is an integrated process for exploring a project's key physical and functional characteristics digitally before it is built, helping to deliver projects faster and more economically, while minimizing environmental impact. BIM allows architects and engineers to become "digital" master builders who are able to see the building, its materials, its structure and its performance in real time as it is being designed and (more importantly) before the design is converted to very expensive bricks and mortar – or more likely metal studs and gypsum board.
BIM also allows designers to develop models which can efficiently provide a fully coordinated set of conventional documents that are accurate and reliable. By gaining a thorough and clear understanding of how a structure will appear, the detailed information required to assess the effects of sunlight, airflow and the surrounding environment can be accurately demonstrated through 3D models, which can lead to increasing the building's sustainability. For example, by understanding the potential impact of sunlight on a building, architects can conduct energy analysis during the designing process, by assessing its properties in a 3D model.
Further, BIM enables architects, building engineers and constructors to minimize the environmental impact of a design by reducing material wastage during construction. By maintaining coordinated data and having an accurately detailed 3D model, the likelihood of human error is significantly decreased and potential mistakes can be identified and corrected during the design process.
Streamlined Project Collaboration through BIM
A simple way to boost architects' efficiency is through coordinated and accurate data collaboration across all members of a construction project. Construction planning is an ongoing effort to manage the progress of a construction project and react accordingly – dynamically adjusting to the "situation on the ground". Of course, a building's design is at the core of its project plan, and by adding schedule data to a 3D building information model (i.e. the building design) you can create a 4D building information model, where time is the fourth dimension.
Models in 4D include planning data such as the start and end dates of a component and their criticality or slack. As a result, a 4D building information model provides an intuitive interface for project teams and other stakeholders to easily visualize the assembling of a building over time. It enables 4D construction simulation, a key planning tool during pre-construction to evaluate various options. In addition, 4D storyboards and animations make BIM a powerful communication tool – giving architects, builders and their clients a shared understanding of project status, milestones, responsibilities and construction plans.
Teams usually start out developing 4D models by manually mapping the schedule dates from the project plan to the model components. That effort helps them improve the plan and improve how they communicate the plan to the whole team. However, once they have advanced their skills to fully utilize the tools of BIM, designers can maximize the benefits of BIM-based software by programmatically linking the schedule to the model, saving time and increasing their ability to evaluate various construction sequence options.
Reducing Waste and Inefficiency
Waste and inefficiency is a huge problem in the building construction industry, and is fundamentally unsustainable in environmental terms as well as economic terms. A large source of this waste and inefficiency is on-site rework required by poorly coordinated drawing sets. Every change order that costs the owner or builder money but does not add to the value of the building is wasted resources. Every wasted move and effort on a construction site is wasted energy and materials, potentially contributing to the waste stream, consuming fossil fuels and so on.
Products which are purpose-built for BIM, such as Autodesk® Revit® Architecture, strike at the heart of that waste by eliminating the source – construction documents that are not consistent or coordinated and do not accurately reflect the design. Parametric change technology ensures that the building information model – including the documentation – is, at all times, coordinated, consistent and complete. By maintaining accurate information, which is coordinated across all contributors to a project, the material waste produced during the building's construction can be significantly reduced.
As the design team works in familiar drawing and schedule views, Revit® Architecture coordinates their design information across all other representations of the project – in model views or drawing sheets, schedules, sections, plan and so on. As the design progresses, all information is preserved from beginning to end. The same model that is rendered in design is used to prepare construction documents and generates specifications.
Using BIM to Conduct Energy Analysis
Another example of how BIM can be used to develop more sustainable designs is energy analysis. Sophisticated energy analysis is critical to a building design strategy for reduced energy consumption. Many architecture firms outsource energy analysis (due to time and cost), and as a result building energy performance information is available only at fixed points in the project, usually later than needed for supporting the best decision-making about the project.
Building Information Modelling, however, provides robust design information with the necessary level of detail and reliability to complete these analyses earlier in the design cycle and makes possible routine analysis done directly by designers for their own baseline energy analysis.
In this fashion, energy analysis can be performed throughout the design process. In early design phases, massing studies can be used with resulting energy analyses to make decisions about how the building is placed on the site. As the design progresses, various daylighting options can be evaluated for energy savings.
Within minutes you can view the results, which provide energy statistics for your project and recommendations to improve your design based on local standards for building type, climate, etc. You can then modify your building design and repeat the process to see what impact a design change has on the energy-efficiency of the building.
This simple process belies enormous computational power.
Building energy analysis tools like Autodesk® Ecotect® Analysis use a large network of relational databases containing hourly weather data, design data and regionally relevant libraries of default building characteristics with common energy code baselines. It will even make customized recommendations regarding building products, greatly simplifying the early specification process.
Win-Win Results with BIM Solutions
Following the rising demand for the tools and features of BIM-based software, 4D building information models containing detailed schedule and resource data from the native project planning software are now a reality – and can lead to a more engaged team, more informed decision making and better coordination between designers and builders.
BIM helps building professionals stay competitive in an increasingly complex business climate by giving them the ability to better predict the outcome of a building before it is built. Using BIM helps architects and designers to create more sustainable, accurate designs with fewer errors and less waste, helping to achieve higher profits and more satisfied clients.
By utilizing better information from building information modelling solutions, a significant cost barrier to designing green buildings is diminished. This combination provides more accurate energy analysis, leading to a more efficient building design and lower operating cost for the owner. And it lets architects perform these functions in-house, which makes sustainable design services more affordable for the client and increases profitability for the architectural firm – making building information modelling a win-win proposition for everyone.
Rob Malkin is sales director architecture, engineering and construction, at Autodesk Australia New Zealand.
FURTHER INFORMATION
Autodesk
Autodesk, Inc., is a world leader in 2D and 3D design, engineering and entertainment software for the manufacturing, building and construction, and media and entertainment markets. Since its introduction of AutoCAD software in 1982, Autodesk continues to develop the broadest portfolio of state-of-the-art software to help customers experience their ideas digitally before they are built.
W www.autodesk.com.au/aa

National BIM Guidelines and Case Studies Project
An ongoing research project from the CRC for Construction Innovation.
W www.construction-innovation.info/index.php?id=1154

The Journal of Building Information Modeling An official publication of the National BIM Standard and the National Institute of Building Sciences in the US.
W www.wbdg.org/references/jbim.php