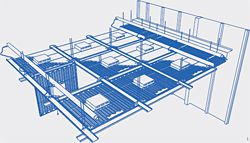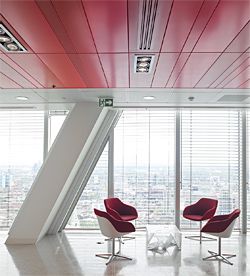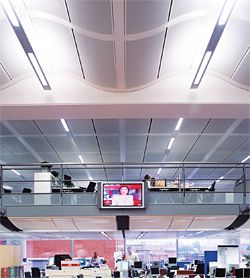 Meeting the challenges of modern commercial environments. With economic change dictating the demands of a client and tenant, how can the selection of interior fitout products make genuine commercial sense while fulfilling design and performance requirem
The commercial environment is changing and, despite current economic conditions, is now helping to drive sustainability.
The situation for the global economy remains fragile. Recovery has been strongest in Asia, with Australia holding its own. There are glimmers of change in what has been a slow commercial property market – a recent report by CB Richard Ellis cites increasing white collar employment and improved business confidence and as a result leasing enquiry and transactions have been picking up, while in Sydney vacancy rates are dropping.1 With a number of new development projects set to enter the market, this situation may change again, particularly in Sydney. Many companies are also seeking to reduce costs by locating to cheaper premises, while still demanding high quality. Meanwhile, landlords wanting to provide yields in prime areas are increasingly looking to balance the demands of tenants/occupants and investors.
TThe fitout of premises, through refurbishment or in a new build, is therefore demanding more attention. Architects, property developers and contractors are focusing on flexibility of design, durability, speed of installation, performance and occupant comfort.

Long-term sustainable value
Globally, a number of organizations promote the construction of building designs that meet building users' and owners' needs through better working environments and energy-efficient design. Contemporary construction projects demand long-term value and can include environmental credentials and greater design flexibility to meet the demands of occupants over a fifty- to sixty-year building life cycle.
The Green Building Council of Australia's Green Star scheme is just one example of a variety of third-party organizations that assess the environmental impact of a project. Globally, there are a range of performance-based, credit-rated environmental assessment methods, and each differs significantly in its scope and criteria.
Internationally, the most recognized scheme is Leadership in Energy and Environmental Design (LEED), developed by the U.S. Green Building Council. A voluntary scheme, it has accredited over 14,000 projects in thirty countries. In the United Kingdom, the Building Research Establishment's Environmental Assessment Method (BREEAM) works closely with France's Centre Scientifique et Technique du Bâtiment (CSTB) French Haute Qualité Environnementale (High Quality Environmental) standard.
Multinational clients, specifiers and manufacturers who strive to ensure compliance under each of these schemes need to understand the criteria involved in each. The most important credit in all three schemes, which is also the essential factor in the overall effort to achieve sustainable development, is the consumption of energy in buildings. The largest contributor to energy-efficient design is the heating, ventilation and airconditioning (HVAC) system – with Green Star this can account for up to 65 percent of the total energy consumption.2 Though they are voluntary, the introduction of these assessment methods has dramatically changed the way that commercial offices are designed and constructed. Major clients and developers now promote how much their organizations and/or offices are environmentally friendly, energy-efficient or carbon-neutral. Product choice no longer relies on the initial purchase price difference between materials.

Performance driven: integration with comfort cooling
With a number of HVAC systems on the global market, water-based systems are increasingly being specified to provide energy-efficient cooling. Water-cooled radiant chilled ceilings and chilled beams can provide an alternative to the traditional variable air volume (VAV) systems. In Australia, radiant chilled ceilings have traditionally been installed in conjunction with a metal ceiling system, with some buildings achieving a six-star accreditation.
A number of different radiant chilled ceiling systems have been installed on major projects worldwide, which are visually indistinguishable from a standard metal suspended ceiling. Using water as the heat transfer medium, heat is absorbed and removed from the occupied space, using a mix of radiant and convective cooling. This can achieve between 45 and 65 W/m2 (net) of cooling capacity, providing quiet, draft-free comfort cooling to occupants.
Chilled ceilings incorporate a single-piece copper or aluminium element into the rear of a standard suspended metal ceiling tile. Flow and return temperatures are typically between 14 and 17°C, making them ideal for linking with ground-source heating and cooling systems, which meets the environmental efficiency demands required. Chilled beams can also be installed in conjunction with chilled ceilings to provide high-load perimeter cooling, offsetting any heat gain through glass on summer days. However, in considering a better working environment and long-term project value, a holistic approach to occupant comfort must be taken. Though meeting the energy-efficiency requirements of the assessment schemes, comfort cooling is not the only demand from the client or tenant.

Integrating design requirements
Meeting the occupant demands of a modern office environment requires acoustics and space flexibility, along with low maintenance costs and product durability. On-site efficiencies can include service integration and the minimization of site waste. For architects and clients the aesthetic finish of a product is also an important consideration.
Chilled ceiling systems have the same benefits as metal ceiling systems, including a sleek, modern finish that is both durable and easy to clean. Developers and architects worldwide are specifying and installing metal ceiling systems as they can bring long-term value to any project. The established approach of using the same type of ceiling in every building for every client as standard is seriously being questioned.
Metal ceiling systems are manufactured from steel or aluminium, while chilled ceilings are manufactured from aluminium only, due to its thermal conductivity. Suspended ceilings are traditionally installed to provide acoustic comfort and service integration. The choice of tile provides the desired acoustic performance. Metal ceiling tiles are supplied with factory-formed apertures for luminaires and other services, reducing on-site waste and installation time. Engineered systems can also ensure that product quality is significantly better. Working closely with project teams and coordinating service options, prefabrication can lead to on-site cost savings.
The versatility of metal provides unrivalled acoustic properties while maintaining a continuous aesthetic appearance. A number of different acoustic backing materials can be used with perforated metal panels, providing acoustic attenuation of up to 49dB and acoustic absorption of 0.90 αω. For an optimum acoustic balance, tiles are perforated to an open area of 18 to 25 percent.
Even with these benefits metal is not always considered by some as a suitable internal finish. Metal ceiling tiles are finished with a polyester powder coat, which allows a number of different finishes to be applied. This includes any RAL colour with a standard 20 percent gloss level, a fine textured, antibacterial or even anti-graffiti finish.
Tile sizes are not limited to standard Australian planks, but can be manufactured to meet any building module size. Ceilings are not limited to flat finishes – architectural design can encompass a wide range of options, including radial, vaulted and waveform.

Meeting long-term value
The long-term environmental benefits of metal also meet the sustainability demands of modern projects. With a twenty-five-year life cycle and minimal ongoing maintenance, metal provides the durability that clients want. It is specified on numerous construction projects for its performance and, unlike other materials, it has a closed life cycle loop, as it can be recycled into new steel. With 40 percent recycled content, steel is the most recycled material globally.
Working in conjunction with an independent quantity surveying practice, the overall lifetime costs of different suspended ceiling materials were compared. Based on a twenty-year period, the exercise concluded that real cost savings of 47 percent could be achieved by specifying metal ceilings. Taking into account the costs of maintenance, replacement, refitting and disposal of non-metal ceiling tiles, the cost savings of metal ceiling systems really start to add up. Metal ceilings therefore offer an increasingly popular option for architects and developers, combining performance with aesthetics. They can contribute to lower operating costs, higher productivity levels and occupant comfort benefits, thus offering greater tenant attraction.
If architects and contractors work closely with manufacturers, it is easier to ensure that the design and performance specifications of a new build or refurbishment are met and often exceeded.
Malcolm Stamper is product manager at SAS International.
1. Global Office Rents, CB Richard Ellis Global Research and Consulting. May 2010.
2. Ya Roderick, David McEwan, Craig Wheatley and Carlos Alonso, Comparison of energy efficient performance between LEED, BREAAM and Green Star. International Building Performance Simulation Association.

FURTHER INFORMATION

Green Building Council of Australia
Its key objectives are to drive the transition of the Australian property industry towards sustainability by promoting green building programs, technologies, design practices and operations as well as the integration of green building initiatives into mainstream design, construction and operation of buildings.
www.gbca.org.au

U.S. Green Building Council
Non-profit organization dedicated to sustainable building design and construction. Developers of the LEED building rating system.
www.usgbc.org

BRE Environmental Assessment Method – BREEAM
The United Kingdom's environmental assessment method for buildings. It sets the standard for best practice in sustainable design and has become the de facto measure used to describe a building's environmental performance.
www.breeam.org

European Confederation of Iron and Steel Industries
EUROFER represents steel manufacturers and associations within Europe and provides data on European and worldwide steel recycled rates and content.
www.eurofer.org