Pippa Connelly and Nick Adams of Arup outline some survival strategies for existing buildings.
It's widely understood that office buildings are responsible for a significant proportion of our cities' greenhouse gas emissions. Commonwealth and state governments already impose minimum NABERS energy requirements on their building tenancies, while a number of private organizations have signed the Green Star Business Partnership, pledging to adopt Green Star for all new buildings they own or occupy. Add the planned emissions trading scheme into the mix, and the situation is clear: buildings that don't live up to current expectations, in terms of sustainability, amenity and economics, will be very hard to lease or sell.
For the small percentage of office buildings built from scratch, the question of sustainability can be answered through thoughtful architecture and engineering. For the existing building stock a survival strategy is needed, one that takes into account all the parties who have an investment in a building's performance and amenity – the owners, the tenants and the community at large.
Determine your baseline
Before embarking on an upgrade, it's important to perform a detailed assessment of the condition of the building. This baseline will identify those areas that most need improvement and provide a measure against which the performance of the upgraded building can be assessed.
There are many tools available to architects and engineers for performing such analysis. An energy audit, for both electricity and gas, can pinpoint areas within the building that are consuming large amounts of energy, and analysis of past energy bills will reveal disproportionate seasonal variations. A similar approach can be used to identify problem areas for water consumption. Audits should also be performed for waste (what is the total amount generated by the building? How much is recycled and how much is sent to landfill?) and indoor environment quality or IEQ (to see where improvements can be made to thermal comfort, air quality, lighting levels and noise levels). The NABERS benchmarks for greenhouse gas emissions, water, waste and IEQ in office buildings provide an excellent guide for performance evaluations.
Often the occupants directly affect building performance. Operational procedures can have a significant impact, particularly in terms of energy consumption, IEQ and waste management. A review of facilities management, including maintenance schedules, and careful review of the Building Management System can identify shortcomings. Occupant satisfaction surveys are also very useful, for highlighting ways in which the day-to-day performance of the building falls below tenants' expectations.
Finally, a straightforward building condition audit can measure the expected remaining economic life of the building's components.
Establish goals and targets
Once you know where the existing building is, in terms of performance, the next step is to focus on where you want it to be. This requires the participation of all stakeholders in the project. It needs to happen before any building works are considered or cost plans prepared. By outlining the aspirations for the building and considering them in the context of any constraints (quirks of the existing building's construction, for example, or the nature of neighbouring buildings), you can set the best possible performance targets – ones that promise real improvements and that are realistically achievable.
Review maintenance, housekeeping and energy purchase strategies
Surprisingly significant improvements can be made with minimal cost by undertaking a simple review of housekeeping, energy purchase contracts, building maintenance and building services. Outcomes might include maintenance procedure changes and repairs to building fabric, controls, ventilation, refrigeration, lighting, heating and hot water, and motors and drives.1
Refurbish or demolish?
Or, to be more specific, refurbish a little, refurbish a lot or demolish. Arup has developed a simple matrix, based on levels of refurbishment defined by the Building Services Research and Information Association and the Building Research Establishment, to determine the work required to bring an existing building up to the current standard for new buildings.2 The matrix describes five general levels of refurbishment, determined by the assessed performance and condition of the existing building (see table 1). Building performance is measured in terms of thermal comfort, energy consumption, water consumption, mechanical systems, electrical/IT/comms systems, staff satisfaction, daylight availability, flexibility of floor plate and amenity (within the building and in the local area). Building condition is based on an assessment of mechanical systems, electrical/IT/comms systems and building and civil structure.
The levels of refurbishment can be summarized broadly as follows, but will vary depending on the particular building:

Level 1. Tune-up and minor refurbishment – for example, install modern blinds, revise layout to improve daylight and flexibility, repaint interior, install low-energy IT options on replacement and recommission building services.
Level 2. Intermediate refurbishment – all level 1 works, plus renew lighting and control system, and remove false ceilings to expose thermal mass.
Level 3. Major refurbishment – replace major plant and services, floor finishes, raised floors and internal walls, and install external solar control.
Level 4. Complete refurbishment – retain only the substructure, superstructure and floor structure, undertake structural and facade alterations, and consider relocation of cores and risers.
Level 5. Demolish and rebuild.
Select the optimal upgrade initiatives
There are myriad initiatives that can improve sustainability performance in an existing building. Arup has compiled a list of 200 initiatives, based on project experience and research, and has assessed them on the basis of four factors: capital cost requirement, sustainability benefit, benefit to the owner and benefit to the occupant.
These initiatives can't simply be used as items on a sustainability shopping list – they must be implemented selectively, in response to specific problem areas identified in the baseline analysis. Some initiatives won't work in every climate, some can't be transferred between building types and some may not be compatible with others (for example, increasing outside air rates might improve IEQ but could also cause increased HVAC energy consumption). For energy and water solutions, it's important to reduce demand and then maximize efficiencies before installing renewable energy systems or complex water recycling features. It is also important to consider the system efficiency, not just individual component efficiency. Ultimately, simple solutions are often the best – after all, if the initiatives are so complex that they aren't easily understood by the building's users, they may not be implemented correctly and won't make much real difference.
Arup's 200 initiatives are grouped under seventeen headings, including HVAC energy consumption, building fabric energy control, IEQ, building management, water, site (landscaping, for example), transport, social issues (such as external lighting impacts, accessibility and social spaces), economic factors (such as peak load lopping and flexibility for subleasing), business continuity, quality and OH&S. Some are simple strategies appropriate for level 1 refurbishments, while others are major initiatives designed to achieve the heavy-duty requirements of a level 4 refurbishment. The following paragraphs outline two examples.
Double-skin facade – a level 3 initiative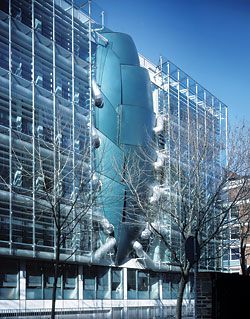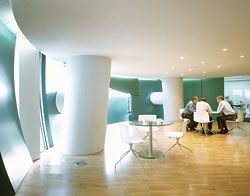 A double-skin facade typically consists of an inner double-glazed unit, a cavity and a second pane of glass. The outer skin reduces wind pressure and noise to the inner skin, enabling natural ventilation. The cavity can incorporate solar control and can be sealed in winter to reduce heat loss. This initiative typically requires substantial capital investment financed over a number of years and will provide considerable sustainability, owner and occupant benefits.
This strategy was used at Arup's London office, Arup Fitzrovia Stage 1. As part of the upgrade of the existing 1970s structure, a triple-skin facade was created to improve IEQ. Due to restrictive floor-to-floor heights (3.1 metres), it was not possible to conceal the mechanical air ducts within the ceiling void. The existing floor slab could not accommodate the ducts either. As a result, they were positioned outside the building and installed within the buffer zone of the triple-skin facade. Metal-clad supply ducts run vertically down the building from the roof plant and disperse horizontally into a raised floor slab plenum. The ducts were incorporated into the facade as a strong visual element and provide solar shading. A multidisciplinary team from Arup – covering structural, MEP and public health engineering, project management and cost consulting – worked on the project with architect Sheppard Robson.
Create an atrium – a level 4 initiative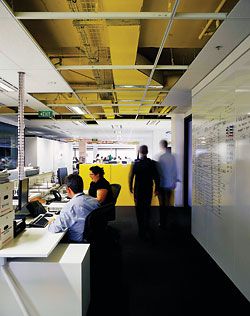 An atrium brings daylight into deep open spaces, reducing the need for electric lighting. It provides social areas and different work settings and can be used as part of a passive thermal strategy. This initiative requires substantial capital investment financed over a number of years and will provide substantial occupant benefits as well as minor sustainability and owner benefits.
The atrium at 39 Hunter Street, Sydney, was one of a suite of improvements that made the seven-level structure the first heritage-listed building in Australia to earn a six-star Green Star Office Design Rating. The building, which dates from 1916, was surrounded by high-rise towers that rendered its original light wells obsolete. The new atrium cuts through the entire building, allowing light to flow in and enhancing communication, productivity and contentment amongst occupants. Other initiatives included the use of a sprinkler tank for thermal storage, the installation of gas-fired generators that run one of two chillers as part of the peak load reduction strategy, and the installation of state-of-the-art building services such as under-floor displacement airconditioning. A multidisciplinary team from Arup, covering ESD engineering, MEP engineering and acoustics, worked on the project with architect Jackson Teece, structural engineers Hyder Consulting and quality surveyors Davis Langdon.
Ten "quick win" initiatives
When quick improvements are required, or to improve performance while a more sophisticated refurbishment is being planned, the following ten initiatives can yield immediate substantial benefits:

Replace existing lamps with T5 fluorescents to reduce energy consumption and decrease internal heat load from lights (level 2).
Modify airconditioning set points to provide a wider control band, within acceptable comfort boundaries (level 1).
Provide clear light switch labelling so that occupants know which switches control which zones. This is especially relevant for out-of-hours and weekend office use (level 1).
Rebalance and recommission all plant to maximize efficiency (level 1).
Use low-irritant or non-chemical cleaning products to minimize the risk of harmful particulates in the indoor environment (level 1).
Implement a comprehensive preventative maintenance program to maximize equipment efficiency and extend the life of equipment and materials (level 1).
Maintain up-to-date, comprehensive, accessible O&M manuals and building users' guides to ensure that equipment is maintained at optimal working conditions (level 1).
Provide sub-metering of electricity, gas and water. This means that tenants are only charged for the resources they use, highlighting areas of inefficiency and providing an economic incentive for reducing energy use (electricity, level 1; gas and water, level 2).
Ensure heating and airconditioning controls are working effectively to minimize energy consumption and maximize thermal comfort (level 1).
Provide water-efficient appliances (level 1).
Many of these "quick win" initiatives are as much about management as they are about engineering and architecture. In combination, they can have great effect. The rebuilding in the mid-1990s of Regis House, London, to a design by GMW Architects, is a case in point. Newsletters and posters advocating energy-efficiency measures were produced and distributed, plant run times were adjusted to match building occupation times, a regular schedule for reviewing set points was instituted and after-hours security and cleaning staff were empowered to turn off lights in unoccupied areas. The result was a twenty-nine percent reduction in carbon dioxide emissions compared to the baseline and a corresponding saving of £44,000 through reduced energy consumption.
The role of the architect
This approach to the sustainable rejuvenation of existing commercial building stock was conceived from the point of view of a multidisciplinary engineering and consultancy firm. Indeed, sustainability is a multidisciplinary issue, and architects have a role to play at every point in this process – they must assess every project with a critical eye to ensure that everything possible is being done to maximize a building's environmental performance. A considered, step-by-step process for refurbishing existing buildings ensures that everything that can be done will be done. Over coming years, these projects will account for a significant proportion of the work undertaken by architects and engineers – their successful completion is of vital commercial, environmental and social importance.

Pippa Connolly is a principal in Arup's buildings group and leader of sustainable buildings in the Melbourne office. Nick Adams is a senior engineer in Arup's buildings group. This article is based on Existing Buildings, Survival Strategies: A toolbox for re-energising tired assets, a booklet compiled by Arup for the Property Council of Australia.


1. Case studies of pre-refurbishment checks are provided in the Chartered Institute of Building Services Engineers, Refurbishment for improved energy efficiency: an overview. Knowledge Series KS12 (2007).

2. Building Services Research and Information Association, Refurbishment of air-conditioned buildings for natural ventilation TN8/98 (1998). Building Research Establishment, Refurbishment or redevelopment of office buildings? Sustainability Comparisons IP9/02 Part 1 (2002).
Further Information
Arup
A global firm of designers, engineers, planners and business consultants providing a diverse range of professional services to clients around the world.
E contact.aus@arup.com.au
W www.arup.com/australasia

Green Building Council of Australia (GBCA)
National, not-for-profit organization committed to developing a sustainable property industry for Australia by encouraging the adoption of green building practices. Information about the GBCA's Green Star rating tools can be found at the organization's website.
T 02 8239 6200
E info@gbca.org.au
W www.gbca.org.au

Property Council of Australia
Member organization providing advocacy and public affairs services in relation to the built environment. The booklet Existing Buildings, Survival Strategies: A toolbox for re-energising tired assets is available through the PCA website.
T 02 9033 1900
E info@propertyoz.com.au
W www.propertyoz.com.au

NABERS
Performance-based rating system for existing buildings that rates a building on the basis of its measured operational impacts on the environment and provides a simple indication of how well you are managing these environmental impacts compared with your peers and neighbours.
T 02 9995 5000
W www.nabers.com.au