TENSILE FACADES
Realizing the living machine. Rowan Murray and Peter Bottero of Ronstan Tensile Architecture discuss the opportunities of tensile facades.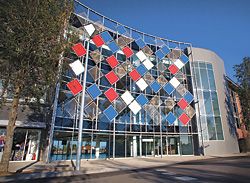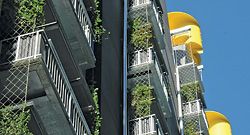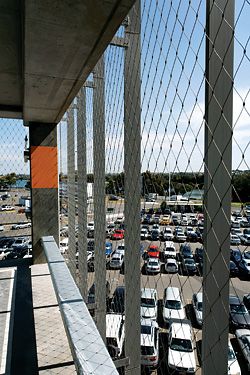 The concept of the building as a living machine has laid foundation to designs from some of our most prominent architects – Le Corbusier to Renzo Piano, Richard Rogers and more locally Sean Godsell. But for the majority of us, engaging the principles of the building facade to mimic human skin has been difficult to sell and even harder to execute.
While the theory is well acknowledged, only recently have advances in lightweight tensile architecture provided realistic solutions to effect a true semipermeable building facade or skin – one that allows the building to breathe, but keeps out the elements at the same time. Advances in cable technology, an improved understanding of specific cable behaviour, an intimate knowledge of tension and mechanical concepts, and improved modelling and analysis techniques have all combined to create light and dynamic building skins that do not restrict the building form. These lightweight tensile skins or facades, with their small mass relative to their span, use prestressed elements to resist deformation and provide stability over large areas. At the same time they provide identity, reflecting the context and experiences of the building owners.
Individuality
When someone says they like the appearance of a building, they refer to an appreciation of its facade, the building element that most conveys individuality and interacts with the surrounding environment. Peddle Thorp's rejuvenation of the Whitten Oval Grandstand in Melbourne's inner west provides a perfect example. A feature facade was called for that would respond to its context, displaying the colours of the local Western Bulldogs AFL team; form an identifiable entry; and provide an environmental benefit in the form of shading for the west-facing glazed facade behind. A conventional steel-framed structure, used to support the facade panels, would have dominated the building, its bulky steel members limiting the view of the forecourt from within and the internal spaces from outside. The solution was a tensile net of lightweight panels and cables that allows a unique and transparent view from inside and out.
The Whitten solution, with its cable grid of eight-millimetre stainless cables and cross clamps, is truly individual. Like most tensile structures in glass, metal panels, timber or tensioned fabric, the integrity of the lightweight solution relies on geometry and prestress in the cables to reduce deflection and deformation in the absence of heavy members. At Whitten, the curvature of the facade and the prestressed cables are shaped into an elegant geometric form that effectively resists the imposed forces and provides the stiffness required to readily maintain the structure's stability. The design preserves the transparency of the system to clearly articulate the geometry of the structure and to realize the brief for shelter and branding with minimal support. Like all tensile structures that rely on optimized design processes and minimized materials to achieve their "lightness" and form, a tensile facade will often have a two- or three-dimensional element to its design for greater structural efficiency. This form provides essential stiffness.
Wrapping and folding
Unlike human skin, which masks the structure underneath, few facades really break from the rigid form and structure imposed by the building proper. Gehry's Guggenheim Museum and Lab + Bates Smart's Federation Square are two very successful examples of wrapped or folded, almost origami-like facades that do achieve this, but they rely at least in part upon deep steel structure beneath to support this skin. The application of tensile facade elements in cable or rod allows buildings to be wrapped or facade materials to be folded around minimal structure, independent of the primary building construction. Less weight, less mass and lower cost can all be realized in a tensile-cable-supported skin. Installation programs are shortened and maintenance cost reduced as small-diameter, prestressed cables replace heavy painted beams. The efficiency of these tensile elements makes these facades a reality. Without them, costly and cumbersome secondary structures would be used to connect the "fluid" facade to the rigid structural form of the building's beams, columns and slabs. At 103–105 Lonsdale Street in Melbourne's CBD, SJB Architects designed a two-storey addition for the top of a four-storey, heritage-listed building that today expounds the benefits of tensile facade solutions.
Conceived to respect the contextual challenge posed by the building's heritage listing and close proximity to Chinatown, the 103–105 Lonsdale Street facade uses vibrant colour and dramatic shape to shroud two additional storeys in a facade representative of a Chinese lantern. The lantern hovers ethereally above the existing heritage building, its cable-supported, woven aluminium panels folded in chiselled lines around horizontal cables to create a unique architectural icon in the area. For the lantern illusion to succeed the facade element needed to appear as light as possible. Cables pre-tensioned between cranked beams replaced heavy horizontal steel members and provided the essential structure onto which mesh panels were clamped. More efficient, lighter, horizontal cable members facilitated a substantial reduction in the number of vertical cranked steel beams, minimizing structural bulk and opening the aspect from within for occupants, a strong feature of the design brief. The result is a facade of unique "lightness" and transparency. The woven mesh filter cleverly hides the regular form of the building, which is wrapped in a second skin to provide protection and uniquely identify with the surrounding area.
Shelter and filtering
Aside from our skin's ability to convey identity, to promote interaction and provide the body with sensation, as a membrane it also provides basic shelter, controls incoming and outgoing substances and regulates the body's temperature. These skin functions rely on a membrane's ability to be selectively permeable. Today's building facades are the same. They filter elements selectively, allowing some elements through the membrane while blocking others in accordance with ESD principles – if sustainable design is at all a factor. Facades must protect against wind and rain while filtering sun, which at times is welcomed, providing essential warming. At other times sun needs to be controlled to regulate temperature.
Traditional curtain wall solutions have struggled in this area. They provide effective shelter, but isolate the occupant from the outside environment at the same time, forcing an over-reliance on artificial environments or airconditioning. Tensile facades, with their minimized structure, provide effective shelter more efficiently, and can increase an occupant's opportunity for interaction with the surrounding environs through the provision of structural support with less disruptive visual bulk and mass. Above all, the introduction of tensile elements strikes a better balance between amenity and the provision of shelter, temperature regulation and the ever increasing demand for more sustainable design. Prestressed cables or rods and geometric form can facilitate the use of meshes, plants, battens and timber or metal louvres with minimal disturbance to the building behind.
Melbourne's CH2 Building illustrates this perfectly, successfully addressing the challenges of shelter and filtering without a detrimental effect on amenity. The green facades of CH2's northern terraces span nine floors of the building, bringing lush flora to the north-facing balconies. These "living screens", as they are sometimes called, not only provide shelter from the low-angled morning and afternoon sun, aiding thermal control and limiting heat gain, but also help restore ecological balance and greatly add to the amenity for building occupants, with improved natural light and ventilation. Like so many tensile structures before them, the simple form of the northern terrace screens harbours a hidden complexity, which in this case plays an integral role in the realization of CH2's ESD philosophies.
The green facades were first modelled and analysed for minimization of the structural elements, before the plant's requirements for support were overlaid. These have a significant bearing on the density of foliage achievable and therefore the plant's ability to shade. The process resulted in a tensile cable net comprised of 1.5-millimetre-diameter stainless steel cable mesh, which was bordered by larger cables to facilitate the transfer of wind, plant and other loads back to the main building structure. With planter boxes at each level, these tensile green facade structures provide plants with an optimal and secure growing environment. Like human skin they shelter and filter effectively and allow the passage of elements in both directions. On the northern terraces this means providing occupants with the opportunity to experience the surrounding environment as well.
Protection and strength
Another function of skin is to provide protection. Its ability to regenerate and repair and its inherent immune qualities are difficult to replicate, but the facade fulfils the protective role as a physical barrier for our buildings. Few facade materials are truly homogeneous, their integrity as a barrier compromised by the need to mate panels and surfaces, which requires jointing, lapping and the use of sealants or other compounds. Tensile membranes of textile or metal mesh fabric remove this need and are tensioned into place as one single impervious span. These new materials offer degrees of "imperviousness" on a cascading scale, from the full blockade of some textile solutions to open metal fabrics that provide security with full ventilation and transparency. All allow facade designers to play with light and shadow, opacity and identity, while ensuring effective breathing and climatic control. When tensioned into place these supple and fluid materials become robust and strong, providing almost "skin-like" qualities.
At the Sydney International Airport car park, DesignInc used a single tensioned cable mesh fabric of 1500-square-metre span to provide fall protection for the eleven-storey car park. The 95 percent open area of the tensile cable mesh achieved a minimum air flow rate that traditional facade solutions with heavy substructure couldn't. This ensured classification of the car park as an open deck, realizing substantial cost benefits and liberating the building of the cost burden associated with mechanical ventilation and fire sprinkler systems.
A growing understanding of tensile architecture and what it means to facades is definitely providing designers with a range of new and exciting facade options. To the purist, the utopian representation of a facade that truly mimics skin and its ability to provide protection, immunity, temperature regulation, sensation and social interaction is far from realization, but tensile architecture brings us closer than ever before. New materials and the ability to carry forces within the surface, either by membrane stress or cable tension, lead to facade solutions of unique depth and openness, with large spans made possible by balancing the need for reduced self-weight with the application of minimalist and efficient high-tensile cable tendons.
Rowan Murray is general manager of Ronstan Tensile Architecture. Peter Bottero is business development manager of Ronstan Tensile Architecture.
Supported by
Ronstan Tensile Architecture
220 Bay Road
Sandringham Vic 3191
T 03 8599 0000
E architectural@ronstan.com.au
W www.RonstanTensileArch.com

Further Information
Ronstan Tensile Architecture provides the architectural/engineering community with end-to-end specialty contracting services, technical expertise and bold imagination, which have resulted in some of the world's most intriguing examples of tensile architecture. Ronstan maintains the capability to provide comprehensive services for small to midsize projects incorporating principles of tensile architecture, including concept development, design assistance, cable and fitting selection, structural analysis and installation. Headquartered in Melbourne, Ronstan Tensile Architecture operates offices internationally.

Lightweight Structures Assoc. of Australasia Inc.(LSAA) provides a complete reference on lightweight tensile architecture. www.lsaa.org

Green Roofs Australia (GRA) promotes the research and development of green roofs and walls as an effective response to climate change. www.greenroofs.wordpress.com
SUSTAINABLE AFFORDABLE HOUSING?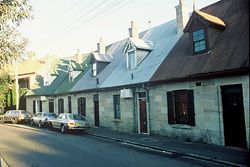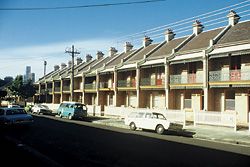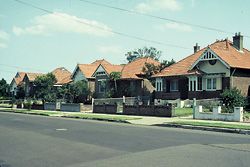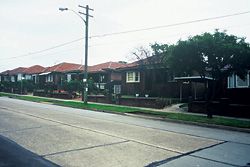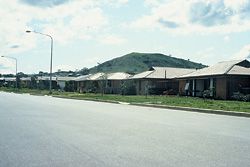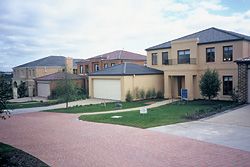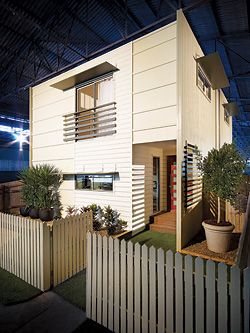 Tone Wheeler of Environa Studio asks, "Is sustainable affordable housing an oxymoron?"
Affordability and sustainability are big-ticket issues in current housing policy, but the design conundrum is not that they don't align, but rather that they are diametrically opposed. Unless the competing demands can be reconciled, architects cannot effectively engage with either, and the consequent issues of urban consolidation, housing choice and diversity will remain as running sores in city planning.
Australia has the ne plus ultra of suburbia: almost 80 percent of the housing stock is detached houses on separately titled sites, spread out over the topography. We have the dubious distinction of being world champions at both uniformity of house type and lowest urban densities, giving us a sameness everywhere, with a huge dependence on private transport.
But it is cheap to build. Construction costs per square metre for freestanding homes are always less than for other forms of housing: there are no requirements for acoustic or fire-safe construction, no scaffolding for single-storey construction and fewer overheads (e.g. easy access on four sides means subcontractors can circle the white vans). But where Australia has reached "world's best practice" for detached homes is in inventing or developing construction systems, such as brick veneer and lightweight claddings, that give the illusion of individuality or originality, while using typical plans and basic techniques to maintain very low-cost construction. Essentially it is based on sophisticated methods with cheap materials: polystyrene forms for concrete slabs, whole wall frames and roof trusses, fully glazed windows and doors, cladding in pre-cut sheet materials or brickwork, pre-cut roofing sheet (or tiles) and rain goods, and a fitout with modular joinery. It is a very clever, and well-resolved, mix of prefabrication and site assembly, and we are so good at it that we have been exporting it to the sub-prime estates of south-west USA for the last fifteen years.
Another measure of its success has been maintaining construction affordability while the 2x2x2x2x2x2 revolution has occurred in the last forty years. This refers to a doubling in floor area, glazing area, storeys, cars, fridges and appliances, while site area and occupancy have halved. In a circular, self-fulfilling process, the cheapest form of house, which is wanted by the lowest waged, needs the most land area, which is only available at the edge of the city, which has no public transport, which means you need more cars, which take more space, needing more freeways, pushing land further out and so on. It may be argued that the major factor that allowed the absurd process to continue as long as it has was the low prices not only for petrol but for the cars themselves.
Thus the reduced affordability of these cheapest houses is a function of the dramatic increase in the cost of land and services, not the cost of construction. A further irony is that to keep land costs down, the average size of blocks being subdivided today is half those of forty years ago, which together with a doubling of the house means there are now two storeys, with far less amenity and, crucially for sustainability, landscape and environmental quality than the postwar models. In response to the need for a better design than the "box on box" (garage and living rooms in four corners downstairs, four bedrooms in the corners upstairs), alternative plans have been developed: courtyards that give greater privacy and upper floors that are half the size of the lower to have setbacks to reduce overshadowing and loss of privacy. And most importantly, designing for flexibility rather than number of rooms to reduce the size.
But these are failures in sustainability in two ways: the houses themselves and their location. The states have introduced programs to legislate for better thermal design, but they are fatally flawed as they are based on reducing heating and cooling loads per square metre – worthy in itself but ineffectual if the house is now twice the size and the main effect of the extra insulation is to make airconditioning more affordable rather than reduce its use. BASIX, the web-based assessment developed by the NSW Government, is the only regulation tool that seriously addresses these problems. Moreover, it is the low density of about ten dwellings per hectare that breeds dependence on private transport, distorting the planning economy. Unsustainable now, it will only get worse as petrol prices double and treble.
Increased density of housing, close to transport, services and employment, is a key factor in a more sustainable city. But what is the right balance of density, land area? There is an inverse bell curve when measuring sustainability against density: at one end, the detached house could be built to a high standard (good orientation, six stars now and ten stars mooted in the near future) with all the bolt-on technologies but it fails in consideration of its wider sustainability of transport infrastructure and services. On the other hand, high-rise apartments may have low extramural demands but the building has a higher energy intensity, with lifts, foyers and car parks with twenty-four-hour lights and ventilation.
It would seem that somewhere in between is the happy medium. And we already have that typology: three-storey walk-up flats (WUFs). Reviled for their red and orange brickwork and insensitivity to local form, they are nevertheless well green-credentialled by virtue of their modest sizes, high thermal mass, smallish glazed areas giving reasonable light and natural ventilation to all rooms, open stairs and circulation, and limited on-site car parking. They could be vaulted to the top of the green class with a quick makeover: new cladding and insulation to the exterior (isolating the thermal mass and raising insulation levels, not to mention covering the tragic brick colours), increasing the balcony areas with screens to improve shading and privacy, and reworking the landscaping for better soil porosity.
These flats were mostly built between the wars or in the 50s and 60s by demolishing a number of houses and building two to four times the number of, albeit smaller, dwellings. The same process is underway again in the name of urban consolidation, with an economic aim to treble the density, rising to the developers' holy grail of a "sixpack". The green and economic rationale is that if the new designs can halve or more the energy and water demand and improve stormwater detention, while not dramatically increasing site coverage, then the new dwellings will pose little to no extra demand on the existing infrastructure. But the sixpacks are more costly per square metre, needing higher levels of fire and acoustic isolation, extra communal areas, lifts and more complicated hydraulic, electrical and mechanical services, and they have potentially more expensive running costs.
As land became a far higher proportion of housing costs, it was expected that the smaller footprint of townhouses and WUFs would make them more competitive. But the efficiency of freestanding house construction keeps that the cheapest form, while land costs for medium-density housing, and the more complex construction, make them more expensive. This is the conundrum at the heart of current city planning – rather than creating diversity, the affordability and sustainability agendas are at loggerheads and are driving an even more horizontally zoned city, with the cheapest housing at the fringe sustained by cheap cars and more sustainable housing for the upper middle class nearer the goods and services. Our current drive for cheap, quick housing for first home buyers is reinforcing the city form as a series of ever-widening annuli, which has an inherent social stratification and is growing ever further away from being sustainable.
Ultimately this is the outcome of a failure to develop a national housing policy that is anything more than a tax policy (using the twin distortions of high negative gearing and no capital gains tax). Only three times in the last fifty years has the national government had a policy that addresses the social and physical aspects of housing, each time developed by the left wing of the Labor Party: firstly through Tom Uren in the Whitlam government, then through the enlightened Community Housing Program championed by Brian Howe in the 1980s, and now we see Tanya Plibersek grappling with a way to improve access to housing for the lowest waged. It will have to go well beyond the First Home Owner Grant if it is to address the distortions of land value and a super-efficient freestanding housing industry, and thereby encourage housing that is both affordable and sustainable.
Tone Wheeler is a director of Environa Studio. This article was written on behalf of James Hardie.
THE SMARTER SMALL HOME™ — AFFORDABLE HOUSING REVEALED
James Hardie was a key partner in the Smarter Small HomeTM, an affordable housing prototype launched at the 2009 UDIA Congress. Project instigator Kevin Doodney and designer Brett Blacklow show that a small lot, small house, smart choice of materials and an efficient construction method are the key ingredients in delivering a home that's stylish, sustainable and very affordable. "We are showing that you don't need to sacrifice livability and sustainability to achieve affordability," says Doodney.
Designing to suit a lot ten metres wide by thirty metres long meant the home really had to be two storeys. "Generally a three-bedroom, two-storey house isn't a wise decision," Blacklow says. "There's more surface area on the outside of the house, so there's more scaffolding and it will take longer and cost more money [than a single-storey home]." However, the land saving is so significant, Blacklow and Doodney felt that, with some thoughtful design, the additional costs would be offset.
Blacklow says that careful product selection helped claw back costs – particularly when running and maintenance costs were thrown into the mix. While the actual sale price of the home was key, it was also important to ensure lower life cycle costs.
The speed of construction also drove their product decisions. The team was always thinking of products that could be installed and simply finished; ones that involved the least number of construction layers.
Designer Blacklow used around nine James Hardie® or Scyon™ products. He chose them because "nothing can touch a few of the James Hardie products price-wise".
He also observes that in many housing developments repetition is the developer's friend. "We want to make the outside of these homes look as different as possible while still being essentially the same, and these products just have a bucket-load of flexibility at a really affordable price."
For more information visit www.smartersmallhome.com.au
The Smarter Small HomeTM was an entrant in the 2009 Look Green Home Design Awards. These national awards rewarded the best in affordable, sustainable and innovative design.
Sydney architect Tone Wheeler won both the Experts' Choice and Popular Choice Awards for Best Display Home with his entry E3 Logic House. It features Scyon™ Matrix™ cladding.
The Look Home Design Annual – featuring the 2009 winners and details about the 2010 competition – is out now. Subscribe free at www.lookhome.com.au.
Supported by James Hardie
T 13 11 03
W www.smartersmallhome.com.au
www.lookhome.com.au
www.scyon.com.au
www.jameshardie.com.au
Related topics