For over twenty years, the Western Australian landscape architecture firm Blackwell and Associates has successfully navigated variable economic times. The practice has survived the competition of larger firms by sticking to its beliefs about what makes for good design and a successful office.
"We made a conscious effort to stay out of Dubai," says Tony Blackwell, managing director of the firm. "It just didn't feel like an authentic kind of environment and didn't really suit our design philosophy."
Established in 1987, the Perth-based firm consists of eleven staff (eight landscape architects, three administrative support). The firm was founded by two generations of Blackwells: Tony and his mother, Marion Blackwell (who was recently awarded the Order of Australia for contributions to conservation, the environment and the profession of landscape architecture). One year after Blackwell and Associates opened, Peter Woodward knocked on the door carrying nothing but a letter of recommendation from a partner at Derek Lovejoy's office, which effectively said he trusted Peter with "his designs, his wallet and his wife." Now a senior associate, Woodward has been with the firm ever since.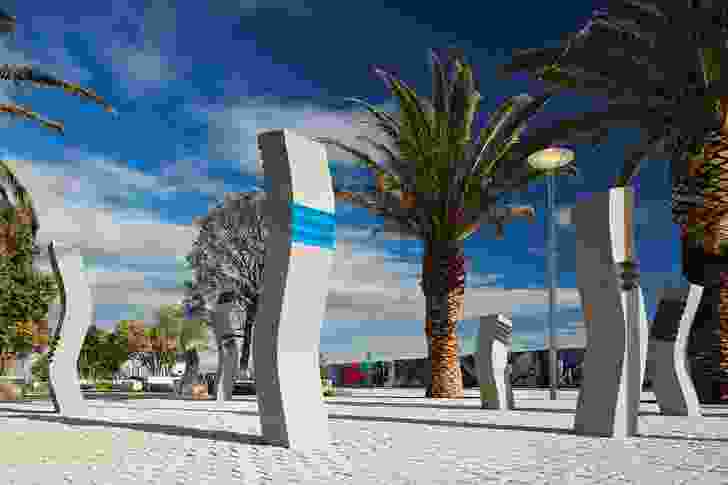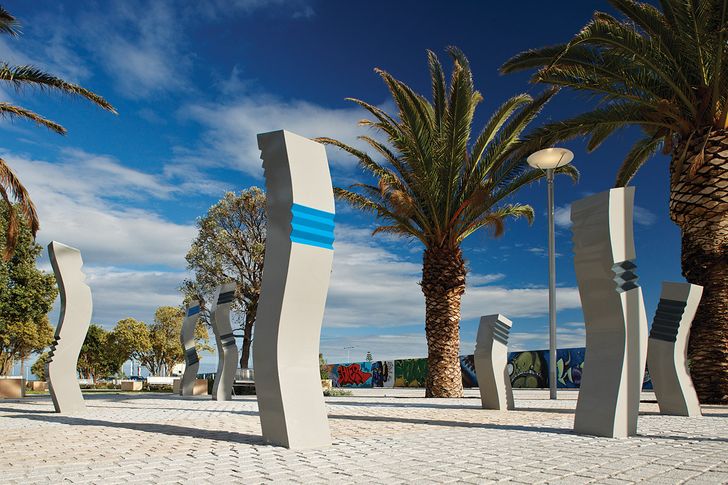 The choice to focus on work within Western Australia has enabled the firm to secure numerous touchstone projects within the region, including the Scarborough Beach Foreshore Redevelopment, Joondalup City Centre Road Network and the Leighton Beach Redevelopment. The mining boom to the north in areas like Karratha also continues to keep the firm busy. Woodward has been working on a major town expansion in Wickham, near Cape Lambert, the primary port from which Rio Tinto exports the bulk of its iron ore (eighty million tonnes per year). The population of the town here has tripled. "The work up there is pretty demanding," says Blackwell. "It's a large project with very short time frames."
According to Woodward, design is not just about looking at the landscape, "but also considers the social implications of what we do." Blackwell spent four weeks last year looking at SmartCode developments in the USA. SmartCode is a planning code that outlines a specific urban form rather than zoning as a way to encourage, among other things, more walkable communities. The landscape and urban design components "are critical to those projects – and can't be separated from the social aspects of these places," says Blackwell. The firm is currently working on the Jindee development, which seeks to interpret the US SmartCode model in an Australian coastal context.
The firm is cautious about undertaking projects with clients who view landscape as an easy way to "window-dress" a development. "About a dozen or so years back, we were doing subdivision design that was quite financially successful in Perth," says Blackwell. "But then we started to question what we were doing from an ethical point of view; we wanted to create a greater sense of authenticity to a place."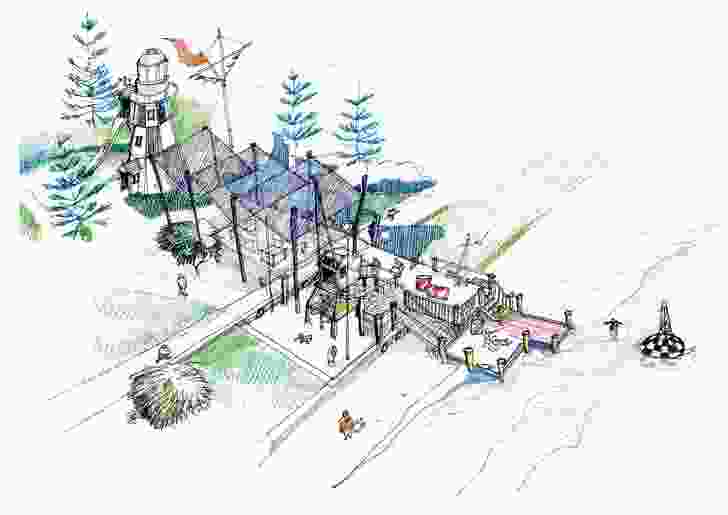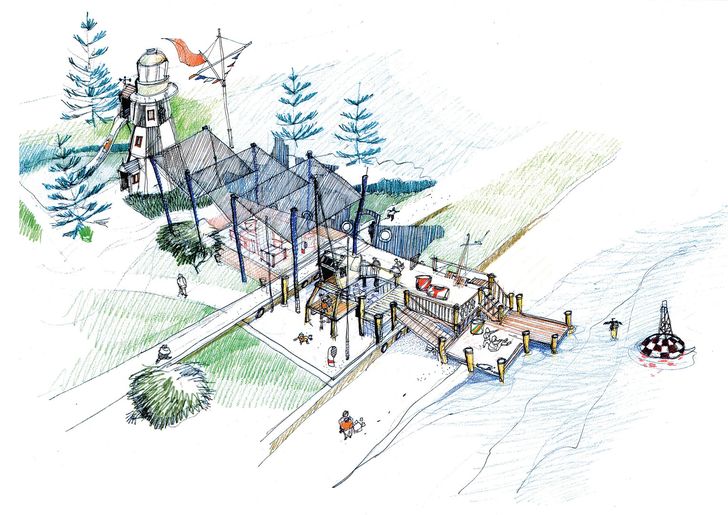 What prevents Blackwell and Associates from creating interesting spaces? "The bureaucracy and compliance with a plethora of often contradictory, restrictive codes and standards," says Blackwell. "Quite often we've had to take clients on bus trips to show, for instance, how equivalent vegetation types or design solutions might survive in the circumstances we're suggesting."
In the past, Western Australia's remote location posed challenges. This has changed markedly within the last ten years. "If we are doing some detailed stonework," says Woodward, "we'll actually do templates here in Australia, have it shipped off to China, then have the finished product come back again." Not all design work is shipped overseas. "We're currently working on a project where granite sourced from just outside Perth has to be trucked over to Melbourne to be cut, then trucked back to Perth to be installed," says Woodward.
Because Blackwell and Associates works primarily on large-scale government projects, the firm relies heavily on the tendering process for getting new work. "It's 90 percent of our work," says Blackwell. However, being purely a landscape architecture firm can be difficult.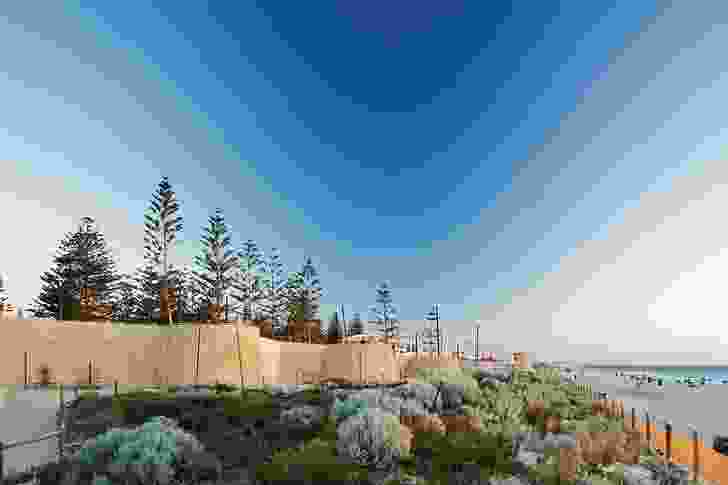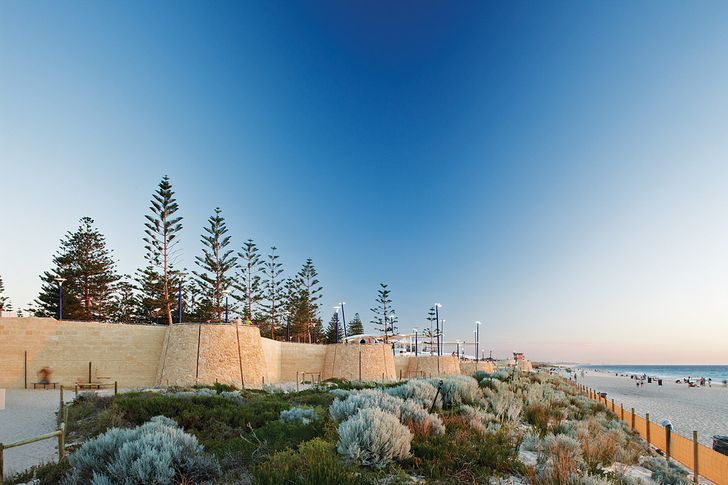 "We are finding that a number of clients are writing briefs that specifically suit multidisciplinary practices – as opposed to individual practices – which can create more of a challenge for us," says Blackwell. "I guess like many things, when they're testing a new process, we just have to wait and see how it all pans out."
Although Blackwell and Associates would consider walking down the multidisciplinary path, it's not at the forefront of their thinking. "Most of the other practices that were around when we formed have either died out or been bought out by larger companies. We've had an offer or two, but we've sat down and decided that's not the way we want to go right now. We believe we'd lose control of the design process, and that's really what motivates us, first and foremost; it's why we enjoy coming to work," says Blackwell.
Source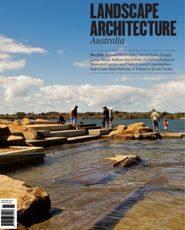 Issue
Landscape Architecture Australia, February 2012
Related topics