Three weather-influenced scenarios for opeings between the living zone and west (main) deck. Image: Tim Wheeler
North side with bedroom/writing studio and deck.
Image: Tim Wheeler


Kitchen looking west.
Image: Tim Wheeler

Living area looking north-west.
Image: Tim Wheeler

The brief is a beauty. Design a self-contained retreat on a beautiful, solitary, tropical island for Edward De Bono, the acclaimed writer on creative thought. Include constraints of self-sufficiency, minimal environmental impact and construction efficiency in a remote, unforgiving context. The project has all the hallmarks of a fantastic student design competition—the house as a machine for thinking, possibly.

It is fitting that the project should be entrusted to Tone Wheeler, who has spent almost two decades teaching architectural thinking and environmental and constructional responsibilities.

His scheme eschews the rhetorical romance that could easily be read into the brief. It is a simple, extruded building which owes more to logical than lateral thought. An elevated, open, one room-deep structure, it is a familiar response to tropical comfort when orientated east-west for shade. However, the plan's axis is aligned north-south. This opens the pavilion to water views and, equally importantly, harnesses prevailing south-east breezes for cooling. In a region of high humidity and minimal diurnal temperature variation, ventilation strategies are the only passive way towards comfort in hot months. Shade for this unorthodox orientation is pragmatically handled by generous eaves and existing trees.

Careful siting over the saddle of the island's hills aims to channel the on-shore breeze and attenuate its more destructive winds. The section uses full-width sliding doors in the principal living/conference room and the north-facing bedroom to give the occupants control of body-level breezes. More importantly, the section is designed for a constant draft from the central clerestory vent to high-level, external, louvred walling to passively remove the hotter upper strata of air, avoiding electrical fans which could displace it downwards.

A frugal approach to energy consumption is philosophically admirable and practically essential on this isolated site. Eight 75- watt solar-tracking photo-voltaic arrays feed 12 two-volt storage batteries and a sine wave inverter that converts power to conventional 240 volt, 50 hertz format. Electricity is used sparingly for low-demand electronic devices and carefully positioned, high-efficiency luminaires. Liquid petroleum gas is the only non-renewable energy used—for the refrigerator and cooktop.

Autonomy is aided by a thorough water conservation strategy. All household water is collected from the roof and filtered for drinking. Efficient solar hot water pipe runs, water-reducing fittings, avoidance of dishwashers, use of a waterless composting toilet and recycling of grey water through reed beds to irrigate the garden result in a total water use that Wheeler calculates to be less than 50 percent of consumption by a comparable household.

The structure is based on a simple, braced-steel frame, prefabricated in Sydney, barged onto the island and bolt-assembled, then clad with Symonite aluminium-faced sandwich panels externally and plantation Arakaria plywood internally. Detailing appears simple, direct and visually unobtrusive. The three-layer strategy for openings—of glazing, insect screening and robust storm/security shutters—is particularly discreet. Recessed door niches allow the principal living and conference space to be expressed as both a protected, internal room and as an expansive, indoor/outdoor space.

The clarity and efficiency of the design reflects a mature approach free from artifice. This is a calm, supportive framework from which to contemplate the surrounding paradisical environment. Lateral thinking proves most useful when it leads towards a higher level of logical understanding.

Peter Skinner is a lecturer in design and technology at the University of Queensland. Because this location is remote, his review is based on material supplied by the architect.
Credits
Architect

Tone Wheeler

Project Team

Antonia Presenti, Melanie Zugai, Siobhan Toohill
Consultants

Builder Planetbuild Pty Ltd
Engineer Randall Jones and Associates
Project manager Planetbuild Pty Ltd

Site Details
Project Details

Status Built
Category Residential
Type New houses

Source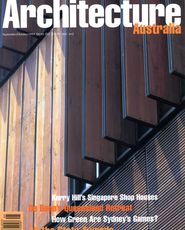 Issue
Architecture Australia, September 1997
Related topics