Alicia Mattingley and Kylie Dorotic are busy planning their next move when we meet at Prahran Grocer in Melbourne. The store is the first completed project for their design practice We Are Huntly. The women are both small in scale with ingenue-like features. But don't mistake their sense of wonder for naivety; the wide eyes are a response to their ongoing search for – and discovery of – new ideas.
Mattingley and Dorotic formed the practice one year ago after working together at other design offices, namely Mim Design and SJB Interiors. Why the name? "It's about our approach. We are always searching for ideas that are not being replicated; not the norm," says Dorotic. Mattingley adds, "It's about listening to the brief, designing with intent, and coming up with solutions that are true to our concept."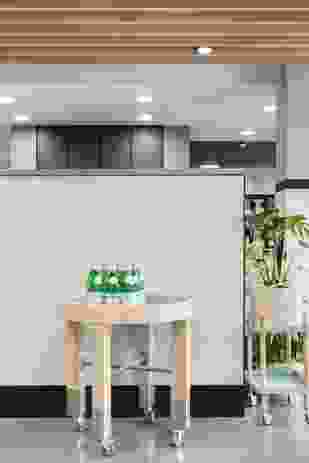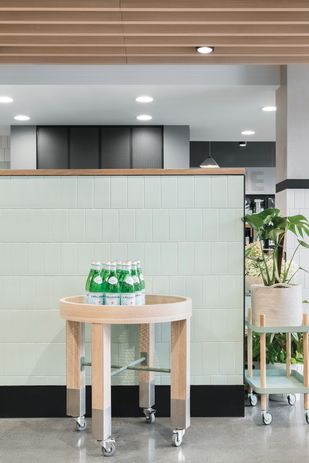 At Prahran Grocer, an unbranded FoodWorks store on High Street, that guiding concept was a fresh take on the traditional 1950s grocer, with green tiles and dados running around the store and mid-century roll bars at the counter. "It needed to feel like a local destination – boutique but not overly high end," says Dorotic. The atmosphere is honest, playful and engaging. And it certainly doesn't seem like your average FoodWorks shop.
Creative strategist Peter Grose of Alpha Bravo Tango came to We Are Huntly with the idea of combining a gourmet grocer with a standard convenience store. Graham Milkins of Brand & Deliver refined the brand's niche as the "go-to grocer" for Prahran and Windsor's discerning demographic. The brief was then to articulate the small supermarket's unique offering.
Signage by Motherbird spells out the brand personality with tongue-in-cheek quotes used around the periphery, such as "WTF, where's the food" and "I enjoy long walks to the fridge." In the produce area, refined detailing, contemporary mint-green tiles and oak timber drive the point of difference home. As Mattingley says, "nothing feels standard."
The design is also pragmatic. Square and round display tables, manufactured by Frame & Turnbull Shopfittings, are capped off with robust stainless steel socks and topped with mint-green mesh – "to allow spills to fall through to the floor where they can be mopped away," says Mattingley. Castors are also used – "for flexibility and so staff can wheel in big palettes of stock," says Dorotic.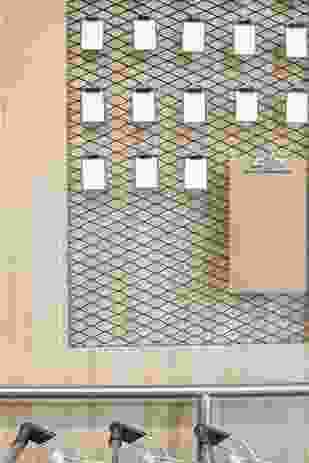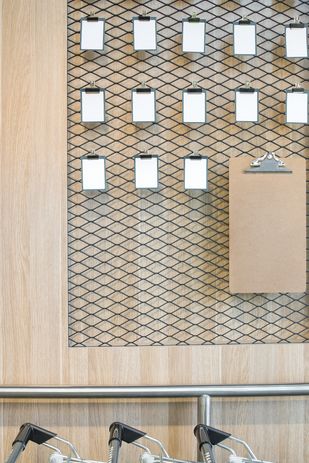 Custom pendants by Random Spaces cast soft light over produce for a pleasant shopping experience. Even the community noticeboard – configured from powdercoated mesh, bulldog clips and clipboards – is an inviting platform for locals to display yoga flyers and band posters.
The duo used perforated acoustic panels to form a continuous band of wayfinding signage overhead. Each zone is signposted in hundreds of individual pieces of dowel, making the whole store incredibly easy to navigate. These perforated signage panels also have the added benefit of customizing standard supermarket shelvingand refrigerators. Mattingley says the conservative budget was enabling. "Working to a budget has pushed our creativity. We had to find interesting ways to make a strong statement, using affordable materials."
The liquor store is moodier. It's all standard shelving like you would see in a store belonging to a major bottle shop chain but the shroud of olive-green tiles sets the display area apart. "We wanted the liquor store to feel like a bar," says Mattingley. "The darker green does that but it also controls the merchandising so it doesn't just feel like a sea of bottles."
Mattingley and Dorotic currently have seven projects in the works, ranging from retail and hospitality to high-end residential. They will keep searching for the next big thing, although, chances are, they might have just designed it.
Products and materials
Walls and ceilings

Signorino feature tiles. Fresco paint finish from Porter's Paint. Interpon black textured powdercoat. Atkar perforated acoustic cement sheet.
Flooring

Polished concrete slab.
Lighting

Custom light fittings by Random Spaces.
Furniture

Custom-designed furniture manufactured by Frame & Turnbull Shopfittings. Polytec timber laminate. Locker Group metal mesh tabletops. Armstrong vinyl countertop. Bellevue Architectural joinery handles.
Source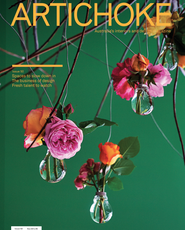 Issue
Artichoke, March 2015