A good pub is a community asset, and when it is up and humming, it can become a lively hub of neighbourhood activity. This is the concept behind the Prahran Hotel project in Melbourne, and indeed it underpins all the pub projects designed by Techne Architects for the hotel's umbrella company Sand Hill Road. The design challenge set for Techne was to clothe the fundamentals of a good pub in the right framework, and Techne has drawn on its long and productive relationship with Sand Hill Road to do so with consummate ease.
This project is a shining example of what can happen when an architect and a client are creatively "in sync." At our congenial in-pub lunchtime meeting, Techne architect and director Justin Northrop and Sand Hill Road director Matt Mullins were practically able to finish each other's sentences. Northrop, who shares the creative kudos for his projects liberally with the client and the entire project team, understands what Sand Hill Road is all about. Techne has been the architect of choice for the company's pub projects from its earliest days.
The problem Techne addresses on behalf of Sand Hill Road is clearly defined. Sand Hill Road takes on pubs that are, as Mullins says, "broken." They are typically pubs in pretty good locations in relation to their feeder communities, but ripe for reinvigoration; they are tired and in need of love. The love that the pubs receive is in the form of a renewed sense of purpose, and a renewed attention to the fundamentals: good social spaces; great atmosphere; a lively front bar giving way to more nuanced spaces in a circuit; and a sense of theatre, friendly voyeurism and compressed activity. Top this off with a beer garden in the best tradition of the "local" and you have the recipe for a great place to spend your time imbibing the amber fluid.
Techne was able to keep the Prahran Hotel operational throughout the build, which was essential to keeping local community support. Patrons were able to keep track of the works going on at the rear, where the majority of the building occurred, through a large glass window. In this way the story of the pub's renewal was given a visual narrative.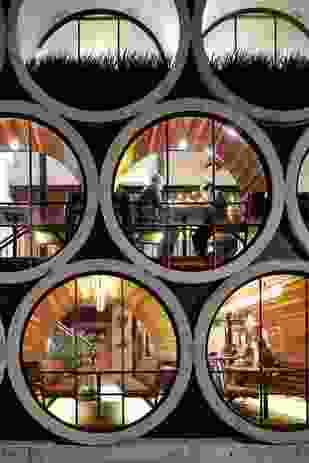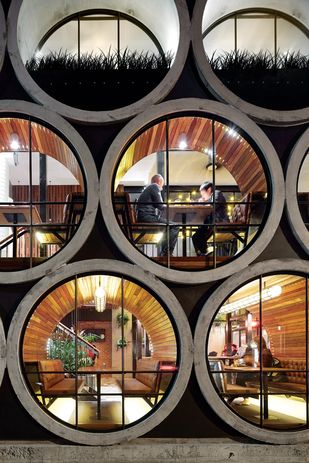 The project is divided pretty cleanly into a front and a rear portion, respectively the old and new spaces of the pub. In the original rooms, the approach has been to build on the existing character, and some interior detailing explicitly riffs on the late art deco language of the old hotel. Downstairs, the front bar has been partly divided by screens, adding to the experience of "not seeing it all at once," which Mullins believes is essential to the social drama of a good pub visit. The front bar is the first port of call; both architect and publican like visitors to enter a front bar and have to negotiate a pleasant crush of people as the first experience of a venue. Nevertheless, the new wing is visible from first arrival as a large volume opening out of the rear of the old hotel, beckoning the visitor onward.
The new portion is where the designers were able to take wing. Mullins explained that when Sand Hill Road commences a new project with Techne, the process does not start with the question of how it is going to look. Northrop was also clear on this point: he detailed how, as his practice has matured, aesthetics have taken a subordinate but nonetheless important role in the development of its projects. In the case of the pub projects, aesthetics has to be secondary to the assemblage of the key elements of a "good" pub experience. Get that right, and everything else falls into place. But as Mullins made clear, while the question of form and aesthetics might not be the starting point, Techne invariably arrives at a dramatic and bold answer that addresses it deftly.
At the Prahran Hotel, the answer came in the form of a facade composed of enormous industrial concrete pipes big enough to contain seating booths. The concrete pipes are stacked vertically like an oversized wine rack and make a dramatic visual statement on both the interior and exterior. Internally, another enormous pipe, this time cut in half and suspended on steel legs, creates a cradling mezzanine platform for more dining tables. A generous and, importantly, highly visible stair links the lower and upper levels, drawing patrons up through the high space and back into the upper storey of the old hotel, where another long bar is located.
A simple palette of black steel, raw concrete and Australian hardwood complete the new portion of the pub. The space wraps around a new, central beer garden that is open to the sky and walled in high, profiled precast concrete panels that help with acoustics.
For all of its visual drama and novelty, this project exemplifies what might be the ideal relationship between designer and client. This relationship has been built the hard way – gradually over time, and through a process of continuous learning and collaborative exchange. Young designers might take note: while the aesthetics of this project make it leap off the page, the real story of the Prahran Hotel is of a design firm knowing its building type back-to-front, and getting right the fundamentals of good, old-fashioned service.
Products and materials
Walls and ceilings

Precast concrete walls by Cowan in Dulux 'Luck' finish. Proprietary timber wall to courtyard and bulkhead over bar area is 'Spotted Gum' hardwood timber from Timber Search. Soundchek ceiling acoustic plasterboard by Gyprock.
Windows and doors

Proprietary steel profile windows and doors by Windows on the World.
Flooring

Floor tile in 'Labrador,' 'Himalayan' and 'Kashmir' (internal and external) by Classic Ceramic, laid in random patterns. Hardwood timber floorboards to dancefloor in 'Spotted Gum' by Timber Search. Highmont carpet by Brintons Carpets in 'Midnight.'
Lighting

General lighting by Light Projects. Stal suspended concrete pendant over bar by Satelight. Bunker light in courtyard, booth and bathrooms by Dunlin. Rattan tube pendant in ground floor booths custom designed by Quantum Engineering. Festoon suspended LED light in courtyard by Edison Light Globes.
Furniture

Jack + Jil outdoor table by Tait Furniture. Hee stool by Corporate culture. Eiffel indoor stool by Schots Home Emporium. Proprietary spotted Gum hardwood timber table tops from Timber Search. Zone banquette upholstery to booths by Instyle in 'Time' and 'Range.'
Bathroom

Vantis Pin basin mixer by Hansa. Orbis basins and White Stone basins by Caroma. Laguna/66 wall tiles by Classic Ceramic in 'Light Green' and 'White.'
Heating

Isis ceiling fan by Big Ass Fans. Heatray outdoor electric heaters by Celmec.
Roofing

Lysaght Klip-Lok 406 metal deck roofing by Bluescope with Zincalume finish.
Landscaping

Chinese Elm tree in central courtyard.
Other

Custom recycled pipes to bar face by builder. Proprietary concrete pipes by Hume.
Credits
Design practice

Techné Architects
Melbourne, Vic, Australia
Project Team

Justin Northrop, Steve McKeag, Alex Lake, Melita Kei, Francois Claassens, Bianca Baldi
Consultants

Acoustic engineer Burton Acoustic Group
Builder Visual Builders
Building surveyor Retro Building Surveyors
ESD EnergyLab
Geotechnical engineer NSP Geotechnics
Land surveyor JCA Land Consultants
Landscaping Ayus Botanical
Lighting Light Project
Services engineer BRT Consulting
Structural engineer Parkhill Freeman

Site Details

Location 82 High Street, Windsor, Melbourne, Vic, Australia

Project Details

Status Built
Design, documentation 12 months
Construction 8 months
Category Hospitality, Interiors
Type Hotels / accommodation, Restaurants

Source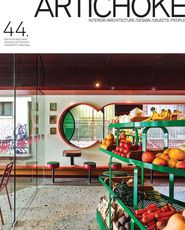 Issue
Artichoke, September 2013
Related topics