Prefab tourist resort approved for Kangaroo Island
A proposal for a $22 million luxury tourist resort on South Australia's Kangaroo Island has received planning approval from the state government.
The resort is a development by City and Central Consulting and has been designed by London- and Shanghai-based design studio Parti. It will be built on a 32-hectare site at American River overlooking the Great Australian Bight.
The design uses a "cut and spread" method to disperse 332 hotel rooms across a number of tall buildings with small footprints, which will be placed throughout the "vast and varied landscape" of the site.
The resort will comprise a four-storey courtyard hotel containing 115 rooms, 20 cottages each with four bedrooms, 20 single-bedroom cabins and 10 seven-storey lodges each with 12 rooms. It will also include a conference facility with capacity for up to 400 delegates.
Each lodge building will be programmatically themed, with facilities such as a spa, restaurants, bars, stables and a cooking school occupying the ground floor.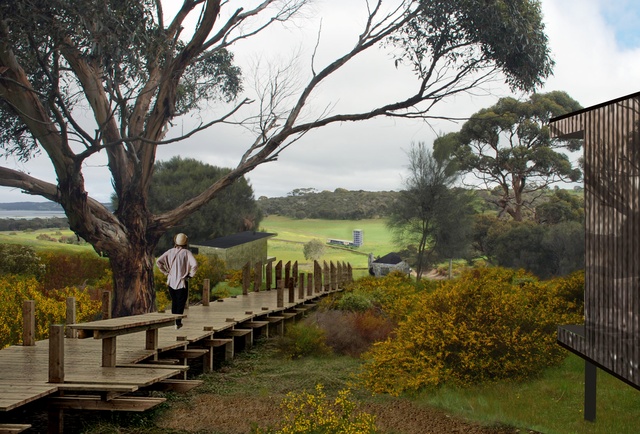 "With this arrangement, each lodge becomes a niche boutique hotel, but with access to the facilities of a larger hotel," said Eleanor Hill, a founder of Parti. "These lodges are carefully placed across a vast and varied landscape depending on their program – some intimately nestled in trees, others out in the open fields."
A two-kilometre-long path will loop around the site connecting the lodges together.
The buildings will be clad in corrugated metal in reference to the industrial and agricultural structures of Kangaroo Island.
"We wanted the lodges to be sculptural – even alien – forms in the landscape, mimicking silos and water towers rather than creating residential villages," Hill said. "The architecture, and the experience of staying at the resort, is designed to be part of the landscape, its material vernacular and historic context."
The buildings will be prefabricated and shipped to Kangaroo Island, due to the limited construction capacity of the island. Prefabrication will also reduce disturbance to the site and its flora and fauna. Parti is currently working on 1:1 prototypes of the resort's buildings in Shanghai.
The resort will be built in three stages. Once complete, it will offer activities including horse riding, bushwalking, conservation programs, bird watching and children's activities.
As a condition of the approval, the South Australian government requires the developer to begin construction of the project within two years and complete it within five years.