'Kiwi Prefab: Cottage to Cutting Edge' is on at New Plymouth's Puke Ariki until 1 April. The show chronicles the history – and the future – of prefabricated buildings in New Zealand and features architectural models, prototypes and photographs of successful versions. There is rare video footage of international prefab concepts from the 1900s through to the present day, as well as a documentary in which architects, academics, folks from the building industry and house owners talk about what prefab means (spoiler alert: it's not just cut-rate and nasty).
The biggest misconception about prefab buildings is "that they are cheap, barely adequate responses to social demands," says Puke Ariki's exhibitions manager, Gerard Beckingsale. "It's not really a misconception because in the past that has been true. But this is not where prefab is today. In the past, it was about saving on design costs by repeating designs and producing en masse. Today it is about quality, predictable costs and new tools and materials that allow mass customisation."
Four full-scale prefabs have been set up nearby for exhibition-goers to visit and there is a model of the world-renowned First Light House, the design that Victoria University entered into the United States Department of Energy Solar Decathlon competition in 2011. (The house was so successfully cutting edge that it won first prize for engineering, second prize for architecture and third prize overall.)
But the most interesting parts of Kiwi Prefab are projections into the future of the construction method. Creature, a digitally fabricated installation commissioned by Puke Ariki and created at Victoria University's School of Architecture, snakes down the stairs and around the gallery's ceiling. Made from 240 sheets of corrugated plastic interlocked with 4800 zip ties, it's more artwork than structure, but it falls into the prefab realm because it was digitally designed and precut before being assembled onsite. Managed by Mark Southcombe, who runs the architecture programme at Victoria University, Creature was implemented by his students and adds an artful element to the show.
Architect Chris Moller's Click-raft building system, which creates structures that can be fabricated quickly, flatpacked and self-assembled, is also featured. Kiwi Prefab was Southcombe's idea, in collaboration with Pamela Bell, an academic who wrote her postgrad thesis on prefabrication in New Zealand and it has been three years in the making. A book by the same name was released when the exhibition opened and features essays by Peggy Deamer, assistant dean of architecture at Yale University, and Barry Bergdoll of The Museum of Modern Art in New York, as well as much of Bell's thesis.
"I love the future provocations and ideas," says Beckingsale of the exhibition. "Prefab is a big word – a bit like sustainability. It means many things to many people. To me, prefab is at the fore of architectural research. To that end certain prefab ideas are destined to fail, but will inform better architecture for the future. My provocation for a prefab future is that digital file to fabrication advances could mean that soon we will be able to design our homes with an application that uses familiar technology platforms, like mobile devices. Simply select house components that have been designed to work together, click and drag walls, windows and doors to a configuration you want." Where does that leave the architect? "What will our built environment look like if your average punter with no design skills can design their own home? Could get ugly," admits Beckingsale. "But then look at Botany Downs. I think most people could do better than that. I think we will also see a more organic architectural aesthetic return as unusual shapes become easier and cheaper to produce." pukeariki.com
Source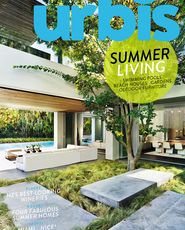 Review
Published online: 30 Jan 2013
Words: Kirsten Matthew
Images: Pip Guthrie
Issue
Urbis, February 2013
Related topics