Edwards Moore Keep Left
Light fittings featuring photography umbrellas and illuminated signage are some of the key features of a new interior for Melbourne public relations company Keep Left. Design studio Edwards Moore was able to create distinct atmospheres for "working, resting and thinking" by using the existing base structure to provide a voice to a series of spaces within an open plan floor plate. The aim was to "support and nurture" employees' creative processes and to reinforce the Keep Left brand by optimizing the transparency of the process and varied environment of the workspace. A timber planter box was incorporated into the entry seating area and provides an introduction to the abstract forms beyond.

Edwards Moore
+61 3 8060 1840
www.edwardsmoore.com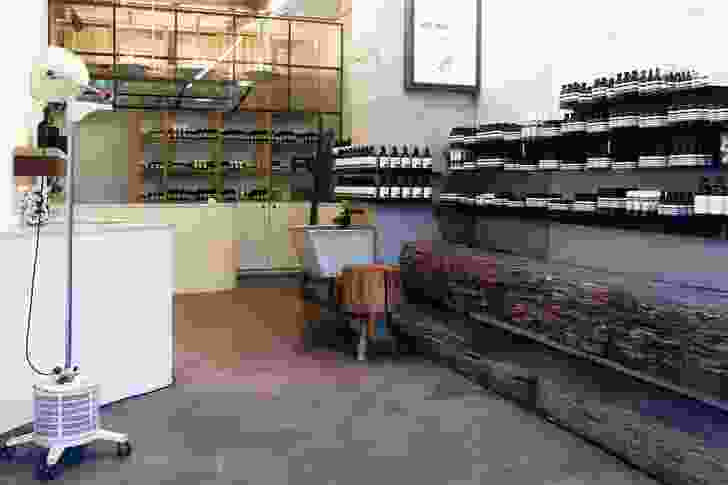 Aesop gets beachy in Bondi
Aesop's Bondi store in Sydney is all about raw materials and a connection to its beachside location. Melbourne-based architect Zenta Tanaka is responsible for the design, whose "hero" element is a huge slab of 150-year-old wharf timber salvaged from Geelong that runs along one side of the store. Raw concrete walls and a rough laundry-tub sink are contrasted with smooth, luxurious marble for the retail counter. Copper pipes are left exposed and will weather quickly thanks to the salty sea air – Tanaka says he is curious to see how they will age. Near the front window, a small, shallow rectangle cut out of the concrete floor is filled with sand. It looks a little like a Zen garden and references the nearby beach. Above it, an old metal bucket hangs from rough rope and a metal pulley, suggesting the industrial rawness that might be found in an old farm shed. All of these elements are considered reflections of Aesop the brand. "We're not a minimalist brand. The wood signifies strength and honesty. There's a consciousness in what's expressed in our name." After Bondi, four new stores in New York are opening, bringing the aesthetic of Aesop to the US.

Zenta Tanaka
www.zentatanaka.com
Aesop
www.aesop.com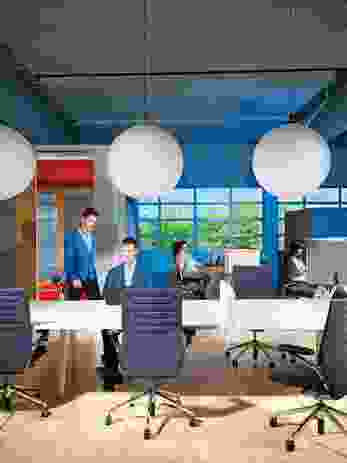 Vitra's citizen office
In 1991, Swiss furniture brand Vitra sat down with Andrea Branzi, Michele de Lucchi and Ettore Sottsass and began contemplating "the office." Questioning every aspect of the workplace, they looked at how people work, the environment they work in and the furniture they use. The Vitra magazine states: "One conviction lay at the core of these efforts. Today it seems trivial, but at the time it was revolutionary: if people spend most of their time in the work environment, then real life cannot simply be put on hold until they have left its confines. Life has to be accommodated and facilitated within the office as well." Since then, Vitra has continued the research into the Citizen Office, with recent findings including statistics such as: "only 35 percent of office workers sit all day at a dedicated workstation" and "80 percent of truly innovative ideas are a result of face-to-face interaction." Citizen Office 2011 presents Vitra's suggestions on how new concepts and products can be applied to meet the needs identified in the company's extensive research.

Unifor/Vitra
+61 3 9329 5900
www.vitra.com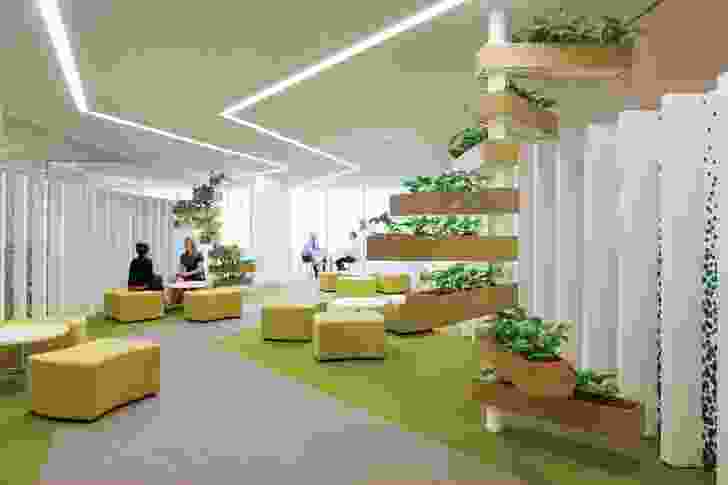 Metier3 designs a workspace for Chartis
When the Metier3 team set out to design a new home for Melbourne insurance company Chartis, their aim was to not only build an office, but a sense of community. The innovative premises on Bourke Street, Docklands takes the design features you might find in a local community and translates them into an office environment. It is almost as if the workspace is a small village: houses are workstation clusters, streets are passageways and parks are meeting areas within the office. There is even a "town hall," which is a large assembly area. These elements give a community feel and say goodbye to the traditional segregated work environment. The finishes of the design are clean and controlled. The tone is neutral but there are pockets of colour and texture in the meeting zones to help distinguish areas within the office that encourage social interaction and quiet time. Visual connection to the exterior and taking advantage of the available daylight were also important to the design, creating the feeling of bringing the outdoors in.

Metier3
+61 3 9420 4000
www.metier3.com.au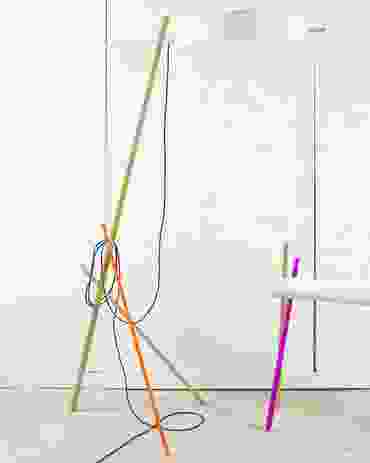 Rich Brilliant Willing
Having won the International Contemporary Furniture Fair's (ICFF) Best New Designer award for 2011, Rich Brilliant Willing is a New York-based design studio on the ascendency. The studio name is a clever derivation of the names of the three designers – Theo Richardson, Charles Brill and Alexander Williams – demonstrating the kind of thinking that the studio believes in: "A combination of technical sophistication and old-fashioned sleight of hand, [we] appropriate existing components and strategically rethink them." The Excel floor lamp (pictured) features three lightweight legs supporting an illuminated drum. Coloured fabric cord and a mix of finishes add detail and charm. Newly released at ICFF are Delta pendants and table/floor lamps Quart and Channel.
Rich Brilliant Willing
www.richbrilliantwilling.com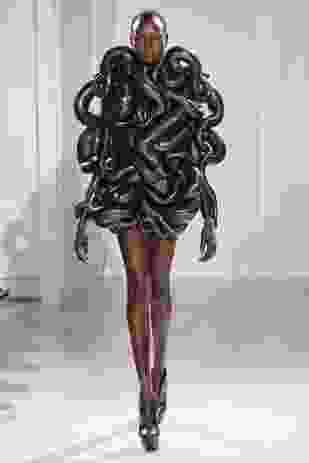 Iris van Herpen's 3D fashion
Dutch fashion designer Iris van Herpen's futuristic aesthetic has been heightened thanks to the use of 3D-print technology for her latest couture collection Escapism. Combining digital technology with intricate craftsmanship, van Herpen explores concepts of beauty and regeneration, while expressing individuality through extravagant shapes and forms. Van Herpen launched her own label, Iris van Herpen, in 2007 and her designs have been worn by a number of celebrities, including Björk and most recently Lady Gaga, who wore her designs when she was in Sydney. Van Herpen explains: "With my work I intend to show that fashion can certainly have an added value to the world, that it is timeless and that its consumption can be less important than its beginning."

Iris Van Herpen
www.irisvanherpen.com
Source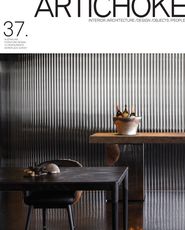 Issue
Artichoke, December 2011