The late 1960s were characterized by significant urban unrest across the Western world, with sit-ins, protests and direct action. In tandem with these cataclysmic events, which were underpinned by a cacophony of voices reacting to the top-down engineering of postwar society, the architectural zine came to prominence as an alternative voice in architectural education and practice. By connecting to this emerging radicalism, these "little magazines"2 explored modes of architectural practice outside of the mainstream; they functioned as laboratories of thought, exploring both the boundaries of the discipline and diverse ways of critical writing.3
This radical publishing period was captured in the touring exhibition Clip/Stamp/Fold between 2007 and 2010, and an accompanying book. Curated by Beatriz Colomina, the exhibition looked at the production of little magazines between 1962 and 1975. Since this time there has been a resurgence of interest in the curation of independent architecture publications, from the exhibition A Few Zines: Dispatches from the Edge of Architectural Production, to De Zines4 and now Archizines, curated by Elias Redstone. Archizines, held at the Architectural Association in London in December 2011, had a vast scope similar to that of Clip/Stamp/Fold: it surveyed independent architectural publications roughly spanning the decade from 2001 to 2011, and had over sixty titles on display encompassing academic journals, newsstand glossies and the zine itself. This exhibition aimed to showcase a renaissance in independent architectural publishing in the shadow of digital platforms.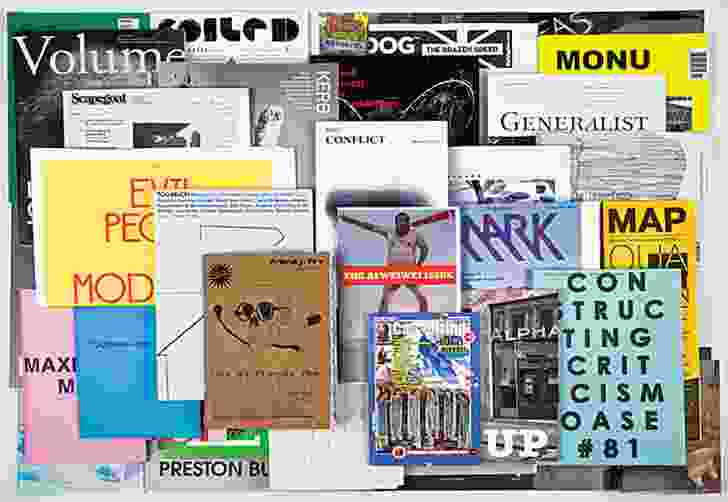 What this exhibition allows is an exploration of the schism between the two periods of production: pre and post internet. Today, sharing information and generating discussion is easier than ever. Reportage, discussion and feedback are now most efficiently carried out on the internet because websites and blogs are easy to maintain, can be quickly updated and are readily accessible by many. A review can be posted online, commented upon, edited and read by more than one thousand people less than a day after the event; with a magazine, the lead time can be months.
Zines are not in the business of trying to compete with online discussion. Instead, they aim to augment this discussion by taking advantage of their physical position. Print platforms are linear. They almost operate independently of time, and allow for focused and ongoing thematic investigations. This potential critical distancing and focus puts the zine in a position to make sustained, thorough critiques, and to establish a constant voice.
A significant proportion of the collection on show at Archizines misses the opportunity afforded by the medium's distance combined with its spatial occupancy. Instead, its focus is on publications that preference image and conversational style, like Pin-Up, Mark and Apartamento, which have considerable overlap with image-drenched blogs like ArchDaily and Dezeen. Other publications on view were created by individuals or have a singular idea, such as the one-liner publication Evil People in Modernist Homes in Popular Films. Mono.kultur has a single interview per issue, which encourages an isolated, withdrawn dialogue. This singularity of vision makes a critical assemblage of ideas difficult.
The potential to withdraw from mainstream discussions to reflect and evaluate current practice, to provide focus, was a strength of the zine format pre internet. It also seems many of the new post-internet publications are operating at a distance from general public discussion, but without strong critical reflection. Has the archizine been evacuated as a critical model or is this merely the zeitgeist?
One significant change that appears to have occurred is the move from content-based to object-based publications. The idea of the creation of an object can be tied to a new materiality movement that encourages tangible over ephemeral net-based production. But where the original zines were decidedly content based, anti-object, anti-historicist, cheaply made and not to be kept or catalogued, the focus now appears to be on the craft of production over content. This is a complete reversal.
This focus on the evacuated object can be linked to a resurgence in independent publishing, as evidenced at trade fairs like New York, London, Tokyo, Berlin or Amsterdam's art book fairs. Instead of a celebration of alternate discourse, this is a celebration of the print medium itself. There is a certain blinkered anachronism in this kind of celebration. At these fairs or within Archizines itself, the dynamism between online commentary and its spatial occupation is generally ignored. And unlike in the late 1960s when publications such as Whole Earth Catalog and Archigram were acutely aware of emerging technology, in the publications hosted by Archizines technological influence seems largely divorced from discussion.
The publication as object relates to the objectification of buildings. This promotion of the image of architecture online as a fetish object translates through to the print publication. The zine, an egalitarian, anyone-can-do-it medium, is in danger of becoming disconnected and aloof. Is this a continued objectification and commodification of architecture in a spatial territory where critical engagement once was prevalent, or at least public?
The explosion of zine production in the 1960s laid the foundations for future publications and established the beginnings of a discursive framework; there is a rich culture and history here. Yet there appears to be a disconnect between these periods: it appears that the current zines have not built on this history and instead occupy a middle ground. They are unsure of their place, and how to interact with digital platforms. This show is skewed towards a celebration of independent architectural publishing over content; craft over commentary. That is not to say the show is no good, or that zine production is an unworthy cause; indeed, I am a regular reader of many titles in the show, and I even produce one of them. There is a definite resurgence in the production of architectural publications, and to see these bundled together in a show is fantastic. There is another appeal to these publications – the tactile quality and tangible enjoyment. However, due to the "objectification" of zines, discussion is closed down, and this is aided by the display of zines as objects in the exhibition: perhaps that is the ultimate critique of the curator.
---
This article was originally published as part of a dossier in the March 2012 issue of Architecture Australia that discussed whether the architecture profession is losing ground.
1 Beatriz Colomina and Craig Buckley (eds), Clip, Stamp, Fold: The Radical Architecture of Little Magazines 196X – 197X (Barcelona: Actar, 2010), 281.
2 ibid., 8.
3 Veronique Patteeuw, "Architecture, writing and criticism in the 1960s and 1970s," Architectural Theory Review, vol 15 no 3, 2010.
4 ibid., 283.
Source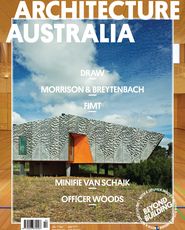 Discussion
Published online: 20 Jun 2012
Words: Andrew Murray
Images: Sue Barr
Issue
Architecture Australia, March 2012
Related topics