Any landscape in the city these days is to be treasured – even more so if the landscape is public, is beautiful to look at and has numerous uses. At the same time, all landscapes have layers of memory, some already visible, some needing to be unearthed, and some awaiting new stories to be drawn artfully across their surface. In inner-urban Sydney, Prince Alfred Park Pool is one such landscape. In excavating this site's multiple histories Neeson Murcutt Architects and Sue Barnsley Design acknowledge the necessity of landscape in a reading of the city, its panoramas and its nodes of everyday movement and connection, as well as its ability to conceal and reveal the diversity of human activity.
Before the park gained its current name, bestowed in honour of regal fop HRH Prince Alfred, Duke of Edinburgh, who, visiting Australia in 1868, was the victim of an assassination attempt (Australia's first) at a public picnic at Clontarf, this open space was known more prosaically as Cleveland Paddocks. Back then it was a grassy meadow overlooked by simple dwellings like Cleveland House (1823–24), a colonial Georgian design attributed to Francis Greenway.
The newly christened Prince Alfred Park (one of a rash of institutions renamed or newly titled in a flurry of national embarrassment) gained a gardenesque network of paths courtesy of architect Benjamin Backhouse, then in 1870 became home to the Exhibition Building (demolished in the 1950s) and memorable events like funfairs and circuses, a visit by a pet elephant in 1870, and balloonist Thomas Gale flying off from the park for Redfern. Later additions included an avenue of brush box trees, a sprinkling of Washington palms and Canary Island date palms, a 1930s tennis pavilion, requisite public conveniences that earned dark reputations over the decades and, in 1958, an eminently "useful" swimming pool with attendant but architecturally undistinguished change rooms.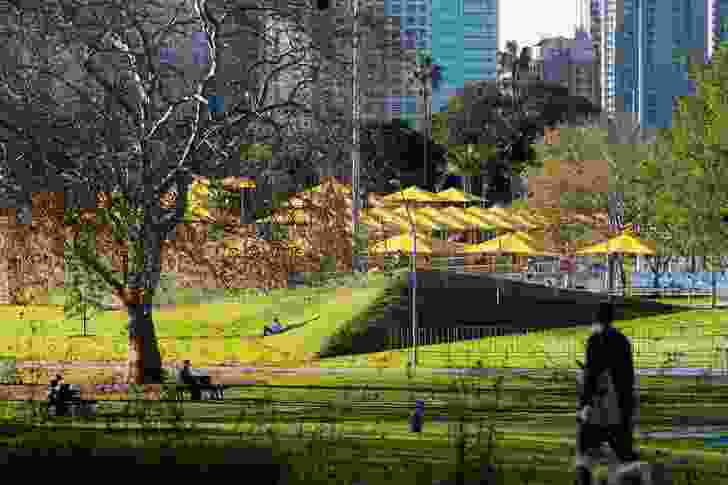 In 2004 Clover Moore took over as lord mayor of Sydney and was instrumental in targeting the park and pool for revitalization. In 2005 Neeson Murcutt Architects put in a two-volume submission to the City of Sydney for selection as "preferred design consultant" and then won the commission to upgrade the pool through invited tender the following year. At the time it was the firm's largest commission. Neeson Murcutt was briefed to design an expanded recreational complex. It retained the pool in its original position and explored in a series of structures the triangular geometries of the site and adjacent railyards, only to run into opposition from council, which realized how much building there was and that public parkland was being sacrificed to buildings. It was a political and ethical position that the architects understood and ultimately supported, despite the project being well into documentation.
Meanwhile the park's masterplan, developed by Neeson Murcutt in collaboration with landscape architects Sue Barnsley Design, proceeded. New paths, planting and landscaping commenced and new playground structures were commissioned that recalled the site's colourful past. Neeson Murcutt designed a zigzagging cyclone wire arbour that one day will be covered in creepers. It also designed the park's lights: with their silver legs and blue tops, they were conceived of as birds "looking" (heads up) and "grazing" (heads down). However, for the pool building, Neeson Murcutt went back to the drawing board.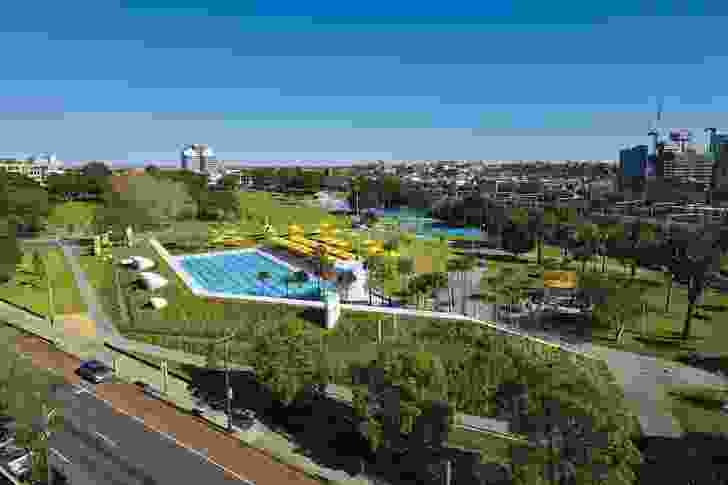 By 2007, the pool building had been rethought solely in terms of landscape. The interest in triangular geometries hadn't gone but had been folded – literally – into the landscape. The programmatically required change rooms, cafe, kiosk, offices and pool plant rooms were placed beneath a long, grassed berm that kinked at a point closest to Chalmers Street. In the new disposition of pedestrian paths, this point marks not just a park entry but also the presence of Cleveland House directly across the street. On the berm, Barnsley planted tussock grass, lavender grass and short-haired plume grasses, left to grow long and woolly. From Cleveland House, then, the historic panorama has been re-created. The pool and its buildings are invisible. The vista is "natural," a pastoral landscape of trees and a grassy field. A similar idea was followed with the native grass planting at the park's elevated west end on Cleveland Street. This intense engagement with contour, vista and the site's deep history permeates almost every design decision.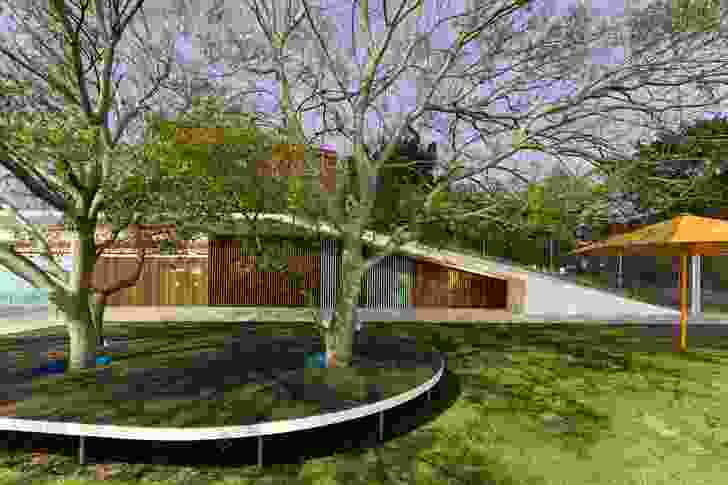 Angled berms encircle the existing pool, which has been re-lined, is now heated and has had a disabled ramp inserted along its length. The overall effect is to conceal the pool from most of the park's users. It's private and there's a sense of containment. The much-loved idea of a pool in a lawn has been retained. On the pool's west side, a random field of bright yellow umbrellas forms an ephemeral forest of shade. At a typical school swimming meet, all the umbrellas can be opened to shade spectators on the new bleachers; otherwise, their random opening suggests an informal family outing at the local pool. To the pool's south, the umbrellas are spaced further apart and encircle a timber deck built within a copse of existing Chinese elms.
The inspiration for this brilliant splash of yellow canvas was Christo and Jeanne-Claude's The Umbrellas (1984–1991) and the effect is an echo of Sydney's early fling with the same artists' environmental art.1 There's another art reference in the "running fence" of stainless steel mesh that zigzags its way up and over the berms, but the angled fence supports are carefully placed so that their presence is hardly noticed.2 At the pool's north end near the entrance is a new splash deck for toddlers and a shade structure above – a hollow cylinder of blue-and-white striped fabric. Rachel Neeson describes its form as at one time being Prince Alfred's crown, but it soon became abstracted, as did the pattern of water jets below. Like Van Eyck's 1940s Amsterdam playgrounds, it can be read as phenomenological artwork or useful plaything. But it's also a jolly signal for the whole complex when one approaches from the north, from the direction of Central Station.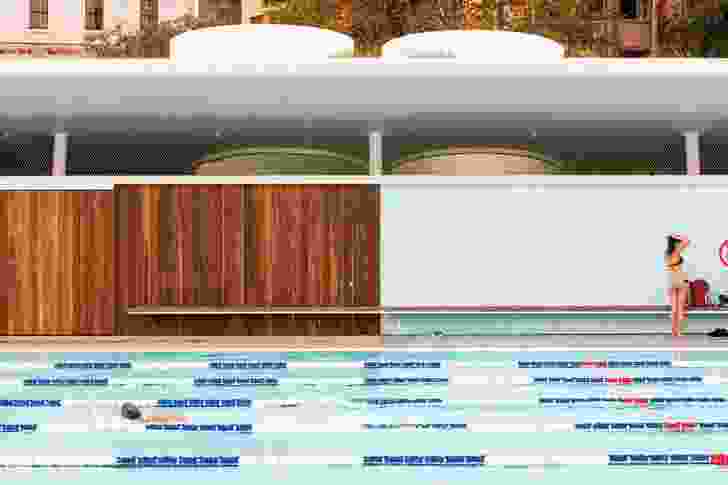 Beneath the berm, the pool building has been exquisitely crafted: its cave-like section is one of those diagrams that speaks volumes. It's what I like to call the "Sydney section"; it reflects a long-held local fascination with ideas of prospect and refuge, a lineage that connects Utzon, Leplastrier and the elder Murcutt. By necessity, the roof and inside wall express the weight of the earth behind. At the pool's edge, there is a thin timber wall, a lightweight datum for the entire north elevation, set well below the cantilevering arm of the ("cave") roof, which hovers overhead. As a constant line, this timber wall contains windows, sliding doors and fixed panels, and it also determines the roofline of the triangular ticket office. The underside of the concrete roof, as it folds down to become the internal back wall, is lined in white hexagonal tiles, inspired, Neeson says, by Siza's tiles in the Lisbon underground.
At one end of the building, the section dives two storeys into the ground – this space is large enough to house the cogeneration plant that will eventually power and heat the facility, including all the pool's water. The introduction of this sustainable energy strategy to the project and its engineering design further delayed but ultimately enriched the project. A total of twelve chimneys (there are six now), bunched like trees and painted in shades of green that replicate the colour of leaves (and developed in collaboration with colour artist Sonia van der Haar), will eventually perforate the grassy surface of the concrete roof. In each of the male and female change rooms are two giant, circular, Corbusian "light cannons" that illuminate the "cave." With the space above the timber wall datum left clear, these change rooms feel light and airy. In the family change room, there's another of these dramatic circular skylights. Above, in the skylight's circumference, there's an inscription commemorating Nick Murcutt (1964–2011). It's a solemn moment, difficult for those who knew him. For future generations, in the tradition of significant public works, this quiet act of commemoration will be an important legacy. Outside, the sounds of water splashing and the city beyond bring one back to earth.
In this collaborative project of landscape urbanism, Neeson Murcutt Architects and Sue Barnsley Design have combined memory, art and utility. Refreshingly, as designers, they were open and articulate about sources and ideas, intelligent in response to context and in listening to past and present voices. Prince Alfred Park Pool is one of a growing number of projects around Australia by, it has to be said, younger practitioners who acknowledge landscape urbanism as a project, in contradistinction to landscape being the prerogative, conceptually, of the house. When the time is right, the heroics of form can defer to urban experience. Architecture does not disappear. Instead its deployment is subtle and appropriate. At the same time, there is a sense of delight here, one that usurps seriousness and acknowledges that this site, as in its past, might also invoke play. It might be fun and it might also mark life.
Prince Alfred Park Pool won the Medal for Landscape Architecture at the 2013 NSW AILA Awards.
1. Christo and Jeanne-Claude's Wrapped Coast (1968–69), in which the duo directed workers and volunteers to wrap 2.5 kilometres of Sydney coastline with more than ninety thousand square metres of fabric, was their first major environmental art project, and at the time was the largest single artwork ever made.
2. Christo and Jeanne-Claude's Running Fence (1972–76) was a 39.5-kilometre-long installation comprising a 5.5-metre-high fence of nylon fabric strung between more than two thousand steel poles that traversed Marin and Sonoma Counties in California.
Credits
Architect

Neeson Murcutt Architects
Sydney, NSW, Australia
Project Team

Rachel Neeson, Nicholas Murcutt, Joseph Grech, Jenny Hien, Tamas Jones, Louise Holst, Isabelle Toland, Amelia Holliday, Andrew Burns, Sean Choo, David Coleborne, Anne Kristin Risnes, Sarah Kirkham, Sean Bryen, Justine Anderson
Landscape architect

Sue Barnsley Design
Sydney, NSW, Australia
Consultants

Access consultant Access Associates
Acoustic Green Transformer Acoustic Logic
Aquatic and pool structural ACOR
Arborist Earthscape Horticultural Services
BCA BCA Logic
Certifier BM+G
Chimney Artist Lymesmith Polychromy
Civil consultant Cardno
Documentation May+Swan Architects
Earthworks ACOR
Facade engineer Surface Design
Fence engineer Tensys Engineers
Heritage, archaeological John Oultram Heritage and Design
Hydraulic, mechanical and electrical consultant ACOR
Irrigation Hydroplan
Kitchen consultant Quantum Design International
Lighting Lighting Art and Science
Meadow specialist Australian Wetlands
Mechanical consultant DSA Consulting
Metal specialist Ogis Engineering
Park stormwater Equatica
Photomontage artist Melissa Selby Brown
Playground consultant Consulting Coordination
Pool signage specialist Royal Life Saving Society
Quantity surveyor Altus Page Kirkland
Security ACOR
Shade structure Professor Max Irvine
Signage Frost Design
Soil science SESL Australia
Specification AGA
Structural consultant SDA Structures
Tiling specialist Techtile Consulting
Traffic consultant GTA Consultants
Waterproofing, corrosion CTI Consultants

Site Details

Location Sydney, NSW, Australia

Project Details

Status Built
Category Landscape / urban, Public / cultural
Type Outdoor / gardens, Sport

Source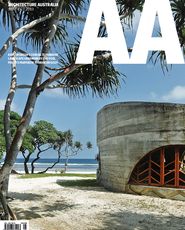 Issue
Architecture Australia, September 2013
Related topics