The Prince of Wales Hotel has been an integral part of St Kilda's cultural identity since as far back as 1863. When it came to transforming what was once Circa, the exclusive fine dining restaurant on the first floor, IF Architecture was brought on board to turn it into a casual dining experience. While striving to reinvent and recharge the space, IF has made reference to the site's long history and reassembled these ideas into an experience that serves the new direction for the dining space.
Iva Foschia of IF Architecture describes both St Kilda and the Prince Hotel (as it is now known), as places of polarity. Over the years, the Prince Hotel has embraced both the glamorous and the gritty – its colourful history is arguably a mirror for the culture of the St Kilda area. The diverse clientele includes the conservative and the progressive, the sophisticated and the alternative; all have existed side by side in a vibrant cultural melting pot. The extant 1930s Art Deco building by Robert McIntyre reflects these blended polarities. Built during the late Art Deco period when the influence of modernism was gaining momentum, the architecture brings together a mix of details and materials signaling wealth and opulence alongside mass-produced objects and more utilitarian and industrial materials. The architectural gestures of this time, as seen on the Fitzroy Street frontage of the building, were bold and sweeping as opposed to ornate and detailed.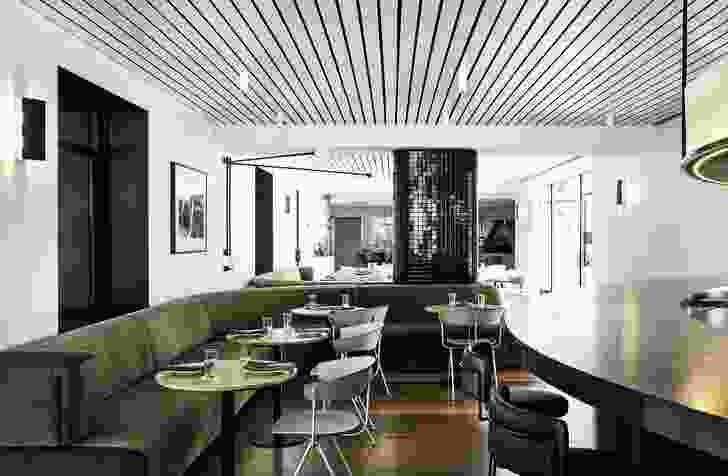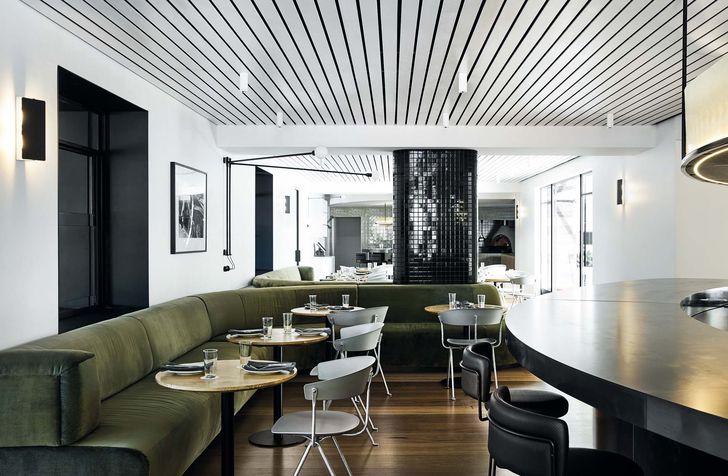 Converting the old dining space into a more casual experience was a fairly challenging brief. The space has inherited Circa's original entry experience; it is half a flight of stairs above the footpath and accessed via the existing boutique hotel lobby. So the interior needed to work hard to loosen up this quite exclusive entry experience.
IF Architecture's first step was to open up the space, which was previously compartmentalized into a series of private dining spaces off a service hallway. View lines through the dining spaces have been encouraged where possible, allowing aspects to the tree canopies and the seaside beyond. The kitchen has also been opened up, creating a connection between staff and patrons. A sense of enclosure and spatial definition has been achieved through low joinery units rather than full-height partitions. There are three main anchor points: the main bar at the entry, the shared communal table at the opposite end, and a large S-shaped banquette. Referencing the geometry of the late Art Deco period, these three joinery pieces, designed as broad sweeping shapes, help zone the large open dining space, giving patrons a variety of seating options as well as providing privacy. This has shifted the dining space towards a more casual experience that is socially connected.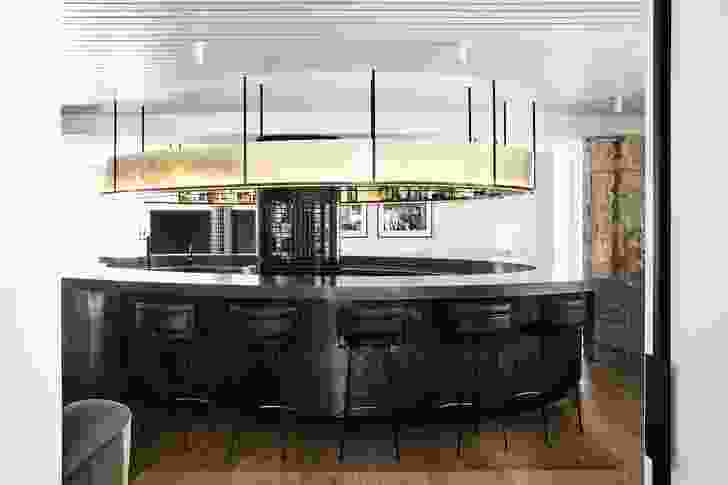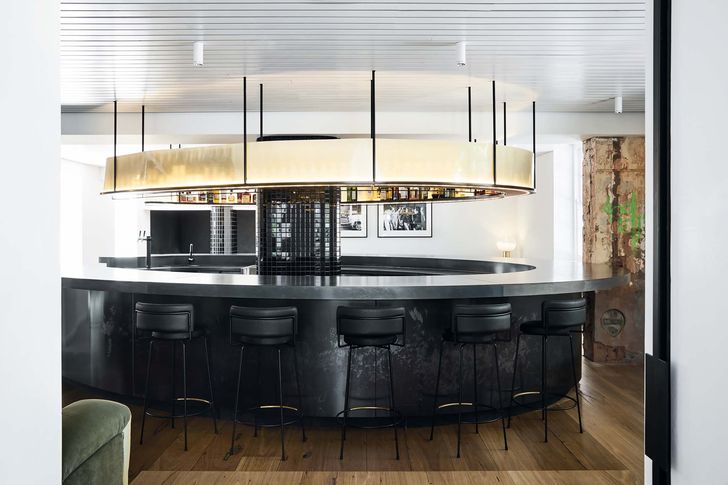 The restaurant features a combination of high-end bespoke elements and mass-produced industrial materials, capturing the polarity of the Art Deco architecture. Highly detailed one-off joinery pieces, adorned with marbles and velvets, sit alongside polypropylene and tubular steel chairs and fibreglass cladding. The use of simple materials helps bring the formality of the dining room down a notch.
While the space may be completely reconfigured, IF Architecture has been judicious in embracing special historical references. The existing elliptical columns with their familiar glittering black mosaic tile finish have been retained. The original timber floor has been preserved, including the marks and shadows left from the previous fitout. The original space has been re-envisioned rather than completely erased. It's been adapted to suit the renewed vision for the space, adding a new layer to its complex history.
The next chapter of this dining space has a classic and restrained feel. By taking cues from its past, both the opulent and the gritty, the new Prince Dining Room by IF Architecture is still sophisticated but a little more grounded.
Products and materials
Walls and ceilings

Walls and ceilings: Walls painted in Porter's Paints 'White Duck Quarter Melbourne Mix' and 'Aniseed.' Colore & Colore C9 and B1 wall tiles from Classic Ceramics. Existing black glass panelling (courtyard) and stucco.
Flooring

Existing timber flooring. Honed terrazzo tiles in 'Freckle' from Fibonacci Stone. Chillagoe Dreamtime marble from Cairns Marble & Granite (stair).
Windows and doors

Custom steel-framed windows and doors from Steel Window Design with Dulux 'Black Ace' finish. Fluted glass from Axess Glass.
Lighting

General lighting from iGuzzini. Group Peggy 9 pendant light by Hangar Design for Vistosi from Mondoluce. Bellhop table lamp by Edward Barber & Jay Osgerby for Flos, and Crisp wall light by Rich Brilliant Willing, both from Living Edge. Applique a Volet Pivotant E14 Double and Plie wall lights, Mini Potence Pivotante wall light and Potence Pivotante wall light by Charlotte Perriand for Nemo from Mondoluce. Laguna 37 table lamp by Matteo Thun for Artemide.
Furniture

Officina dining chair, two-seat sofa, coat hanger and low chair by Ronan & Erwan Bouroullec for Magis, Strand chair by Adam Cornish for Nau, and Caterpillar coffee table by Didier, all from Cult. Diiva bar stool from Grazia & Co. TS coffee table by GamFratesi for Gubi. Lionel armchair from Jardan.
Other

Custom-made American oak tables from Thonet. Custom Breccia Oniciata marble and American oak tables from Corsi & Nicolai and Thonet. Custom esmeraldo onyx and American oak tables from Peraway Marble and Thonet. Custom American oak and blackened steel table, custom blackened steel table, custom blackened steel bars, all from Formanova. Custom fibreglass and steel bar hampers from King's Fibreglass and Formanova. Custom zinc shelving from Formanova. Custom fibreglass banquettes from King's Fibreglass and Inform Upholstery. Custom banquettes from Inform Upholstery. NOBSA rugs from Halcyon Lake. Rennie Ellis photographs.
Credits
Design practice

IF Architecture
Melbourne, Vic, Australia
Project Team

Iva Foschia, Tamara Glick, Anouska Milstein, Fenella McGowan, Ken Snell, Meagan Brooks
Consultants

Builder and project manager CRC Constructions
ESD NJM Design
Engineer Meyer Consulting
Graphic design Susu Studio
Landscaping Overleaf
Lighting NJM Design

Site Details

Location St Kilda, Melbourne, Vic, Australia
Site type Suburban

Project Details

Status Built
Design, documentation 4 months
Construction 5 months
Category Hospitality, Interiors
Type Bars, Restaurants

Source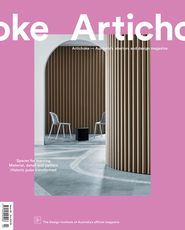 Issue
Artichoke, September 2019