The film The Boy in the Plastic Bubble (1976) is based loosely on the life of David Vetter and stars John Travolta as an immune-deficient teenager trapped in a protective sterile bubble. It's a sentimental and medically inaccurate film, but it inspired Spaniard entrepreneur Xavier Trillo to establish a new business. He formed Zonair3D in 2004 to create "portable spaces containing pure air." In 2008, the company launched Bubble/Pure Air, an inflatable, inhabitable, transparent plastic bubble connected to a portable air filtration system. It seems Reyner Banham's vision of architecture as "a manufactured environment (conditioned air) with a bag to put it in" has finally been realised. Bubble/Pure Air has obvious similarities to Banham's Environment Bubble (1965) as well as with other pneumatic architectures of the 1960s and 1970s by Archigram, Utopie, Cedric Price, Perriand and Lotiron, Coop Himmelblau and Haus Rucker Co. Superficially, Bubble/Pure Air also resembles contemporary examples such as the Bubble Hotel by Attrap'Reves in France, Monica Förster's Cloud, or Cocoon 1 by Micasa Lab.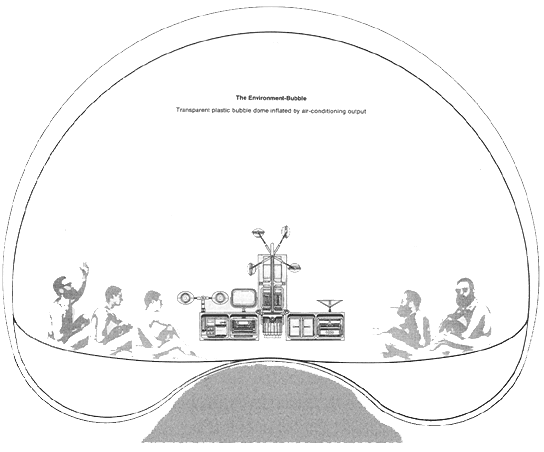 Bubble/Pure Air departs from these playful precedents in that it provides "99.995% pure air in continuous regeneration – free from contaminating particles and bacteriological and allergenic agents." The purity of the air within its membrane utterly changes its meanings and application. It is marketed and used for the treatment of environmental and immunological illnesses such as asthma and Chemical Injury Syndrome, as well as for sports recovery, field surgery, massage and beauty treatments. Trillo, however, anticipates a bigger market than asthmatics. He cannily recognised a growing audience for purified and oxygen-enriched air for personal consumption – a market fuelled by anxiety over airborne toxins that products such as his, in turn, feed. Indeed, one-third of the posts on Zonair's official Facebook page in 2014 were made up of news about pollution and its effects on health sourced from mainstream news sites.
There is reliable evidence that air pollution with sulphates and fine particulates, a common occurrence in contemporary cities, is positively associated with death from lung cancer and cardiopulmonary disease (although not nearly as strongly as tobacco smoking). Air pollution is also a contributor to the prevalence of asthma. But the incidence of air pollution globally is highly varied. More than one-third of the seven million deaths worldwide in 2012 that the World Health Organization attributed to air pollution occurred in fast-developing nations in Asia, including China and India. Air quality within nations is also uneven, a fact that underpins the bottling of air sourced from the mountainous and remote green counties of Luanchuan and Linan for sale at fresh air stations in China.
Air quality depends largely on the presence and effectiveness of governmental regulation but there are good reasons why individuals pursue personal protection over political action. As Mary Douglas and Aaron Wildavsky write in Risk and Culture (1982), the selection of environmental pollution and personal contamination, from all other possible contemporary dangers about which to worry, lies, firstly, in the possibility of attributing blame to people in power and, secondly, to the possibility of personally taking actions to lesson the risks. As individuals cannot determine the quality of air in the atmosphere, defensive personal measures are adopted. These fall into two types: those that purify the interior environments that one occupies such as the home, the car, and the office; and those attached to the body. Poor indoor air quality is usually the outcome of inadequate ventilation, but the past decade has seen technologies developed for industrial and medical environments being successfully marketed to domestic buyers, especially in places where outdoor air quality is poor. According to China's Ministry of Commerce, sales of air purifier products within China increased 11 percent annually between 2010 and 2012 and the market will grow 34 percent annually over the next five years, to exceed $33 billion.
Access to clean air is increasingly an exercise in economic privilege. In Beijing, which has been suffering what some have called "airmaggedon" or the "airpocalypse", private international schools boast about the quality of their indoor air purifiers. Dulwich College Beijing, the British School of Beijing and the International School of Beijing (ISB) have, since 2014, housed athletic activities in enormous inflatable domes. The domes, which are pressurized, have built-in filtration systems. We have also started to see speculative architectural projects that promise cleaner air. Orrproject's Bubbles (2014), for example, proposes a series of oases of pure air within Beijing's polluted urban environment. It encloses small pockets of garden, using plants to do the work of enriching the air while the transparent membrane prevents the entry of pollutants. There are no details as to how access or egress from the bubble is made, but it is clear that it while it shelters a collective, it excludes much of the city and its inhabitants.
As The Guardian declares, "The problem with air is that you can't privatise it, so it doesn't deliver a natural political win." I like The Guardian, but in this case I think they are wrong. The past four decades have seen technological developments that threaten, or promise, to make pure air privately available and we should be concerned. The exercise of economic privilege to avoid or defend against polluted air will have lasting architectural and urban impacts. Firstly, it doesn't tackle the problem, and may even exacerbate it. Secondly, whether we elect to make a "tree-change," invest in building purification or purchase personal mini air filtration gadgets, we must remember that the expression "life in a bubble" and "bubble boy" hold negative connotations for good reason. Shared air is a basis of public life.
Related topics