It's been said many times that Melbourne's laneways are the lifeblood of the city. These narrow streets-between-streets have developed a cult status and are burgeoning with well-caffeinated cosmopolitan urbanites with a knack for finding cosy hideouts. But while these "secret" laneways – a big part of Melbourne's brand – are at risk of becoming mainstream and pretentious, there are still remnants of the raw, Gotham City-like laneways deep in the grid, such as Alfred Place. This laneway is home to Melbourne's first ticketed restaurant, Prix Fixe, which is delightfully juxtaposed against its urban context.
"It's a really stark, bleak little laneway," says interior designer Fiona Lynch. "One of the challenges was to make that space feel more inviting, which was very difficult."
Prix Fixe is the first restaurant of owner Jason M. Jones, who has operated a number of successful cafes in Melbourne. Jones has teamed up with chef Philippa Sibley, and the restaurant offers set menus that change each month to a new, seasonal theme inspired by plays, novels and literature. Guests pre-book their tables to be treated to a theatrical, gastronomic experience.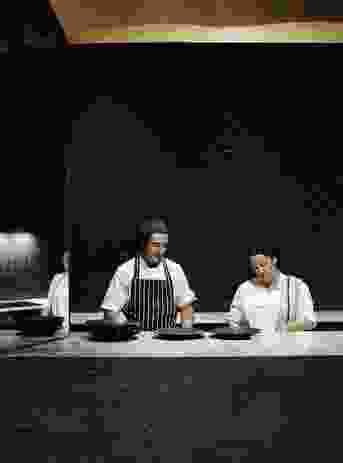 "Jason wanted the restaurant to be like back of house at the theatre," explains Lynch. "Philippa would be the first person you see when you walk in. She'll be framed somehow. She's on a stage and it's all about her food."
True to the brief Sibley is the star of the show, each night running the kitchen pass, which is positioned directly opposite the entrance. Against a backdrop of navy tiles, she is framed by a gleaming brass-lined opening. "The brass was really decadent but we wanted to make it a bit like a chamfered frame," says Lynch.
To the left of the kitchen pass is the main dining area. The space is split into two levels – a feature retained from the existing structure – which helps to create intimacy of scale. However, the existing low ceiling made visitors feel claustrophobic, so the dark ceiling tiles were discarded and Lynch chose to paint the ceiling and its exposed ducts and services an apricot pink.
With a short timeframe (just two months from conception to completion) and a budget one-tenth the size of some restaurant fitouts, the materials chosen for Prix Fixe needed to be as straightforward as possible. "We tried to keep it unpretentious. Anything we thought was getting fussy, we pulled back on," says Lynch. "For example, we spent a lot of time getting the waiters' stations right. We had a whole lot of finishes to start with and it was a process of reduction to achieve the green marble on a green 2-pac curved unit made from bendable ply."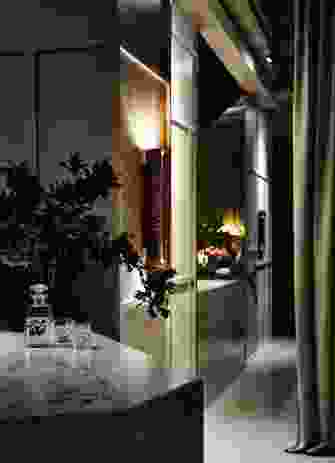 Warm colours and rich textures combine to give the space a more feminine feel. Linen curtains painted silver line the wall behind the welcome point and the dining area to the right of the entrance. "The silver curtain was an element that we had very early on," says Lynch. "When Jason talked about a restaurant being a theatre, I imagined curtains opening up and we just fell in love with that."
The walls are lined with a highly economical oriented strand board. When painted, the board achieves the look of a bespoke render, which complements the buffed finish of the exposed structural columns. An apricot-tinged bronze mirror on the back wall of the dining room creates a fantastical illusion in the space. Taking inspiration from the 1980s building that houses the restaurant, Lynch introduced marble and green accents to connect the interior to its context. Sibley's station and the circular tabletops in the dining room are finished in a rose-coloured marble, inspired by Yotam Ottolenghi's restaurant Nopi in London. The ceramic pendants, made by Melbourne design studio Porcelain Bear, hang low over the tables to shine light on the food, while the beaten-brass wall lights create flattering mood lighting for the space.
"The Prix Fixe fitout is what I imagine when I hear my parents talk about where they went to dinner in the fifties and sixties, when there was a lot more romance and drama. That's what we wanted to create," says Lynch. Jones also references the bygone restaurant heyday when the waiters at Mietta's (which coincidentally once stood across the lane from Prix Fixe) would suddenly break into song. The space is a mix of elegance and sophistication, but it's not unapproachable, as some fine dining establishments tend to be. As Lynch points out, "There aren't a lot of places [in Melbourne] that do that and I think it's quite a romantic space."
Prix Fixe was awarded a High Commendation in the Best Restaurant category at the 2014 Eat Drink Design Awards.
Products and materials
Walls and ceilings

Internal walls are oriented strand board with strapping painted in Dulux 'White Duck.' Raw concrete columns. Bronze mirror from In Ex Living. Hard polished plaster.
Windows

Existing window frames. Black metal venetian blinds. Sheer curtains from Lovelight Blinds. Metallic feature curtain in silver linen from Boyac.
Doors

Marble front door handle by Fiona Lynch.
Flooring

Concrete floor painted in Berger Jet Dry in grey.
Lighting

Black track lighting from Gentech Lighting. Custom-made Derby pendants over each table by Porcelain Bear (two sizes were designed and crafted by Fiona Lynch in collaboration with Porcelain Bear).
Furniture

Custom-made banquette seating with dowel, brass and leather pads designed by Fiona Lynch and made by Layne Interiors. Leiter chair in black from Thonet. Custom-made entry desk by Fiona Lynch is moulded ply 2-pac sprayed with Resene 'Manhattan' and features rose pink marble. Custom-made waiters stations by Fiona Lynch feature brass drawers, moulded ply sprayed in Dulux ' Holenso' and marble bench in 'Green Forest' from Peraway Marble, and glass shelf. Custom-made coat cupboard by Fiona Lynch in oak veneer sprayed in Resene 'Manhattan' with brass edge detail.
Kitchen

Marble in 'Green Forest' and servery bench clad in rose pink marble, both from Peraway Marble. Brass chamfer framing the kitchen. Amano splashback tile in grey from Academy Tiles.
Roofing

False ceiling removed to expose raw services and concrete. Ceiling was painted in Resene 'Manhattan.'
Other

Artworks by Sophia Szilagyi.
Credits
Design practice

Fiona Lynch
Melbourne, Vic, Australia
Project Team

Fiona Lynch, David Flack, Brem Perera, Alex Cerny, Swee Lim
Consultants

Builder Ingrain Designs
Joinery Layne Interiors
Lighting Porcelain Bear

Site Details

Location Melbourne, Vic, Australia

Project Details

Status Built
Design, documentation 4 months
Construction 5 months
Category Hospitality, Interiors
Type Restaurants

Source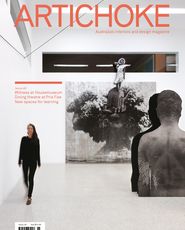 Issue
Artichoke, September 2014
Related topics