When he read the final draft of our recent book, Procuring Innovative Architecture, Steve Ashton of Ashton Raggatt McDougall commented that it read like a crusade. We looked at each other and said, "Well, yes! It is a crusade!"
The book is one outcome of research initiated by Geoffrey London when he took on the role of Government Architect in Western Australia in 2004 and approached Leon van Schaik to discover what could be learned from the architectural procurement processes he had developed at RMIT, which had resulted in a number of innovative, peer-awarded buildings. Together we embarked on an ARC Linkage Grant, which enabled us to research what clients with the ambition to procure innovative architecture were doing in various parts of the world, looking at government bodies (London) and at other institutions and private clients (van Schaik). In this, we were able to reflect on our own experiences with procurement in the university and government sectors in relation to a wide range of international models and examples.
The processes developed at RMIT have given that university an international reputation for procuring innovative architecture and building the local architectural culture while doing so. Award-winning buildings include Edmond and Corrigan's Building 8, ARM's Storey Hall (acknowledged by Charles Jencks as the first built use of fractals), Allan Powell's Building 94, Wood / Marsh's Building 220, John Wardle's Print Technology Building, and Wardle and DesignInc's Life Sciences Building. There were also some notable near misses (Lyons' Swanston A'Beckett Sports complex, Durbach Block's student housing and Kerstin Thompson's Long Life Loose Fit flatted factories). Soon to be completed are Sean Godsell's Design Research Hub (2011) and Lyons' Swanston A'Beckett Academic Building (2013). The work of Peter Elliott Architecture + Urban Design upgrades much of the existing fabric and knits the whole together with inspired urban design. In the book, we complement an explication of RMIT's processes and projects with a discussion of the Kumamoto Artpolis – the result of an exemplary commissioning process. As with RMIT, many architects now very well known received their first institutional commissions through this enlightened, local architecture culture-building program. These include Tadao Ando, Toyo Ito, Kazuyo Sejima and Itsuko Hasegawa. By contrast, highly politicized commissioning processes in Malaysia have led to architects on the political outer (like Architron Design Consultants) developing independent "post-holing" strategies to bring their innovation to the notice of clients. While Singapore, after decades of being determinedly "international" in its commissioning practices, has set out to become a "design city", using many of the methods pioneered at RMIT and at Kumamoto (thanks to the research of Richard Hassell of WOHA).
Our European exemplars began with Barcelona, which brings in-depth work on understanding the city and working with local communities to the fore. (This became the inspiration for Beth George's research into deep urban knowledge in the context of Perth. Recorded in chapter five of the book, this work suggests that in Perth, as in Barcelona, a deep understanding could open up new opportunities for innovative commissioning). We also looked at the very deliberate construction of a local culture of architecture in Ticino – acknowledging that this was enabled by the research of Aldo Rossi – and examined the extraordinary architectural culture of Belgium. Here, more than most places, Judith Blau's observation about the disappearing middle in practices is true. With twice as many architects per head of population as the Netherlands, this is an unusually thin environment for small practices, but they triumph over this adversity again and again. The dilemmas of the Graz School are also pertinent – a break-through-or-bust approach resulted in a vivid flowering, but has ended with most of the recent important commissions going to outsiders, something that happened in Barcelona too. The case of Slovenia is startlingly different, with a very deliberate construction of a local culture of architectural excellence through an architectural cooperative that was formed in the transition from communist rule. Funded as a cultural body not an industry body, it was required to incorporate from the outset a gallery for exhibiting the works of its members. In the book, these examples are matched with reflections on the achievements of two stellar commissioners of architecture in London: Fred Manson (Southwark) and Roland Paoletti (Jubilee Line). Manson describes how, when he began his work at Southwark, about 90 percent of the people living there wanted to move away. Ten years later when he finished, about 80 percent would not consider living anywhere else.
Unusual commissioning in the United States was also investigated. Columbus, Indiana, has benefited from generations of belief in the improving effects of good architecture, commencing perhaps with Robert Owen's attempt to establish a model town in New Harmony nearby. This city of 60,000 people boasts thirty-six works of architecture classified as national monuments. These include such seminal works as Venturi, Scott Brown and Associates' Fire Station No. 4, works by most of the East Coast luminaries and also a strand of the local Midwest architecture including wonderful churches by both Saarinens and by Harry Weese. We also looked at the determined reconstruction of the Los Angeles civic spine as promoted by constellations of concerned citizens, and the radical green revamping of the port. The determined promotion of local architectural culture by Richard Koshalek – both through early commissions for Frank Gehry and more recently through commissions for young architects at Pasadena's Art Center College of Design, South Campus – was also examined, as was the unexpected revolt against this program. Perhaps the most extraordinary transformation of a university campus in the United States is that initiated at the University of Cincinnati by incoming dean Jay Chatterjee, president Joseph Steger and CFO Dale McGirr. Here, buildings by Eisenman, Gehry, Moore Ruble Yudell, Gwathmey, Thom Mayne and Tschumi are yoked together through the integrative work of landscape architect Hargreaves (the same urban design planning role that Peter Elliott has played at RMIT). In contrast, the wealthiest Ivy League universities have pursued a "trophy" architecture approach.
Returning to Australia, we reflected on the work of the inaugural five-year period of the Office of the Government Architect in Western Australia and outlined the research underpinning the approach adopted by London and his team. The key features of this approach were:
criterion-based selection of architects on major government projects
design review processes for government-funded or supported projects, both existing and new
design workshops for government-held sites
an emphasis on life-time costing
competitions for innovative housing models
systems for encouraging participation in government projects by new and emerging practices. This included panels of emerging architects and an award for the work of emerging architects
processes for promoting the conscious development of a Western Australian discourse in architecture and its procurement
drafting of an architecture (and landscape architecture) policy for government
The outcomes of this approach were scrutinized by review panels convened in London and in Perth. Those in London included some of the luminaries in commissioning there, members of CABE (a source of inspiration) and Professor Kate Heron, whose work on the Arts Council England was a valuable sounding board. This section of the research considers the views of small to medium practices (Iredale Pedersen Hook, CODA Studio, Gresley Abas), as well as those of larger firms (Cox Howlett & Bailey Woodland and Hassell), developer Adrian Fini of Mirvac and senior bureaucrats working in the planning realm.
The results of the program pursued in Western Australia include a number of projects now coming to completion: the State Theatre Centre by Kerry Hill Architects; the Albany Entertainment Centre by Cox Howlett & Bailey Woodland; Perth Arena by ARM, Cameron Chisholm & Nicol and RTKL; Leighton mixed-use development with projects by Kerry Hill Architects, Space Agency and Mirvac Design; Brookfield Multiplex with Cox Howlett & Bailey Woodland and Multiplex with Alex Popov; Fiona Stanley Hospital by Hassell with Silver Thomas Hanley and Hames Sharley; the Affordable Sustainable Housing initiative and others.
Bringing this wide range of strategies, approaches, contexts and reflections together has been highly productive. However, at the end of the research we realized that, although we had set out to identify good processes, we were everywhere describing the energy and vision of individuals who believe in the power of architecture to improve our lives. In Belgium, the initiator of a program that commissioned work from emerging architects reflected ruefully that the program was not going so well under his successor. Perhaps as Joyce Appleby argues in The Relentless Revolution: a History of Capitalism, "Self-assertive individuals did the innovating … and they bungled as often as they hit the mark … There is no way to compel innovation."
Source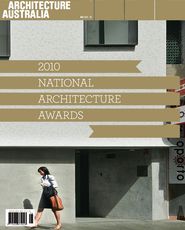 Issue
Architecture Australia, November 2010
Related topics