The opportunities for Australian architecture practices working internationally are huge and more should be tackling it. This is true not only because the best of Australian architecture can stand up to the best in the world, but also because Australians' way of doing business – our culture – is appreciated everywhere.
How does an Australian practice begin to consider working internationally? In order to succeed, it is vital that firms are strategically, organizationally and financially prepared.
Strategy
Practices must have a clear strategy to which all of the leadership team adheres. This is crucial. Leaders wavering in their commitment to a strategy, especially for international work, is fatal.
Clearly define what you stand for and what you are good at; your sense of purpose as a practice. Most markets worth entering are crowded with plenty of good architects with good pictures of good projects. You will need to quickly differentiate your practice through not only your design quality but also your design intelligence, aligning it with potential clients' values and business plans. You will need to effectively create a brand identity where you have none, in a new market with no network to draw on. Where possible, go with existing clients who are global and have a network into which you can tap.
Choose your markets carefully, both in geography and sector typology. Do the research and find the markets that suit your strengths, and new clients with whom you can have a seamless conversation. Have something to tell them that they haven't heard before.
When tackling a new region, focus on your strengths and take specialist sector knowledge with your strongest portfolio of built work. This will enable you to compete on an even footing. Australian architects are acknowledged as innovators in progressive workplace, education and healthcare sectors.
Organizational management
Once a clearly defined strategy for working globally has been established, it is equally important to have the organizational capacity to deliver a long-term commitment. There must be a mechanism for the firm's leadership to give the strategy management team the authority to implement the strategy without needing to constantly seek endorsement. Some larger firms do not have this in their makeup.
Organizational structure should be seen as a design exercise, working with its functional parts and circulation and communication operations. Architects are good at design; organizational design is just another form of it. Organizational structure needs to align with the functional problem of delivering the strategy.
The global leadership team should operate in a strongly integrated structure without regional silos. At Woods Bagot, we completely dismantled the existing studio-based structure and hierarchy to build a matrix, integrating production streams with geography.
You must build capacity, in both management leadership and digital platforms, to enable the seamless sharing of work between studios. This includes agreed policies on sharing revenue equitably. In this way, local studios can be helped with work while they are getting established and reaching a critical mass at which they can compete with other local practices. Clients like seeing local capacity and leaders with whom they can work in real time, making real decisions. These people need decision-making capacity, including during design. Architects everywhere work below their potential due to the corralling of design decisions.
Careers will progress through this disaggregation of decision-making. Recruit high-quality people at the leadership level locally, giving them career pathways to shareholding. It may also be sensible to relocate the right-fit existing senior leader to manage communication and cultural integration, and to ensure the new studio doesn't lose focus on culture.
Sound financial performance
You must have tight financial management and reporting systems that can cope with the complexities of international exchange and tax. Maintain consistent and solid profitability. Many practices are content with a six to seven percent profit, but this is insufficient to allow a business to ride out the ups and downs of implementing a new strategy, which must be approached with a long-term view. Low profitability and cashflow put stress on the strategy and those responsible for it. It would be better to aim for a fifteen percent profit (after tax) at least and a productivity of $200,000- plus per head.
Maintain tight debtor days. This is helped by having quality local professionals. Clients will pay as late as you let them, especially in China and the Middle East. At Woods Bagot, we were able to keep our debtor days in China to less than thirty.
The fiscal performance in a global practice is elevated by the professional quality of local people. This was certainly a big factor in the performance of the US initiative for Woods Bagot.
Recruiting the best people
Having access to the best projects in the world also brings the opportunity to recruit the best talent from the best schools in the world.
Again, a key part of any strategy for working internationally is recruiting locally. If this is approached on the basis of creating a strong local presence, then these people can be given authority and thus career prospects as part of a global practice. This gives the practice access to architects from the best schools with a strong experience pedigree, which strengthens the practice overall.
The value of local recruitment cannot be underestimated. However, it does mean that the organization cannot have a headquarters from which all decisions emanate. This can mean a big cultural change for the common model of a practice led by the foundation partner(s).
Source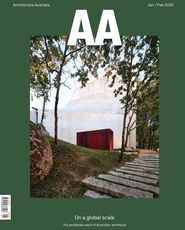 Discussion
Published online: 17 Mar 2020
Words: Ross Donaldson
Images: Courtesy Woods Bagot
Issue
Architecture Australia, January 2020