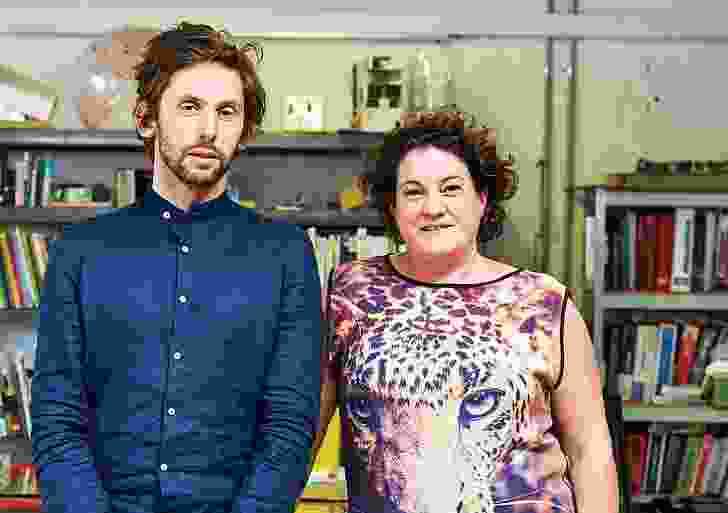 Arnold Schwarzenegger and Danny DeVito might have you temporarily believe the Hollywood cliché of the odd couple as a match made in heaven, but in real life, more successful partnerships are built between people who aren't opposites, and who have shared values and different yet complementary skills. Melbourne-based architects Juliet Moore and Ben Edwards touch on this idea of collaborative role-playing in describing how they often work together, Juliet thinking in plan and Ben making and remaking boxboard models. Looking at the five residential projects by Edwards Moore featured here, the conceptual rigour of the duo's shared architectural practice quickly becomes apparent. Each home is defined by a clear and singular solution to site and brief. Spaces are arranged and sculpted to bring light in, to create connections, and are fit to purpose, eschewing the idea of right angles as default responses (giving their work a trademark "cheeky tilt," as Juliet puts it). And perhaps most strikingly, "we see spatial design as an explicitly three-dimensional craft, with levels interwoven and rooms more often expressed as zoned volumes than defined by walls."
This last point is perhaps best illustrated at Void House, which was a typical double-storey Victorian terrace house in need of surgery to cure terminal compartmentalized darkness. Edwards Moore's response was to punch a hole clean through the centre of the building, a compact rectangular canyon clad on one wall and on the ground with bluestone, and on the other three sides with two storeys of full-height glazing. This courtyard not only brings natural light into the indoor spaces, it unifies the entire home, providing direct sightlines between rooms and between the ground and upper levels. And these rooms are also afforded glimpses of blue sky above, which would have seemed preposterous to the house's original inhabitants.
Void House also showcases Edwards Moore's understated approach to materiality – in this case, with the use of bluestone, glass, parquetry floors and white walls. The architects have deftly used changes in surface treatments to imply different functional zones, such as in the transition from the kitchen's parquetry floor to the stone-clad dining space.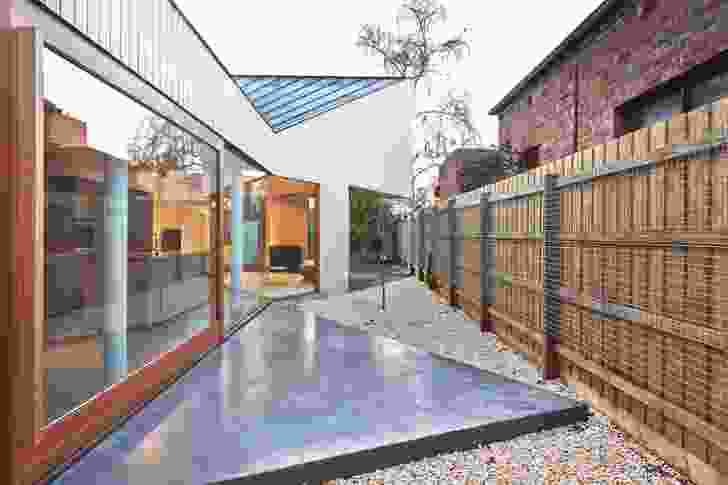 Another project with a form derived from the mission to make best use of natural light is Bow House. Bounded by houses on three sides, including a two-storey wall on the northern boundary, this new building nevertheless turns away from the only open outlook, the street, and creates a private world for its occupants, focused around a small central courtyard. The house's bow shape is expressed in both plan and section, with dimensions and angles set to trace the path of the sun during the day. Where the roof line rises at each end of the house, the facades serve opposite purposes: at the street front, the double-height wall provides privacy for two first-floor bedrooms; at the rear, large windows open the vaulting living space up to the backyard and, as with Void House, to the sky. Between these two peaks, the ceiling dips, creating a sense of intimacy in an otherwise open central kitchen. A pared-back materials palette has been applied to highlight the house's elegant bow-shaped form, particularly on the roof, which is finished immaculately in low-profile zinc sheets.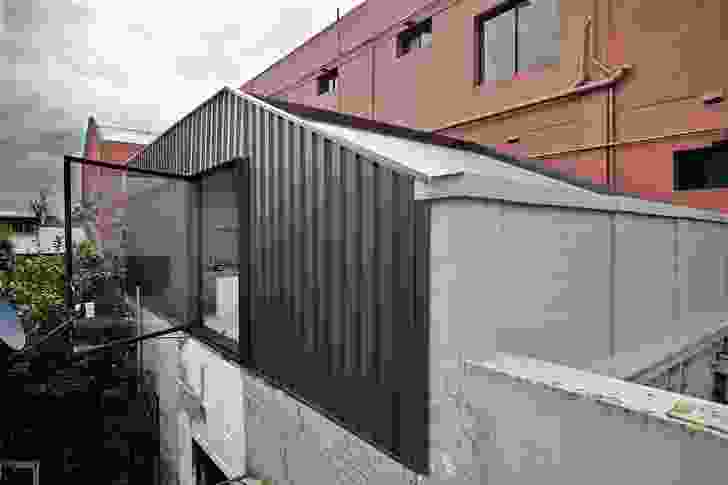 The design of the Lightbox's roof is also integral to a strategy for injecting natural light deep into the heart of a building surrounded on three sides. However, at this single-storey terrace, to which Edwards Moore was briefed to add an upper storey, the building's small footprint couldn't accommodate internal courtyards. Not to be deterred, the architects conceived an ingenious solution for allowing sunlight to penetrate through both levels – translucent roof panels bring light into the top-floor living zone, and the light continues through a perforated metal floor to the lounge room below. Not only does this innovation illuminate a room that should by rights require artificial lighting 24/7, it makes for intriguing views back up through the ground-floor ceiling, as other occupants – human and canine – appear as ghostly shapes above. Although views out over the street are stymied by the translucent sheeting, a massive pivot window provides a fantastic outlook over neighbouring roofs and chimney pots, and makes the space feel much more "airy" than "attic."
The new work at the Lightbox is largely invisible from the street, save for the subtle glow that emanates from the roof after dark, but Cubby House, another intervention in an old building, is highly visible. An apartment in an old factory has been opened up vertically to create connections between different levels, culminating in a new steel-framed roof form that rises as a counterpoint to the existing sawtooth brickwork. There are no internal walls, and again zones are implied, through the placement of joinery and furniture and changes in surface finishes. On the upper level, the bath sits on a tiled plinth next to the bed, and the rest of the bathroom occupies a discrete pod, providing the required amenity without completely dividing the two rooms. On the lower level, the kitchen is defined by a rise in floor level, which also gives the cook a delightful view through a large window to the neighbouring public pool.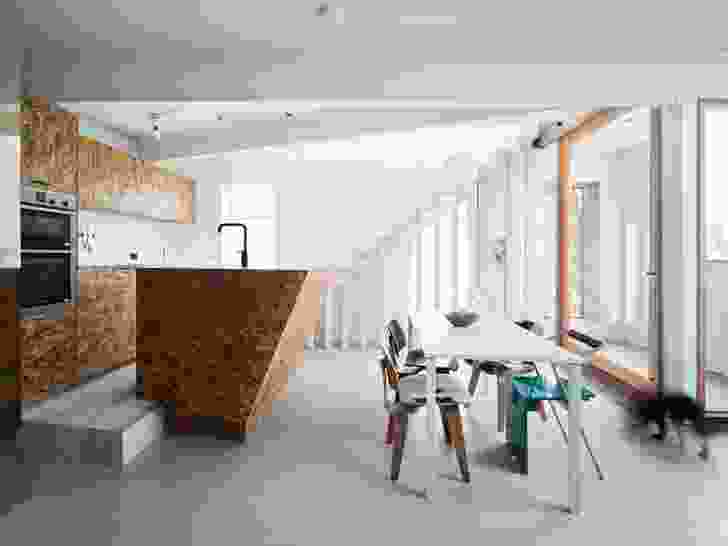 The final project here, Doll's House, also reimagines space in an old building. In a familiar scenario, the architects hacked away layers of questionable additions to an old worker's cottage, but instead of simply replacing the old lean-tos with a new structure appended to the cottage, they've made use of the full site, creating a new home that extends all the way to the rear boundary and inserting external spaces into the plan. The result is a series of functional interior zones punctuated with angular courtyards; every room gets at least one view into a courtyard, as well as a healthy dose of natural light.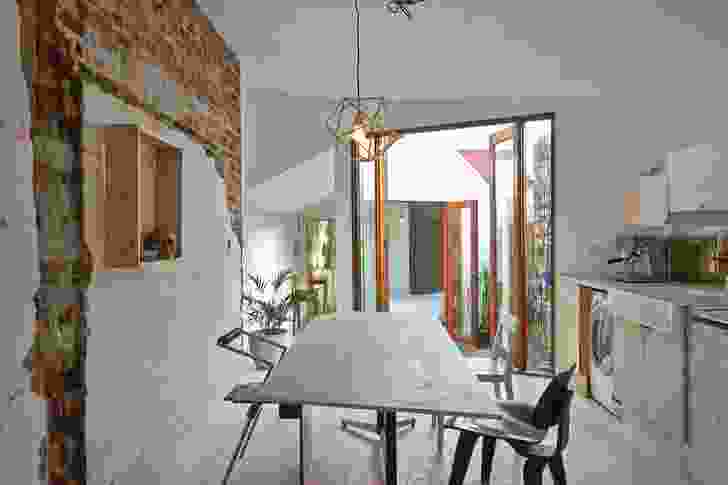 To deliver Doll's House on a tight budget, all the doors were made the same size, as were all the windows, and original brickwork was tidied but left bare in patches. The modest materials palette was mostly a function of economics, but it typifies Edwards Moore's focus on crafting light-filled spaces, with materials and finishes playing supporting roles. It's a conception of interior design as a function of architecture rather than the two as separate pursuits, and it imbues all these houses with a purity of form and function – these are buildings created from a singular vision, the product of two complementary minds.
Note: In late 2016, after seven years in partnership, Juliet Moore and Ben Edwards decided to change the structure of their practice. Ben Edwards has established Studio Edwards, a new venture that will explore opportunities in design across a variety of scales and disciplines. Edwards Moore continues to operate with Juliet Moore as the sole director, focusing on larger scale built projects and joint ventures. Ben continues to collaborate on projects with Edwards Moore.
Source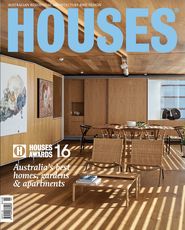 Related topics