Dismissive of genre constraints, Gregor Kregar employs a disparate range of materials and media – aluminium, glass, stoneware, plastic, cathode lights, soundscapes, photography, video, even live sheep – to achieve his vision. "My practice is driven by ideas and I choose materials or media according to the concepts in my work," says Kregar. "Part of what I find exciting about sculpture is experimenting with a range of different techniques and properties. I like pushing the limit of materials, taking them outside of their usual use or historical context, creating an element of surprise for the viewer."
Kregar keeps his studio in a large industrial warehouse in west Auckland, with a functional workshop alongside other spaces for experimentation and the development of ideas. "I think of it like my laboratory: if you visit the studio there are often several projects on the go at the same time – models and experimental pieces share the space with work under construction," he says. "I like moving between a loose way of working and the more time-intensive process of creating resolved works."
Kregar divides his time between New Zealand and the pursuit of projects and residencies overseas: "It is important for me that my work has a wider dialogue with a larger audience and I am able to find this in Europe." In the past year, this peripatetic existence has returned Kregar to his native Slovenia, and taken him to the Abu Dhabi International Sculpture Symposium, the 12th International Cairo Biennale and back to Waiheke Island for the fifth biennial Headland: Sculpture on the Gulf to install the soaring geometric structures in polished steel for which he is most renowned.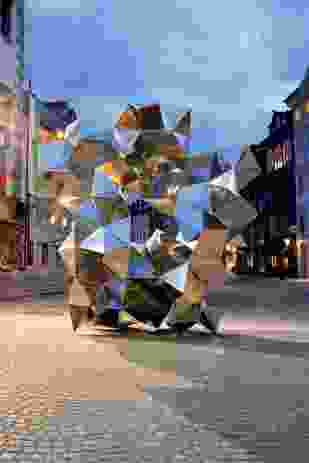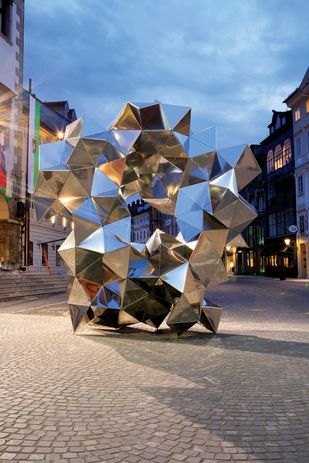 While based in Berlin, Kregar worked on Dwelling For Noordung (2009) for the old city square of Ljubljana. Writing under the pseudonym of Hermann Noordung, visionary Slovenian engineer and scientist Herman Potocnik (1892–1929) published The Problem of Space Travel: The Rocket Motor, which led to him being recognized as one of the founders of astronautics. "I was just fascinated with Noordung and his vision of space exploration," says Kregar. "His writing was utopian at the time, but later influenced the design of space stations by NASA and other agencies." A four-channel audio suite accompanied the work. "I imagined it as a 'sound drawing' surrounding the sculpture. The conceptual parameters for the sound were repetition and reflection/echo which are also present in the structure," he explains. The work may have looked futuristic against a backdrop stretching back to the sixteenth century, but Kregar finds no incongruity: "I see my mirrored structures as potential models for utopian buildings."
His vision for the NZI Centre in central Auckland presented a different challenge. Twisting The Void (2009), two hanging components in the building's atrium, required three assistants and a scaffolding team on site. "Commissions can be very difficult, especially with artworks in public spaces where there are many regulations that need to be fulfilled. I try to understand the context and nature of the given space, but it is important that I stick to my artistic principles," explains Kregar. "Sculpture is always about solving problems. It engages me intellectually and physically – I like the boundless possibilities of what it can or could be. Also for me, sculpture is connected closely to reality and the world that surrounds us." More recently, Kregar has been selected to contribute a large work for the terminal building as part of the redevelopment of Christchurch International Airport, scheduled for completion in mid 2012. And what more appropriate venue could there be for his monumental sculptures to take flight?
Source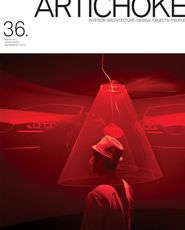 People
Published online: 19 Dec 2011
Words: Inga Walton
Images: Gregor Kregar
Issue
Artichoke, September 2011
Related topics