Starting an architectural practice can be a daunting task – especially when you do it in a city other than your home town, and without a supply of relatives or family friends ready to embark on a renovation project, right in the middle of an economic downturn. Nevertheless, Anthony Clarke of Black Line One X Architecture Studio (BLOXAS) did it and has now started to make his mark. The striking form of the Profile House in an inner-northern suburb of Melbourne gives a hint of what's to come from this emerging practice.
Since completing his architectural studies in 2004, Anthony has worked in various practices, including FJMT and Terroir within Australia, and Shigeru Ban Architects and Ateliers Jean Nouvel abroad. In 2009 he established BLOXAS in Melbourne, and his first project was a small, low-budget extension in his home town of Hobart (Dual Court House). After Anthony finished this project and was beginning the hunt for more work, he was introduced to the New Architects Drinks – an initiative of Jeremy McLeod of Breathe Architecture and Eugenia Tan, who was with Breathe at the time.
The concept for the New Architects Drinks group was born when Breathe didn't have the capacity to take on all the new projects Jeremy was being approached for. Jeremy and Eugenia set up an informal gathering at which young, emerging architects could share their ideas and business cards, as a way of finding suitable architects to refer projects to. The Profile House is a successful example of this initiative – the clients originally approached Breathe, but as Jeremy couldn't take the project on, he was able to confidently refer the clients to Anthony.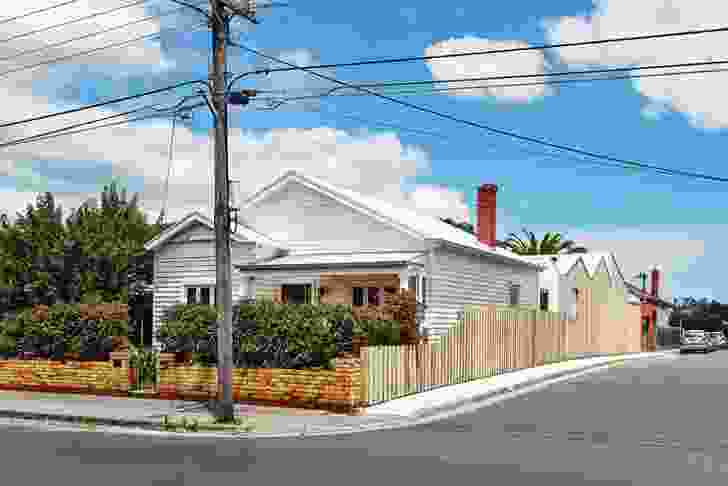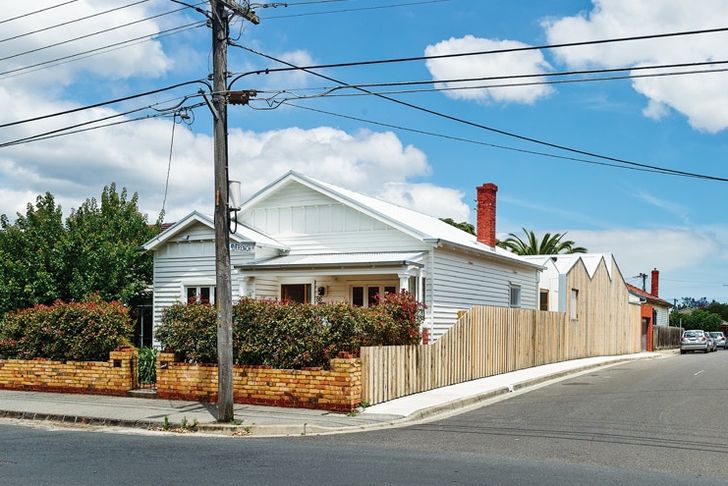 The project began with an original Californian bungalow located in a semi-industrial area. The clients wanted to address two key concerns. Firstly, they had security issues. The site is a corner block, with the western edge facing into an industrial zone. Anthony's treatment of this edge is the defining architectural expression of the Profile House. The edge has been secured by introducing a high boundary timber wall/fence that follows the shape of the interior spaces. In turn, this elevation subtly references the industrial roof lines in the area. The rough-sawn overlapped Victorian ash timber cladding creates a striking visual element to the street, and over time will weather to appear grey.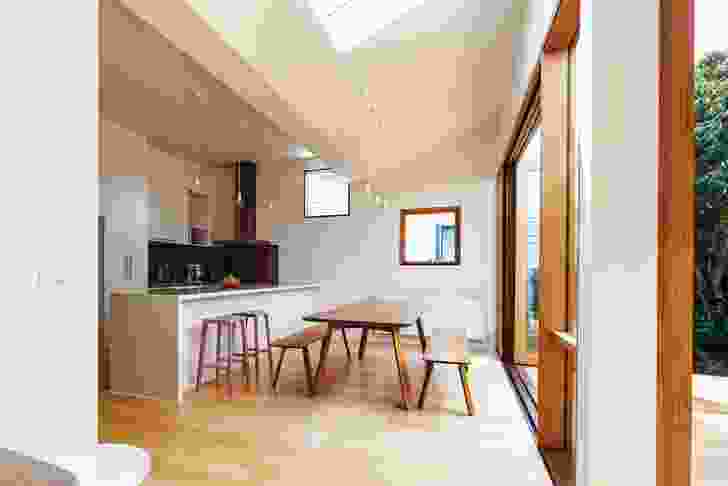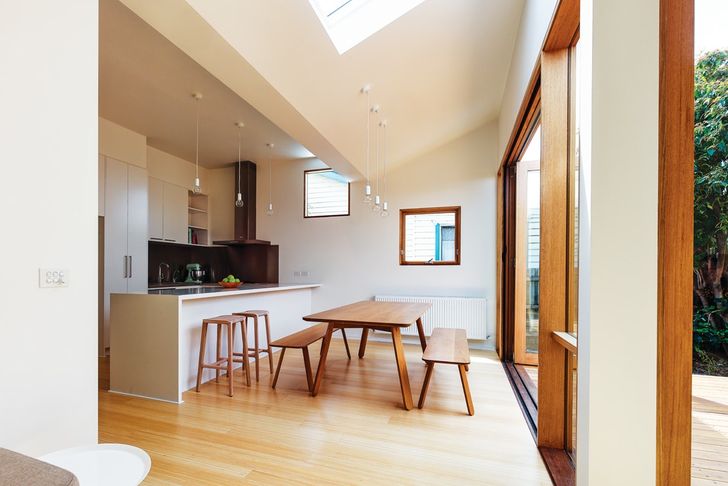 The second key issue to be addressed by the architect was the requirement for more space. The family of five was being accommodated in the dark, two-bedroom bungalow and a lean-to that was attached to the bungalow's south elevation. The new component includes a re-worked kitchen and dining area, a rumpus room, a living area, an internal central courtyard and a main bedroom with an ensuite. Emphasis was placed on not only creating extra floor space, but also on the introduction of extra vertical space – high ceilings capture the northern natural light and allow the release of hot air via operable high-level windows.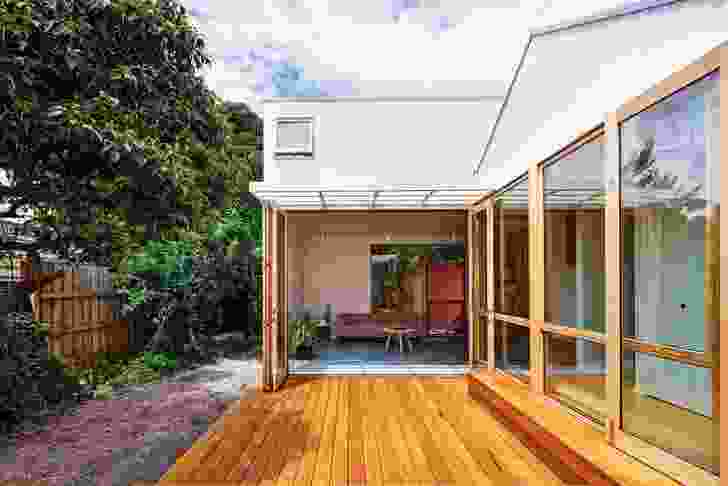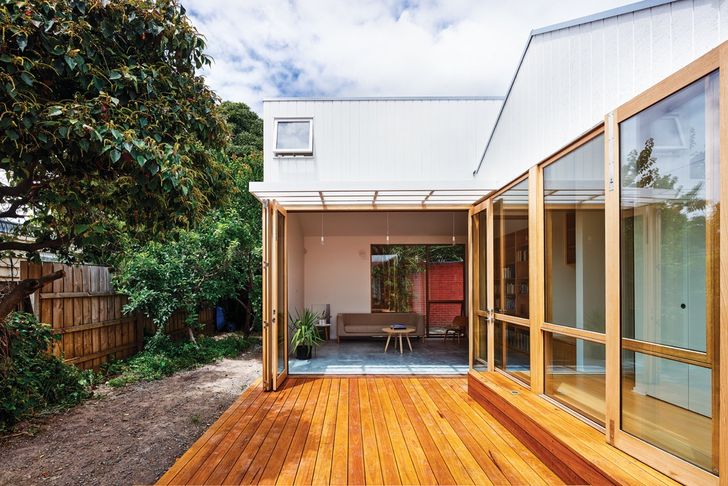 The clients have young children, so visual connections throughout the house were vital. The central courtyard has become the pivoting point – all rooms have glazed walls or doors that open onto this space. The house is planned under the philosophy that "you don't have kids to live in a house with them separated from you," so there is no clear division between adult and child zones. The children's grandmother is part of this family unit, and her space is also integrated.
Although the clients were keen to introduce a light, bright contemporary zone at the rear of the property, they didn't want to lose the character of the original home in which they had lived for over ten years. Anthony has clearly defined the transition from new to old, with a marked seam in the timber flooring that continues up the wall. Refurbishments to the original part have been kept to a minimum, and the northern street elevation has been retained.
The large backyard has been taken over by the house itself, but the building is set back from the site boundary to make way for the planting of a smaller garden. The central courtyard gives back some of this lost outdoor space, and makes the outdoors more integral to the day-to-day workings of the house itself. By avoiding the introduction of a second level, the ceilings are higher, allowing the house to capture natural light and retain a suitable street presence within its context. As such, the project has been well received by the surrounding community, with neighbours "looking out for it [against security threats]" while it was under construction.
Since Anthony began this residential project, he has also completed a kindergarten that was part of a Victorian state government early childhood development initiative. Slowly, but surely, this sole practitioner is creating a strong portfolio of carefully considered projects. The Profile House, in particular, demonstrates Anthony's empathy and mindfulness in responding to the needs of his clients, and illustrates the development of core design philosophies for his emerging practice.
Products and materials
Roofing

Lysaght Custom Orb with Zincalume finish.
External walls

Rough-sawn, unseasoned hardwood; CHH Woodproducts Shadowclad cladding painted in Haymes Solashield natural white.
Internal walls

Square-set plasterboard painted in Haymes Interior Expressions natural white.
Windows and doors

Victorian Ash Windows double-glazed windows with Intergrain Ultraclear satin finish; Ampelite Lexan Multiwall polycarbonate sheet in 'Opal'; zero-cavity timber sliding doors.
Flooring

Eco Flooring Systems BT Bamboo flooring; concrete slab.
Lighting

Ism Lighting HD2 pendants; Ambience Lighting Wafer wall-mounted lights and Tivah adj. lights; Nautilus deck lights; Brightgreen LED downlights from Emotive Earth.
Kitchen

Miele oven, cooktop and rangehood; Asko dishwasher; Franke sink; Hansgrohe mixer; Hafele pantry; Essastone and stainless steel benchtops; stainless steel splashback; joinery with 2-pac finish in Dulux 'Natural White'.
Bathroom

Ideal Standard toilets; Roca basin; Zuchetti bottle trap; Caroma Cubus basin; Bette bath; Hansgrohe mixers and Raindance shower sets; National Tiles floor and wall tiles in white and grey.
Heating and cooling

G. P. Davis in-slab and hydronic heating; Fresh Living Group Apricus solar hot water system.
External elements

Blackbutt wharf decking in Intergrain Ultradeck clear finish; Tankworks slimline water tanks and rainbanks.
Other

Ross Gardam Half Full dining table and benches, and Tailored lounge and table from Stylecraft; Earl Pinto Keezer bench, Birchland table, Kink stools, Log stool and Kitchen bar stools.
Source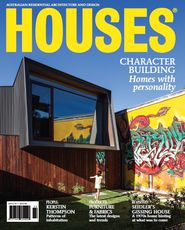 Related topics