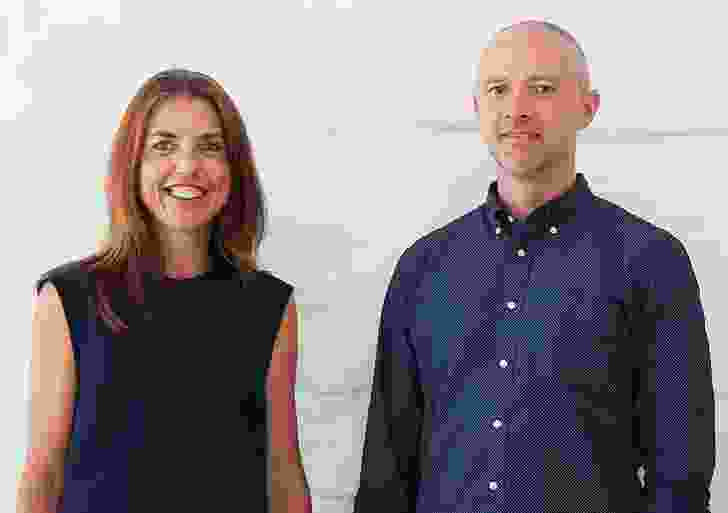 It's always refreshing to meet a couple whose tendencies or obsessions complement each other in architectural practice. Alison Nobbs describes Sean Radford as "uncompromising, more myopic" and herself as the one who "declares the more obvious or known path." In the early stages of a project, they bat ideas around together. Though they try to leave work at work, some discussion creeps round the dinner table, and visual references are drawn from all parts of life.
The pair met while studying at the University of New South Wales – they started at different times (Sean first wandered through fine arts, graphics and a year of science), but finished architecture in the same year. Alison did stints with Caroline Pidcock, Nick Murcutt and Lahz Nimmo Architects, and Sean went from Allen Jack and Cottier to Daryl Jackson's office, and thence to Engelen Moore. Sean was the first to jump to private practice, after many nights/weekends doing private work in 2004, and Alison followed when they got three attached apartments as their first sizeable project. Lahz Nimmo also sent some small projects their way to help them get started.
About 80 percent of Nobbs Radford Architects' work is now residential, and while Alison and Sean love doing work in the public realm, the limitations of civic procurement processes leave them preferring the nimbleness of independent projects. They tend to work on smaller things, with their largest projects having a budget of about $4 million. They are proud of bringing architecture to a diverse range of clients.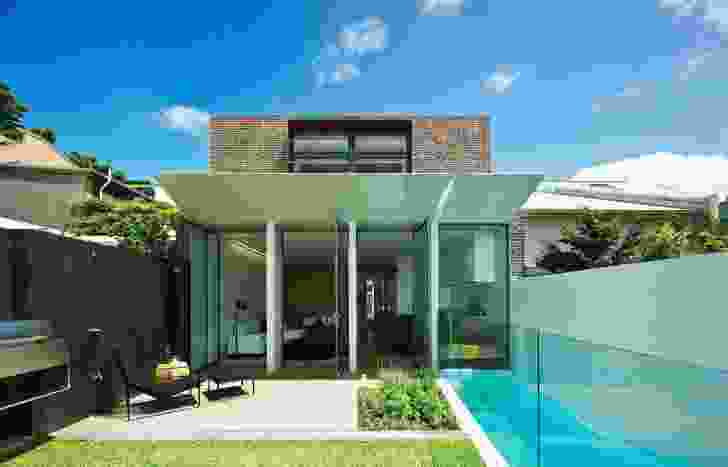 The first two projects by the practice that became widely recognized were the Dulwich Hill House and the Lilyfield House. The Dulwich Hill project was a pivotal start for them – it was the first house they completed, and their first to win an award. Nobbs Radford Architects now only enters awards infrequently, but that project won them peer recognition with their first entry (they joke that they naively assumed awards might be received every year afterwards).
The Lilyfield House has a simple form, at a modest scale, and the pure material response to the original wooden corner cottage was an incredibly clear idea. The bare luxury of the spaces is quite monastic, but the bright palette of colours and the dramatic form of the new wing added a whimsy that the European press embraced. Everyone recognizes the house and Alison suspects that this project was what led them to be invited by a Swiss literary foundation to design a cabin for its House of Writing in Montricher, Switzerland.
This whimsical piece of unbuilt work is a thirty-five-square-metre "concept" house. The architects were the only Australian firm to be invited by the Fondation Jan Michalski pour l'écriture et la littérature. The brief was to design a suspended "pod" or writer's research building, one of sixteen in total, to be inserted into a slender concrete frame and fluid canopy that is the foundation's "house." The master structure had been designed, the suspension system had been established, and Nobbs Radford played with the novelty of a building seen in the round, including from underneath. Alison and Sean delighted in having the project in the office, citing times when they could step away from the mundaneness of planning amendments to play with this more fanciful, unconstrained project.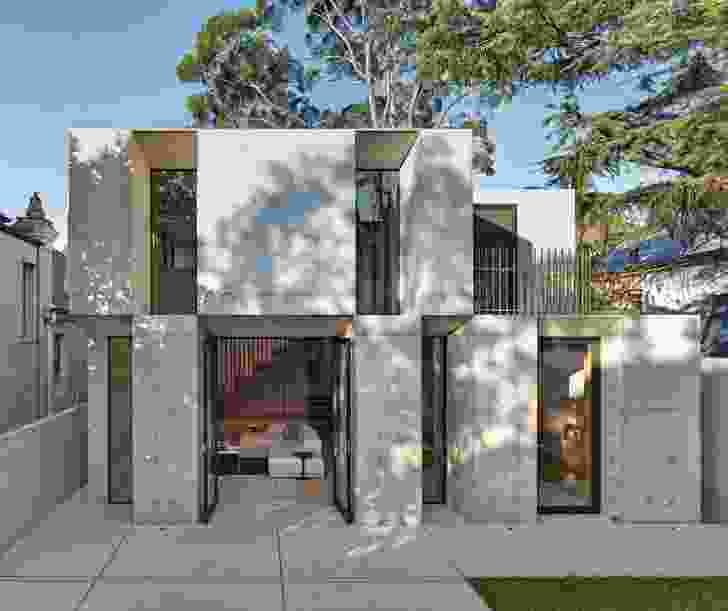 A further exploration of their love of off-form concrete, the Birchgrove House was one in which they got to play with a richer palette of materials. The idea of a careful wall of cabinetry (which first appeared in the Dulwich Hill House) becomes a whole "paint palette," as the timber floor morphs into benches, a kitchen wall, the staircase and all the cabinetry. The lean raw concrete components of earlier projects are refined into careful off-form work and a palette of large tiles and concrete "stucco."
The same palette was tested in Paddington House 2, in which the dark grey tones of basalt are echoed in grey cabinetry and offset by black tapware and glass. This refined adaptation of an old house clearly shows, in each room, the original parts and the new interventions. The project displays a masterful control, or discipline, in working between old and new.
The practice's recently completed Glebe House has more clever nuances that tie the old and new parts together. In this house, the vertical proportions of the original cottage's front windows became a form that echoes in many different ways, through the old house to the rear of the site and the off-form concrete of the new rear facade.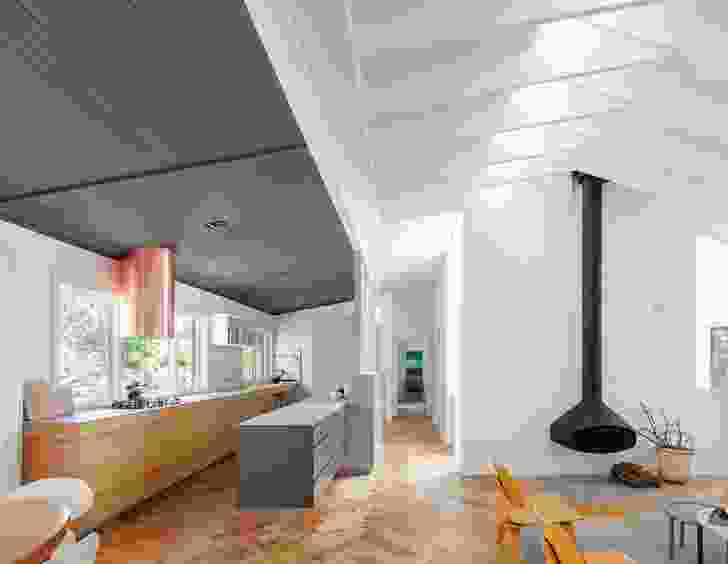 The architects also recently completed a reworking of a 1970s brown brick house in Sydney's Riverview, which is now painted a simple white. Over the past forty years, such a move has been done very badly by many, but the restraint shown in these new insertions and careful reworking is profound. The richness of original materials (parquet, timber beams) is expressed in the confident new bathrooms, the timber stair and the kitchen in stone, concrete, solid timber and steel. The interiors are minimal but at the same time quite sensual.
The couple are conscious that they "have a life," as well. Having a young family shapes the way they work – they treasure the silence of their new office space and keep extra staff to a lean minimum (they currently have two; their most has been five). They find that family life particularly limits and focuses their competition work – they average only one beautiful competition entry each year or so. When just about every practice in Sydney was entering the Green Square design competition, they chose to do Design Parramatta.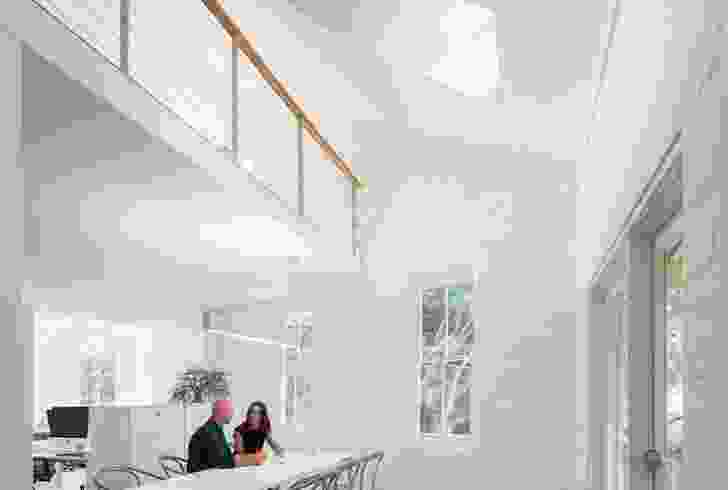 Though each project is different, the continuity in the work of Nobbs Radford is the rigour of the architects' approach. The firm doesn't have a brand, more a way of doing things. When asked what their strengths are, Alison and Sean cite a shared skill at talking around projects, making unexpected proposals in response to what clients might think are predetermined briefs. They quip that "surprising clients is our job." This ability to encourage robust discussion is a skill that new clients hear of by word of mouth, as the firm does no advertising and is published only when approached.
This truly sets them apart – in an era where so much emphasis is given to the hero shot or the style of a practice, they don't want a "practice look" or aesthetic. They are most flattered when a client says, "I like some of your work …"
They are recommended for the service they provide. They are sought out for their skills in unravelling complex issues and in coming up with great ideas and a range of solutions. They assume no-one knows what is needed or expected at the outset of a job. They eliminate options that don't work and are generous with their many sketch designs for each project, generally presenting three options of "budget," "brief" and "possibility."
The practice has enough work behind it now to be able to analyse, to step back and look at the body of projects. Contrary to the way other practices thread tenuous links and themes through disparate work, Alison and Sean tend toward the opposite. They know not what the future brings and are reasonably reserved and hopeful, but they exude an air of quiet confidence – the future will be fun and interesting for Alison and Sean, and interesting for the rest of us to watch.
Source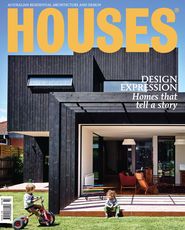 Related topics