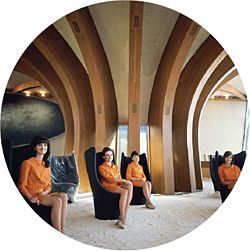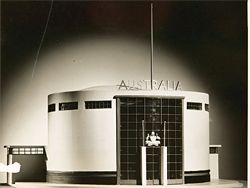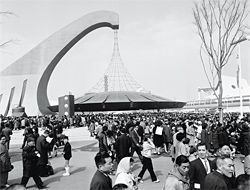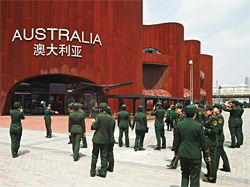 "Except where museums are involved, or some agency of the government, the purpose of these shows and exhibitions is to promote business." — George Nelson

"Contrary to the cinema, where the spectator is at rest and watches a sequence of expr
These statements by two of the twentieth century's most gifted exhibit designers capture the most obvious polarity in the design of an exhibition or exposition pavilion: commerce and aesthetic experience. Throw in the added ingredient of national identity and you have a ready mix of culture that begs equally ready critique. Australia's track record was fairly patchy until the realization – largely through criticism and self-reflection in the late 1930s – that design excellence not only added economic value but was a key factor in enhancing national prestige. After that national pavilions were serious affairs with commissioned architects, exhibits designers and teams that sometimes included artists, industrial designers, photographers and film-makers.
Following active participation at home and abroad in exhibitions in the nineteenth century, Australia continued to ensure its visibility in the next century, attempting to broaden international trade links. Australian pavilions at the Franco-British Exhibition, London (1908), Japan-British Exhibition, London (1910), and Panama-Pacific Exhibitions, San Francisco and San Diego (1915), were all styled in a flamboyant and occasionally exotic Edwardian baroque. By 1924, the Australian Pavilion at the British Empire Exhibition at Wembley, designed by Commonwealth Architect John Smith Murdoch, was, like the Canadian and New Zealand pavilions, toned down to a restrained Beaux Arts classicism that would later be deployed in Canberra's provisional Parliament House. This was not unusual. In the exhibition's masterplan, the dominions were represented as fundamentally English and therefore classical, while other Commonwealth members such as India, Burma, West Africa and Ceylon sported exotic regional styles as if somehow still colonial trophies rather than being fully "civilized".
At the 1937 Paris Exposition, Stephenson, Meldrum and Turner, then one of Australia's leading modernist firms, had a chance to stake a claim for identity outside notions of empire. The result, though, was unremarkable: a Moderne cylinder with a prominent flag and raised block lettering in orange neon. Inside was a travel advice bureau; a collection of paintings of natural and agricultural landscapes; photographs of a koala, an Aborigine, a woman surfing and a house by Leslie Wilkinson; and a ceiling design by artist Douglas Annand that located Australia on the world map. "The place was awful," according to Australian architect Raymond McGrath, who was ashamed to think that Arthur Stephenson had attached his name to it. Privately, Stephenson agreed!
The next year was even worse. At the second Empire Exhibition in Glasgow (1938), A. L. Abbott's Australian Pavilion was given a drubbing by British critic J. M. Richards, who wrote, "One would have thought that exhibition design has progressed further in 1938 than this ludicrously conventional array of ornate baskets filled with piles of apples, but apparently in Australia it has not." Sydney architect Walter Bunning confirmed this scathing critique, describing it as "one of the worst" .
Thus for the Australian Pavilion for the New York World's Fair (1939–40), it was felt that all efforts should be made to avoid "the colourless, careless, confused trade display, which was never more than a shamefully direct and uninteresting advertisement for bully beef and national wealth". Lessons had been learnt. The pavilion was consigned to an interior within a building, which was shared with New Zealand. The two countries' exhibition spaces were bisected by the British Pavilion's grand staircase, which faced the Lagoon of Nations. From outside it appeared as if Britain occupied the entire complex, with Australia and New Zealand literally subjects beneath and to either side. But the location was good and the 1939 pavilion was considered an outstanding success. The aim was ambitious: to project a new image for Australia – not one defined by Britain, but a place of travel, tourism and investment on the Pacific rim. Interior design by the Sydney office of Stephenson and Turner reflected the firm's pioneering work in hospital design, adopting the clean lines of a functionalist corridor illuminated by concealed strip lighting with two-tone inlays in the grey rubber flooring indicating a pathway on the floor, and "pylons", skyscraper-slab exhibit boxes, that sat on mini pilotis. Perth-trained architect John Oldham was project architect under Arthur Baldwinson. Art director and exhibits designer was Douglas Annand, assisted by photographer Russell Roberts, who supervised the dynamic Soviet-inspired mural photography and the "Russlites" (coloured photographs on glass). Annand and Adrian Feint contributed paintings and composed the murals. Margaret Preston provided the paintings of native flowers. There was also the "Illuvision", a novel full-colour installation placed within a TV-shaped window of moving images using lights, mirrors and a revolving cylinder.
This set the pattern for all subsequent Australian pavilions. Expert architectural consultants and exhibits designers strove to use the latest technologies in structure, materials and audiovisual techniques. Each team often did two or more expos or government-sponsored trade exhibitions. In 1939–40, for example, Stephenson and Turner were employed again, with the same team of designers and artists as in New York, to design the Australian Pavilion for the New Zealand Centennial Exhibition in Wellington. The result was a modernist tour de force inside and out, which, given its prominent siting and size, "put it all over the British this time, both in the design of our building and exhibits". In New York and Wellington, architectural references were decidedly international, demonstrating an ability to engage in an international conversation of modern architecture.
It was not until 1960, with Gordon Andrews' design for the Australian Pavilion at the Lausanne National Fair, that Australia was represented again with any sense of design éclat, and not until Montreal (1967) that Australia was featured at a world exposition with any real impact. This time the design was handled within the Commonwealth Department of Works by James Maccormick, who'd been poached specially for the task from Grounds Romberg and Boyd in Melbourne. He designed a pavilion with sloping glass sides, white shag pile carpet on the floor of a multi-level interior and a roof supported by internalized "trees" of curved Tasmanian blackwood. Maccormick invited Robin Boyd to be exhibits architect and the final result included Grant Featherston's talking chairs and hostesses outfitted in "hot" orange from Magg, Zara Holt and Betty Grounds' boutique in Toorak Road. Maccormick's assembly of experts and his clever transparent prism was a brilliant combination and he was subsequently entrusted with the Australian Pavilion in Osaka (1970). This time Maccormick designed a pavilion with a huge arched cantilever, which, almost animal-like, held in its jaws cables which supported a huge shallow domed roof above the main exhibition hall. Alongside this boldly figural statement, which Maccormick later claimed made reference to Hokusai's famous print The Great Wave at Kanagawa, was Boyd's Space Tube, an exposed tunnel structure located below ground level, which housed a moving walkway and exhibit boxes. Maccormick's figural structure was a clear departure from the quietly assured internationalism of earlier pavilions.
Maccormick resigned from the Commonwealth Department of Works in 1970 but was retained for Expo 74 in Spokane, Washington, USA, and assisted by Richard Johnson within the Commonwealth Department of Housing and Construction (DHC). This time, Maccormick and his collaborators had to work within a standardized hexagonal grid set by American site planner Tom Atkinson. The Australian Pavilion was dictated more by the exhibits themselves and an increased focus on multimedia. Highlights in Spokane were the thirty-six-screen revolving audiovisual platform orchestrated by filmmaker Jonathan Dawson, host outfits by Prue Acton (including canary yellow body shirts) and a huge clear perspex model of the Sydney Opera House. This pattern of accommodation within purpose-built pavilions designed by others persisted in Knoxville, Tennessee (1982), New Orleans, Louisiana (1984), and Vancouver, Canada (1986). The design team for all three was sourced from within the DHC's Canberra office. In addition to increasingly sophisticated audiovisual presentations, these pavilions relied on iconic imagery to mark entry: ten chrome-plated pumping windmills in Knoxville, a platypus tondo in the entrance tympanum at New Orleans and, in Vancouver, amid postmodern portals, a full-scale replica of the America's Cup winning yacht, Australia II.
For Tsukuba, Japan (1985), the Australian Pavilion was housed within a pavilion shell designed by Kiyonori Kikutake. In addition to showing the world's largest hologram and a "hands-on sculpture" by cartoonist Bruce Petty, design cues were taken from the Kikutake structure by DHC architects under the guidance of Richard Johnson and Paul Berkemeier, assisted by, among others, Stephen Frith and Neil Durbach. Johnson, a principal architect within the DHC from 1969 until 1985 and involved in Spokane (1974) and Okinawa (1975), gained invaluable experience here, which would inform his later exhibition and gallery commissions in Sydney and Canberra. The use of subliminal messages through design motifs associated with traditional Japanese forms (banners, kites and sequential framed views) were intended to strike a chord with Japanese visitors.
Expo 88 in Brisbane was Australia's first twentieth-century world expo and the nation's largest celebration of the 1988 bicentennial.
The event emerged through an urban renewal study of Kangaroo Point undertaken in the 1970s by James Maccormick, who saw potential in the site and urged government and business leaders to seize the opportunity to revive Brisbane's Southbank. Ancher Mortlock & Woolley's Australian pavilion roof was a giant abstract piece of landscape – a corrugated iron Uluru – with five-metre-high multicoloured letters by artist Ken Done at entry and exit. Here, landscape was deployed as a highly marketable and identifiable image of Australia. Involved in exhibit conception and layout was Tim McMahon, whose later-established creative design firm Think OTS would be associated with almost all subsequent expos including Taejon (1993), Hannover (2000), Aichi (2005) and Shanghai (2010). For Seville (1992), architects Philip Page and David Rendon produced a visually striking pavilion with a sinusoidal perimeter casing of billowing white fabric, white painted steel and a floating sail roof. This was architecture as eye-catcher. Fabric, but now stretched, glossy and a burnt red, was used again by Tonkin Zulaikha Greer in Hannover (2000).
The pavilion's "monumental" lightweight structure, whose materials suggested openness, mobility and transparency, was topped by an enormous floating parasol roof (in fact a "thermal pillow") and sat "island continent-like" in a pond, rather like a temporary NGV.
At Shanghai (2010), Wood Marsh eschews this taste for the ephemeral. Their pavilion, monumental, again burnt red and now relentlessly sinusoidal, is clad in rusted steel. There appear even to be echoes of Boyd's space tubes but these are held aloft and penetrate the wavy facade. The pavilion is big and well placed in the expo's vast site. It could be a permanent piece of land art – much like the faceted forms of Wood Marsh's ACCA in Melbourne. Perhaps more than any other pavilion in the last hundred years, this one comes close to melding trade, experience and identity into a singular object. Within there is Ponti's cinematic experience, condensed as always into a piece of theatre, necessarily clichéd and with the artful control that is the key to the making of any sale.
Professor Philip Goad is Chair of Architecture and Director of the Melbourne School of Design at the University of Melbourne.