NEW TAIWAN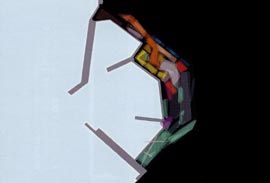 Lab architecture studio is one of four practices shortlisted for the design of two port developments on the north coast of Taiwan. The redevelopment includes Fugee fishing port, with a tourist fish market, and Batoutz fishing port, with an ocean culture plaza and tourism port. The new facilities are part of a wider range of government sponsored initiatives to provide new ecologically based tourist infrastructure on the island. Lab's entry proposes two organizational models based on the traditional Taiwanese village fish market – filamental figure and striated field – as a way of re-conceptualising the local community identity and image.
SYDNEY DEVELOPMENTS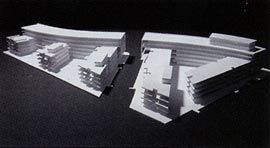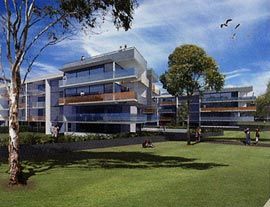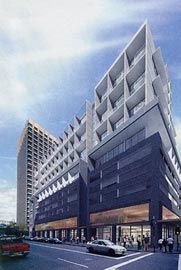 Stanisic Associates have won two design competitions for new Sydney developments.
Their scheme for Park Central (bottom) won an invited design competition (under they Sydney City Design competition system) for a fifteen-storey building with a live/work/shop /eat mix located on Belmore Park, Sydney.
The project is designed as a long-life, loosefit, low-energy project with 200 apartments, 5,000 square metres of commercial and 8,000 square metres of retail. The second project (top and centre) is for 110 waterfront apartments, housed in four six-storey slimline finger buildings, at residential Stage 9/lot 11 of the Rhodes Waterside redevelopment by Walker Corporation.
SHOAL FLY BY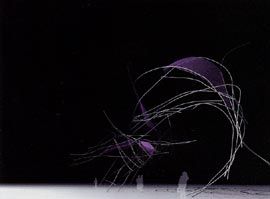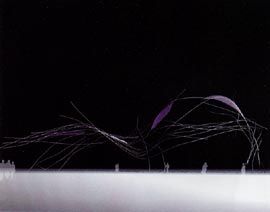 "Walking down La Trobe Street the other day, out of the corner of my eye, I'm sure I saw a shoal of fish fly by". Bellemo and Cat has won an urban art competition for Melbourne's Docklands, with Shoal Fly By, a series of five sculptures that will stretch along the Harbour Esplanade. The first piece, due to be installed at the end of November, is a large twisted net of stainless steel and pink expanded metal mesh. The architects describe it as a loose sketchy drawing in steel swimming in the air.
"Viewed from certain angles, water will be trapped in this steel net, only to slip through at other points to reveal the sky." Mark Burry and Andrew Maher at RMIT's SIAL helped to develop the models into buildable form.