Review
Sale: Performing Arts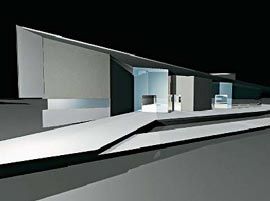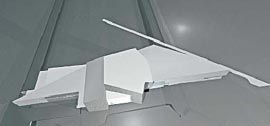 Harmer Architecture is working on the new Sale Performance Space, for a green field site on the Princes Highway.
The facility has been conceived of as a long, wedge-shaped mass, with a theatre embedded in one side. The folded plate of the roof, punctuated by the taller, fan-shaped form of the theatre and stage, reflects this idea. A dramatic diagonal slash across the site, the building has been positioned to link the Sale town centre with the Port of Sale waterfront. This connection, between the urban mass of the town centre and the riverbank and parklands, is reinforced by the wedge form which slopes down from the tall entry point towards the port
Melbourne: Emergency Services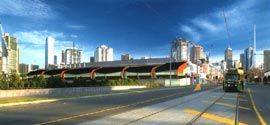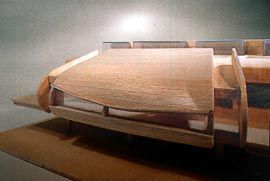 A new two-storey building to accommodate the Victorian State Emergency Service, designed by H2o Architects, is now under construction on Melbourne's Southbank. With a strong focus on energy management, the project is designed to maximise the use of natural light and ventilation. The building is oriented with its long walls facing north and south and there is minimal glazing on the east and west facades. Artificial lighting is connected to sensors, which provide graded lighting levels in response to differing external conditions.
The ground level, for cars, storage and vehicle workshops, is framed with concrete columns, supporting band beams and has an upturned concrete slab. The steel-framed first floor accommodates mostly open plan offices, which maximise the flow of natural ventilation from vents in the south wall to clerestory louvres near the north boundary wall
WA: Memorial and Public Art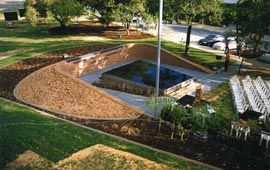 CODA , in collaboration with artist Rodney Glick, have recently completed two public art projects. The AIDS Memorial Monument, is designed as a personal, contemplative space. Embedded in its surroundings, with a reflective pool and encircling path, this memorial suggests that remembrance is private and meditative rather than grand. The Rockingham Justice Complex entry sculpture is a smooth steel mast, visible for many kilometres across Rockingham's coastal plain. At its base, the mast appears to float, supported by slim, black steel supports. The perforated midsection is dissolved by internal lights at night, while the section above the level of the court rooftop is a brilliant orange. Photos CODA