CUSTOMS HOUSE

Lacoste + Stevenson, together with PTW Architects and Tanner Associates, are undertaking the refurbishment and renovation of the Customs House at Circular Quay. The City of Sydney Library will be relocated to the lower three levels of the building and the ground floor opened up to Customs House Square and the rear lane.
The library reflects a mix of new and established library services: national and international newspapers, magazines, internet, electronic databases, cultural information and tickets, lounge seating and cafe. The new room is envisaged as a living room for Sydney. Levels 1 and 2 carry on the role of a more traditional library including fiction/non-fiction, collections and a grand reading room. Level 1 will also include a function space that will see the balcony come alive above Customs House Square.
ROOTY HILL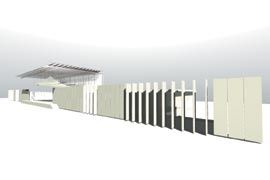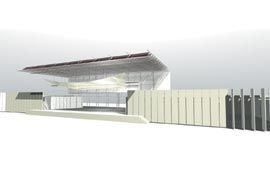 Blacktown City Council has commissioned Innovarchi and Arup to provide full architectural services for their earlier concept design for the Rooty Hill Amphitheatre. A state-of-the-art, hardworking and practical facility, it is designed as a delightful and sensitive addition to the landscape – one that will grow and develop with the community while also providing a premium venue for "high end" performers.
The project explores the appeal of performing in the Australian bush by maintaining almost unobstructed views through the stage to the bush. The design also seeks to minimize its environmental impact through material selection, rainwater collection, waste-water management and reuse, and an extensive bush regeneration programme.
BATHURST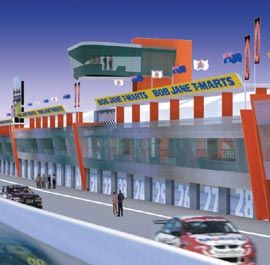 Allen Jack + Cottier has just eleven months to complete a new 400-metre long, threestorey pit facility for Bathurst City Council.
Construction will begin immediately after the final event for 2003, the "Bathurst 24 hr", and all work must be completed for the 2004 "Bathurst 1000", to be watched by an estimated 60 million viewers worldwide.
The commission, undertaken by both AJ+C and Kellogg Brown & Root, forms part of an overall masterplan for the entire precinct, and includes a tourism strategy and redevelopment plans.
SLIPSTREAM
Peter McGregor of McGregor Westlake Architecture and Bruce Slorach of Deuce Design have won an invited competition for a light installation at Melbourne's Docklands.
Sited on a 100-metre podium wall adjacent to the freeway, Slipstream is an animated neon artwork designed to reflect and amplify urban elements – the natural system of the Yarra River, and the cultural system of the roads and freeway overpass – which reflect diurnal patterns of ebb and flow. It is designed to be experienced on the move – the six-second flicker from the freeway, the twelve-second drive-by of the local street, or the two-minute saunter of the pedestrian. Animation adds a further temporal dimension as the work rests as the inhabitants sleep and the traffic fades.