CHISHOLM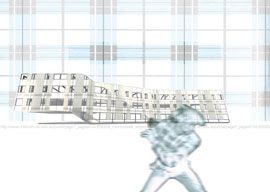 Cox Architects and Planners are currently working on the Access and Languages building at Chisholm Institute's Dandenong campus. Conceived as a landmark building for the Stud Road campus, and designed to be environmentally sustainable, the $9.6 million development is located prominently at the entry. The proposed translucent polycarbonate skin is intended to project the three level building as an expression of the aspirations of the Institute. Chisholm's vision for Dandenong campus is tied to a broader philosophy about modern learning environments that recognizes the benefits of informal and flexible learning spaces, progressive education, transparency, accessibility and sound environmental design principles.
LOW HEAD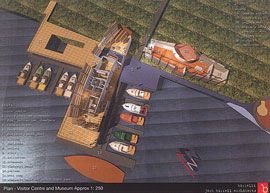 Jack Birrell Architects have been commissioned to breathe new life into northern Tasmania's Low Head Pilot Station.
The oldest pilot station in Australia, it has been continually operating since 1805. The first stage has begun with the tall ship Windeward Boundsailing daily and a shipwright's workshop. John Lee Archer's 1834 Pilots' Row has been refitted with a thematic interpretation design and museum display. The second stage of the development will incorporate a marina, heritage accommodation, a purpose-built museum and interpretive walking trails.
MAWSON CENTRE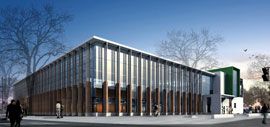 The Mawson Centre, currently under construction and due for completion at the end of this year, has come about through a collaboration between UniSA, the Department of Education, the Land Management Corporation, the City of Salisbury and Delfin Lend Lease. Within Denton Corker Marshall's masterplan framework, MGT Canberra Architects and Russell & Yelland Architects, in collaboration, have designed this civic facility to be the centre that unites the UniSA Mawson Lakes campus with the burgeoning Mawson Lakes community. The Mawson Centre will house a public library, a 24/7 computer barn, a 250-seat theatre, a "shopfront" for the Mawson Lakes Education Service, various teaching and meeting spaces, and executive office facilities for senior UniSA staff.
MOORILLA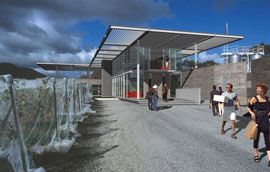 Tasmanian vineyard and winery Moorilla is to have a new restaurant and function centre built beside the wine-making area. Designed by Craig Rosevear in association with Jacob Allom Wade Architects, the building is designed to present a contemporary aesthetic with restrained detailing and a rational expression of honest materials.
Moorilla is a valuable Tasmanian cultural and heritage asset and holds a place of high esteem within the community. The new works continue the wine growing, wine making and wine tasting tradition of the site and respect the important heritage link with founder Claudio Alcorso and architect Roy Grounds.