Warragamba Dam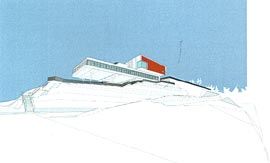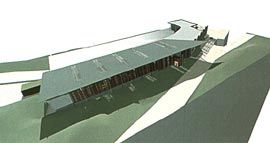 Lahz Nimmo Architects and landscape architects Spackman + Mossop have formed a joint venture, LNSM, for the Warragamba Dam Master Plan, Visitor Information Centre and Operations Building.
LNSM were awarded the project after a two-stage expression of interest, followed by a short-listed detailed submission. The first part involved a new master plan for the entire Warragamba Dam site, which was required after the major intervention of a new $500 million spillway due to be completed in February 2002. The second stage involved the preparation of design components of the master plan, including the $5 million Visitor Information Centre and Operation Building and various ancillary structures, landscape works and roadways.
The main building, two floating forms perched above the shear rock face overlooking the dam wall and new spillway, is sited to take advantage of the spectacular location. The office involves the use of light and ventilation slots to introduce natural light and ventilation deep into the floor plan and to reduce both the capital and recurrent cost for mechanical ventilation. Construction is due to commence in May 2002.
Soft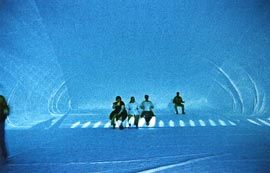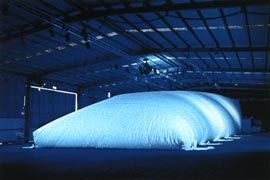 Chris Price and Dave Morison of *If This, Then have designed a white plastic polymer space for Back to Back Theatre's SOFT. Situated in a shed at Docklands, and part of the Melbourne Festival, the set was a huge inflatable capsule enveloping the audience and cast. The design explores the potential for "soft" architecture, with the set acting as both a real performance space and an active surface for digital projections, lighting and physical manipulation. The production won The Age critics award and Back to Back are now negotiating to take it to the Zurich Theatre Festival, Hamburg's Lao Koon Summer Festival, and the Berlin Festival. The upper image shows actors Rita Halabarec, Nicki Holland, Sonia Teuben and Jim Russell within the inflatable. The lower image shows the exterior, with Rita Halabarec to the left. Photos Jeff Busby.
Marine Discovery Centre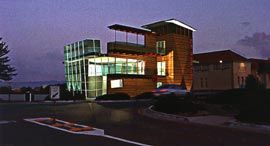 Paul Campbell Architects have won an invited submission of interest for Adelaide's new Marine Discovery Centre, for the Star of the Sea School at Henley Beach. The current facility is internationally regarded for its education of primary-aged children. The new facility intends to continue inspiring children to learn and be pro-active in the protection of Australia's sensitive marine environment. The building has been designed to reinforce the messages and functions of the centre. Visitors will be encouraged to operate the building and to monitor the effects through the building management system. In this way, visitors will be able to actively see and learn how the philosophies of, for example, the water catchment display work.